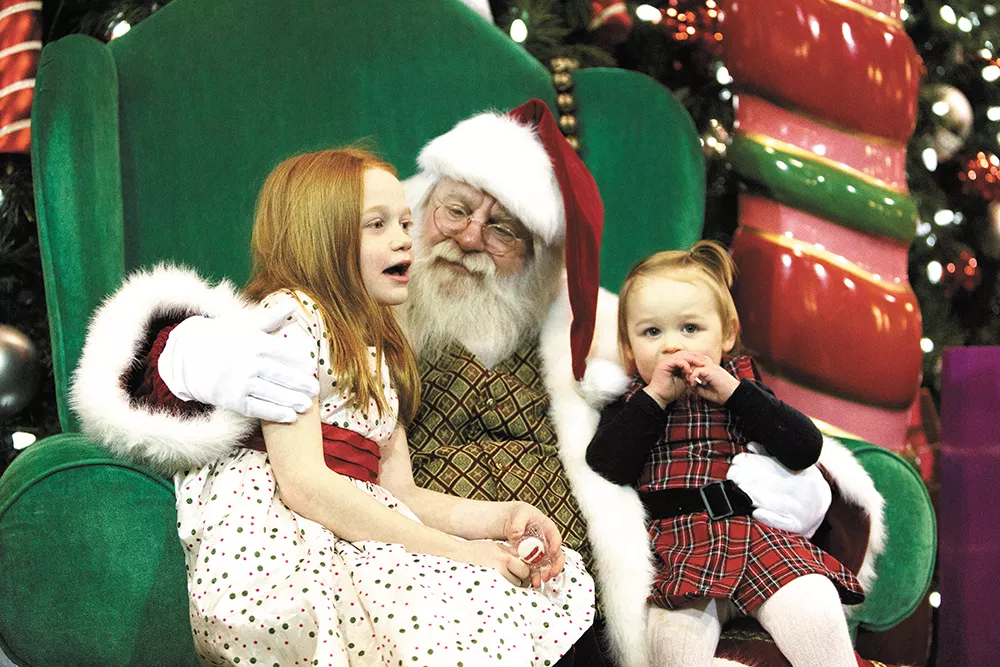 Emma Fiala is 6, and she's scared. She's waiting in the back of the line to see Santa at the River Park Square atrium. The queue is about a dozen kids deep, curving around the base of the tree to the front door. The giant, gilded evergreen dazzles above their heads. Santa looks regal in his velvety green chair, flanked by oversized candy canes and his teddy bear sentry.
Emma's scared because she and Mom got in a fight over her gloves before they came. Emma said she didn't need gloves. Mom said she wasn't listening and Santa, undoubtedly, was watching.
Emma's mom pulls a comb from her purse and straightens Emma's wavy blonde bob for the photo. Emma has blue eyes, white, chiclet teeth, black patent Mary Janes and sequins on her sweater. Her parents have taken her to this mall to see this Santa every year since she was born. Emma is breathless, rattling off her Christmas list: A Rudolf the Red Nose Reindeer mini pillow pet, a Littlest Pet Shop Tree House and a Furby Boom ("that's pink with white polka dots") which, this reporter has learned, is an interactive stuffed animal that lays eggs in iPads and hatches virtual "Furbling" babies.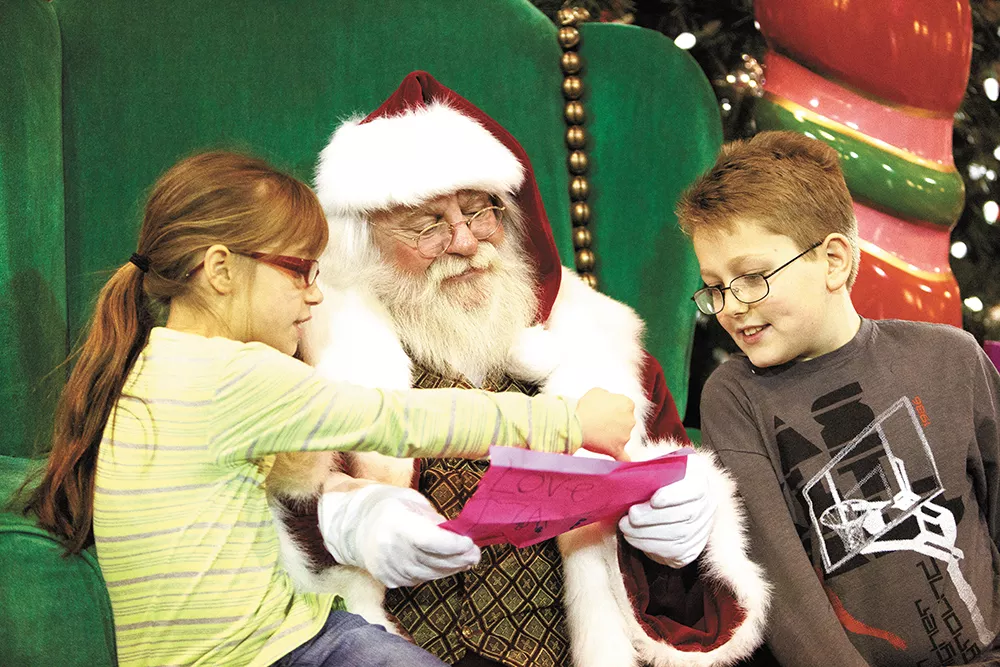 "You get the app and then, then you can like, make it take a shower," Emma says.
Gage and Serenity Churchill, siblings, 10 and 8, bespectacled and toothy, meanwhile are at the front of the line. They've come prepared with colored paper letters, which they read to Santa, sitting on his lap. They don't want toys; their tastes are more adult. Gage asks for a Surface 2, Microsoft's latest tablet because "you can multitask." Serenity, meanwhile, requests a Kindle Fire and an mp3 player, so she can play games and listen to "Call Me Maybe, Justin Bieber and Pink."
Serenity, says her brother, "has Beiber fever."
When their turn finally arrives, Emma and her little brother Jack and big sister Morgan avoid eye contact with Santa as they recite their lists from memory. Mom says they can ask Santa for three things each.
Morgan, who's 8, is dressed identically to her sister. She also requests a Furby Boom and a Kurio, "a mini tablet for kids." ("It has over 50 games already downloaded on it!")
Jack, a spritely redhead, sucks a lollipop and contorts a plastic Buzz Lightyear in his left hand. He asks for "a creeper, a Minecraft set with a creeper and egg and TNT, a stuffed animal creeper and a Kurio."
On Santa's cue, Jack, Emma and Morgan smile and say "chicken nuggets" for the camera. They hop off his lap, suckers in a hand, while children still in line pace in anticipation, with their lists in their heads or crumpled in their fists, waiting to catch up with Santa. ♦