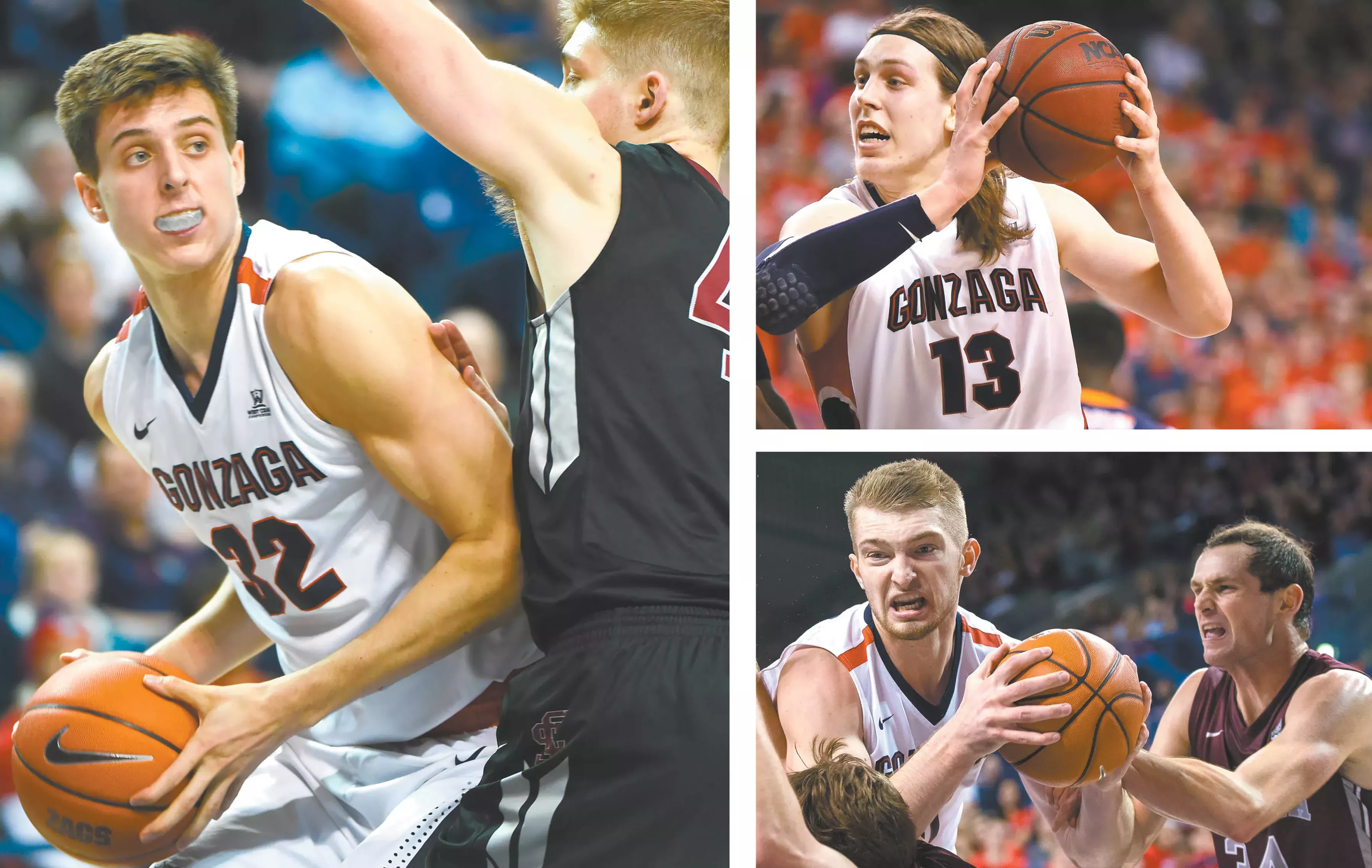 For Gonzaga and its men's basketball program, the progression of players to the National Basketball Association is as good of a sign as any that the program is far bigger than their mid-major moniker.
The Zags have seen three of their players — Kelly Olynyk, Domantas Sabonis and Zach Collins — drafted in the lottery over the last five years. All left school early, with Collins becoming the first one-season-and-done player in program history. Prior to this run, the Zags hadn't had a first round pick since Austin Daye in 2009.
Being able to point to your program's draft history is a big win in recruiting. And not just with high school recruits, but foreign and transfer players as well. Olynyk's skill progression and entrance into the league helped land Kyle Wiltjer when he transferred from Kentucky. And we probably wouldn't be seeing Johnathan Williams in the Kennel if it weren't for winning over guys like Wiltjer.
Without that trail blazed to the NBA, the Zags probably wouldn't have landed new recruit Filip Petrusev, perhaps the biggest get in program history besides Collins. The four-star recruit chose the Zags over offers from Kansas, Virginia and Arizona.
In terms of how Zags have adjusted to the league, it's sort of a mixed bag.
Olynyk is in the first year of his freshly inked four-year, $50 million contract with the Miami Heat and playing the most minutes and the best basketball he has as a pro. The Heat staff believe that Olynyk can make another jump in his game. Major progression is nothing new to Olynyk, whose game blossomed after a redshirt season where he went from awkward tall guy to a ball-handling center and power forward who led Gonzaga to their first ever No. 1 NCAA tourney seed and No. 1 ranking in school history.
A lot was made when the Oklahoma City Thunder jumped on an opportunity to land All-Star Paul George by trading away Victor Oladipo to Indiana along with Sabonis, whom many analysts considered as a throw-in to make the numbers work.
Sabonis had a frustrating rookie season, lost in an offense centered seemingly on ensuring eventual MVP Russell Westbrook averaged a triple double for the season. The Thunder demanded Sabonis play outside; playing inside with the Pacers has turned Sabonis into the rebounding machine he was for Gonzaga. Gonzaga Coach Mark Few noted throughout Sabonis' final season with the team that he was one of the best rebounders he's ever coached. He had a natural ability to find where the ball would end up. Sabonis is averaging 12.5 points and 8 rebounds a game and has reached a double-double nine times this season.
"He just brings a calmness to the game when he's out on the floor," head coach Nate McMillan told NBA.com. "He just makes players better because he understands the game."
For the first two months of the season Collins' stat lines for the Portland Trailblazers were strings of "Did Not Play (coach's decision)." Collins needed to get stronger and learn a pro offense before gaining minutes. Since the beginning of December, Collins has seen a drastic jump in his playing time. Part of it is guys around him getting hurt, but part of it is also Collins proving himself a better option in the back of the rotation than Noah Vonleh, Moe Harkless and Meyers Leonard.
Perhaps Zag fans will balk at the idea of Collins learning in the pros rather than staying in school, but those fans probably haven't had to make the decision between an internship and a seven-figure salary.
What perhaps is most surprising with Zags translating their games towards the pros is the lack of guards breaking into the next level. Nigel Williams-Goss, last year's team leader drafted by the Utah Jazz, found himself in a crowded backcourt and eventually headed overseas.
Kevin Pangos played for the Wizards' summer league and was considered a catch as a heady, competent game manager, though he couldn't stick the role. It's become the norm for most Zags to further their playing careers overseas, usually in the competitive leagues in Spain and Eastern Europe.
Jeremy Pargo originally turned heads when he jumped to the European leagues after successful stints with the Memphis Grizzlies and Cleveland Cavaliers. He ended up taking more money and flourished with more playing time.
At Gonzaga this year, it seems unclear if there are any guys who will jump to the professional level early like Collins, Sabonis and Olynyk. Sports Illustrated recently updated their 60-player "Big Board 3.0," which listed sophomores Rui Hachimura (No. 48) and Killian Tillie (No. 55).
The profiles for the two are very similar, with neither able to truly stand out in such a loaded and balanced team. Tillie's body isn't completely there yet, though he's shown great strides on defense and inside. For Hachimura, more play and consistent performances would land him a much higher spot than what he's looking at currently. His performance in international competition has also helped the buzz around his name and his athleticism seems to be an automatic check-off in terms of the eye test.
Both guys are integral to Gonzaga's chances in March, and it wouldn't be surprising if a tournament run opens enough eyes for one of these guys to go on to the next level. And if they do, there will surely be someone ready in the wings to be the next Zag with NBA aspirations. ♦