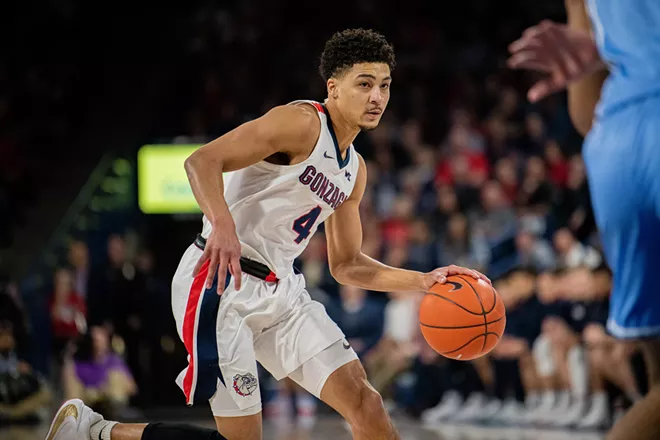 J
ohn Stockton, Matt Santangelo, Jeremy Pargo, Kevin Pangos, Josh Perkins:
Gonzaga's had countless great point guards over the years. None have been quite like Ryan Woolridge.
The 6-foot-3 graduate transfer from North Texas isn't the flashiest player or the most well-known name on the roster. He's not the leading scorer or the face of the team. But Woolridge has proven to be more valuable than anyone could have imagined coming into this season. On both sides of the ball, Woolridge's tenacity and talent are what make Gonzaga run. Literally.
"Having someone like him who's just a blur keeps the defense honest," junior forward Corey Kispert says. "We're able to steal you know, eight or 10 points. Easy, cheap ones just because of how fast he is."
Normally, when an opposing team makes a basket they are able to get back and set up on the defensive end. Transition opportunities, traditionally, come only when the other team misses. Not with Woolridge bringing the ball up the floor. It happens at least once a game, and normally quite a few times. The other team scores, Gonzaga inbounds the ball and seconds later Woolridge has gone coast-to-coast to score with 27 seconds left on the shot clock.
This season, Gonzaga is averaging 73.4 possessions per game. Statistician Ken Pomeroy has records going back to the 2001-02 season, and during that span, Gonzaga has never played at this quick of a tempo. The Zags have been speeding things up over recent seasons, but with Woolridge, they've maxed it out.
"It's great for me 'cause he flattens the defense out," Kispert says. "It's just run in behind him and shoot threes. That's kind of my bread and butter."
If there's been a weakness for this year's Gonzaga team, it's been on the defensive end. Though that's no fault of Woolridge's, who has been a lock-down defender this season.
"It's huge to have a guy like that, that can shut down the other team's point guard," senior forward Killian Tillie says. "He's just fast, quick, got quick hands. It's just tough to go against him for sure, and it's great for the team."
Oregon's Payton Pritchard and Arizona's Nico Mannion are two of the best, most talked about point guards in college basketball this year. Though, if the only time you saw them play was against Gonzaga you'd be forgiven if you don't believe they're any good.
Pritchard managed 17 points against the Zags, which isn't far off from his season average of 18.5 points per game. But, he took 23 shots and made just seven. That's a 30 percent shooting performance, and that's not good.
Mannion's performance against Woolridge was even worse. He scored just seven points, less than half his season average, and made only three of his 20 shots. And Mannion is regarded as one of the best NBA prospects in college this season.
For graduate transfers like Woolridge, you only get one year to make an impression. He won't have time to put up gaudy career numbers like previous Gonzaga point guard Josh Perkins. It's also the case, to this point in the season at least, that Woolridge hasn't become the face of the team. But, the fact is, Woolridge is as valuable to this team as any player in the rotation. His speed, competitive edge and defensive abilities make him unlike any point guard Gonzaga's had before.