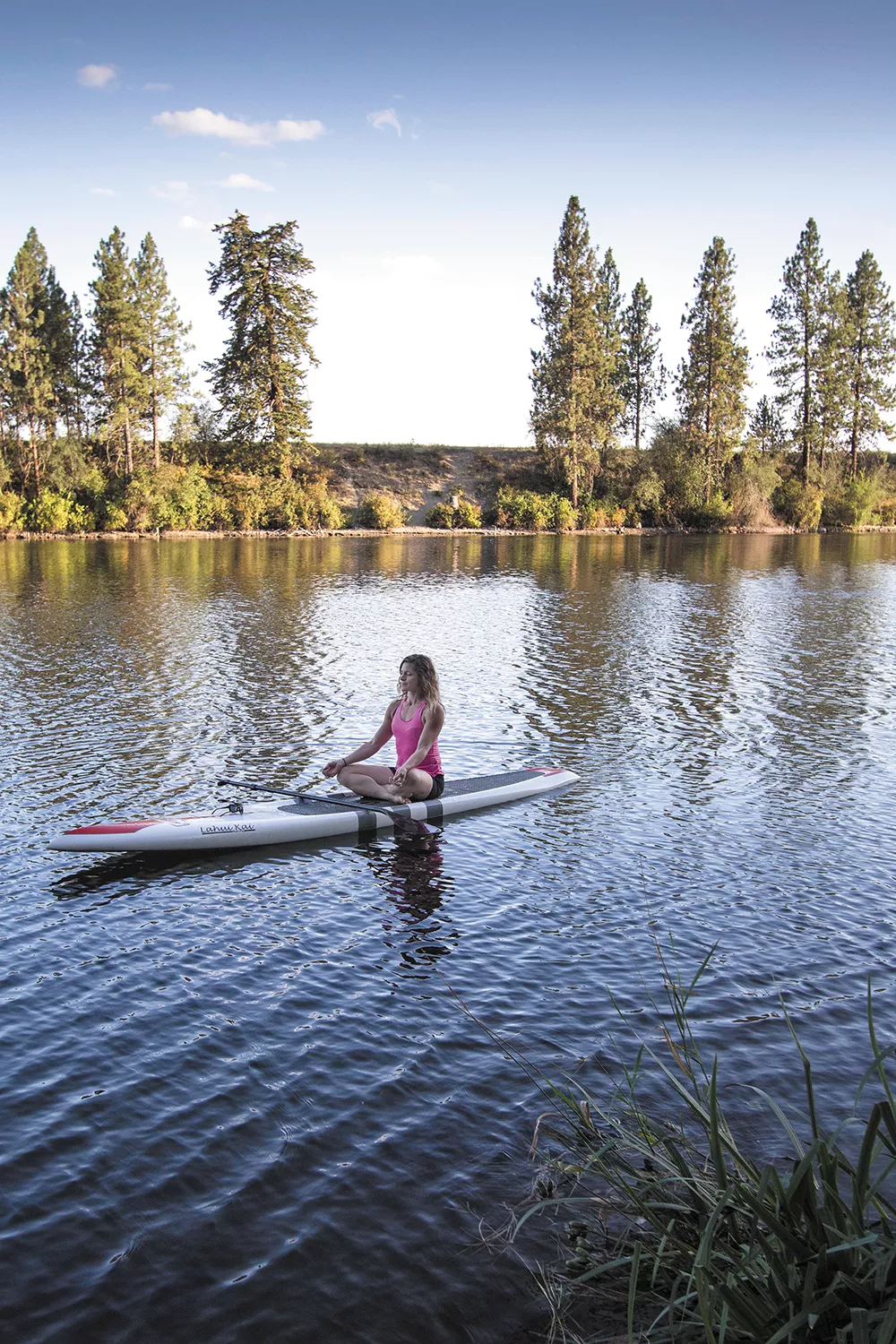 During one hot summer, Lacy Gannon and Sara Murphy were looking for a workout alternative to yoga. Wanting to avoid getting cooped up in a stuffy studio room, the two searched for an alternative. Their discovery: SUP (stand up paddle boards).
Essentially, SUP involves standing on a surfboard-like craft and maneuvering it on the water with an oar or paddle.
"Once you feel what it's like to stand up on water, it's almost like life changing," says Gannon. "It's a different view from the water than a kayak. For me, you look down at the water and it's more mesmerizing than looking out."
After piquing the interest of others, the duo formed SUP Spokane in 2014 and offer a yoga class taught on paddle boards on various lakes in the area. Gannon says that the sport has grown in popularity in the Inland Northwest due to the huge number of lakes and rivers people have access to. They're simple enough to launch and can reach places boats can't.
One of the appeals of SUP is the ability to cool off without totally getting wet. "It's nice because they're not fully submerged in the water," says Gannon. "So you're not freezing cold from being in the lake but you're still getting that refreshing water splashed up on you."
When it comes to the health benefits, Gannon goes on to describe the workout the sport provides. "You're pretty much getting toned every second you're out on the water. It's a good way to get in shape," says Gannon.
The Inland Northwest offers a variety of locations for SUP rentals, classes and activities. Here's some of the area's most popular:
Fun Unlimited
Rentals are $25-$200, depending on length of rental. The class offers a 90-minute beginner's class every Saturday on the Spokane River at the downtown Spokane River access under the Division Street bridge. Fun Unlimited will deliver paddle boards within 100 miles of Coeur d'Alene at the price of $1 per mile. The class also offers guided tours. 414 E. First Ave., Post Falls, 208-620-9050
Coeur d'Alene Adventures
It's $20 for two hours, $40 for four hours and $65 for eight-hour paddle board rentals. The rentals are available May through September and are free delivery to the north shore of Lake Coeur d'Alene. They offer SUP lessons every Tuesday and Thursday evening at the North Idaho College Beach, May through August, at $50 per person. Coeur d'Alene, 208-918-2082
Kayak Coeur d'Alene
SUP rentals are $40 for a half day and $65 for a full day and are available May through September, with complimentary delivery to the north shore of Lake Coeur d'Alene free of charge. The rentals are $20 nonrefundable deposit to hold reservation and $150 deposit required for all rentals. A beginner's class is offered on Lake Coeur d'Alene Tuesday and Thursday evenings from 5:30-8 pm, May through August, at $50. 311 Coeur d'Alene Ave. Suite A, Coeur d'Alene, 208-676-1533
Flow Adventures
Paddle board rentals are $40 a day with a mandatory $600 deposit. No delivery service.
2807 W. Euclid Ave., Spokane, 242-8699
SUP Spokane
Paddle board yoga $45 per class, limited to five people each class. Classes begin 10:30 am on Sunday at the public boat launch at Newman Lake. Time and location are subject to change. SUP Rentals are as low as $20, depending on length of time rental, location and delivery. Spokane Valley, 413-9471