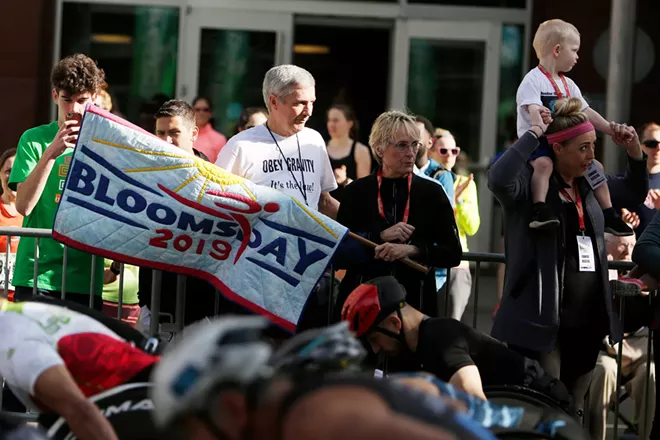 On Sunday, May 6, 1984, my wife, Bridgid, and I were the last starters at Bloomsday. I don't mean we were somewhere near the end of the pack. I mean we were last. Dead last. When we looked behind us, we saw nothing but empty pavement.
We were pushing our daughter Kaitlin in a Baby Jogger that year. Baby Joggers were a new item at the time, the invention of Phil Baechler of Yakima, who had developed the product so parents like us could continue to run after starting a family. Phil had given me one of the early models, and he had joined Bridgid and me at Bloomsday, pushing his young son in one of the prototypes.
This was the year that it snowed on Bloomsday morning. By the 9 am start, there was no longer any snow on the streets, but it was still doggone chilly. The temperature would hover just above freezing all morning. Kaitlin, eight months old and well snuggled in the Baby Jogger, would sleep most of the way. In spite of the inclement weather, 30,463 Bloomies would hustle through the 12-kilometer route. It was another year when the Bloomsday field would grow by roughly 5,000 participants. A third starting street, Sprague, had been added in an attempt to give everyone the ability to get moving when the gun fired.
This was the eighth Bloomsday, and I had run, not walked, in all previous editions of the event. In those days I could run pretty quickly, starting at the front of the pack and finishing in under 40 minutes. On this day, though, I would learn some things about walking Bloomsday. When the gun fired, we didn't move.
Eventually the crowd in front of us began to thin out, and we were able to start jogging, albeit very slowly. We moved through downtown, crossed Monroe, and in time reached the mile point in Browne's Addition. I don't remember what our split time was, but I do remember looking to the right and seeing helicopters over the Spokane River gorge. I was puzzled. What were they doing there?
Enlightenment came a moment later when I looked at my watch and did a quick calculation. The helicopters were tracking the leaders. The top runners had reached the six-mile point. And here I was, someone who might normally be not far behind those leaders, pushing a Baby Jogger. I had to laugh. I was already five miles behind.
Much later, Bridgid and I would cross the finish line, our time recorded as 1 hour, 53 minutes and 43 seconds. The next year, I would be back to running Bloomsday, back to finishing under 40 minutes for a few more years.
A lot has changed since 1984, for Bloomsday and for me. Bloomsday will draw over 30,000 participants this year, well off the all-time high of over 60,000, but still an impressive crowd. A few thousand of those will be virtual, doing the 7 1/2-mile distance at a time and on a course of their own choosing. Those who do the in-person Bloomsday will be timed courtesy of a "computer chip," which will time them from when they cross the starting line to when they cross the finish. (Would have been nice to have this system back in the day, instead of employing dozens of volunteers to do the timing by hand, with no way to know how long it took each finisher to actually get started!) And of course there have been other high-tech embellishments over the years, like email, a website, online entry, social media and the like.
The heart of Bloomsday hasn't changed a bit. It's still an opportunity to celebrate spring with thousands of fellow citizens and visitors from around the world.

tweet this
Along the way, there has been hot and cold race day weather, wind and rain. (But so far, no more snow.) There have been organizational challenges, course adjustments because of construction, a surge in participation by parents pushing children in strollers, exciting races on the front end by some of the world's fastest runners and wheelchair racers, and the renovation of Riverfront Park that was brand new when Bloomsday was born. One year, the cups for the water aid stations didn't arrive. Another year, a platform on the media truck broke off when the starting gun fired and scattered a half dozen photographers in front of the lead runners. And for two years in a row, a pandemic caused a shutdown of the in-person race, making Bloomsday participation totally virtual.
In the end, though, the heart of Bloomsday hasn't changed a bit. It's still an opportunity to celebrate spring with thousands of fellow citizens and visitors from around the world. It's a time to see if you can muster your forces to challenge 12 kilometers of hilly terrain. To wear a T-shirt afterward that can only be earned, not purchased.
I enjoy all of that, even now when I walk not of choice, but of necessity. Those sub-40-minute Bloomsdays are a distant memory. It no longer surprises me to be five miles behind the leaders. And in spite of all the challenges over the years, in spite of two COVID years, in spite of everything that might threaten this huge event over the years, there is this: It is still impossible to imagine spring in Spokane without Bloomsday. ♦
Don Kardong was a new Spokane teacher and recent Olympian (fourth place in the 1976 Montreal marathon) when he happened to get in the same elevator at City Hall as Mayor Dave Rodgers. Soon after, Spokane was shutting down its streets on Sunday, May 1, 1977, and Kardong would add another title: founder of Bloomsday. This weekend marks the race's 47th running. Kardong retired from the Bloomsday organization in 2019, but continues to volunteer for the event.