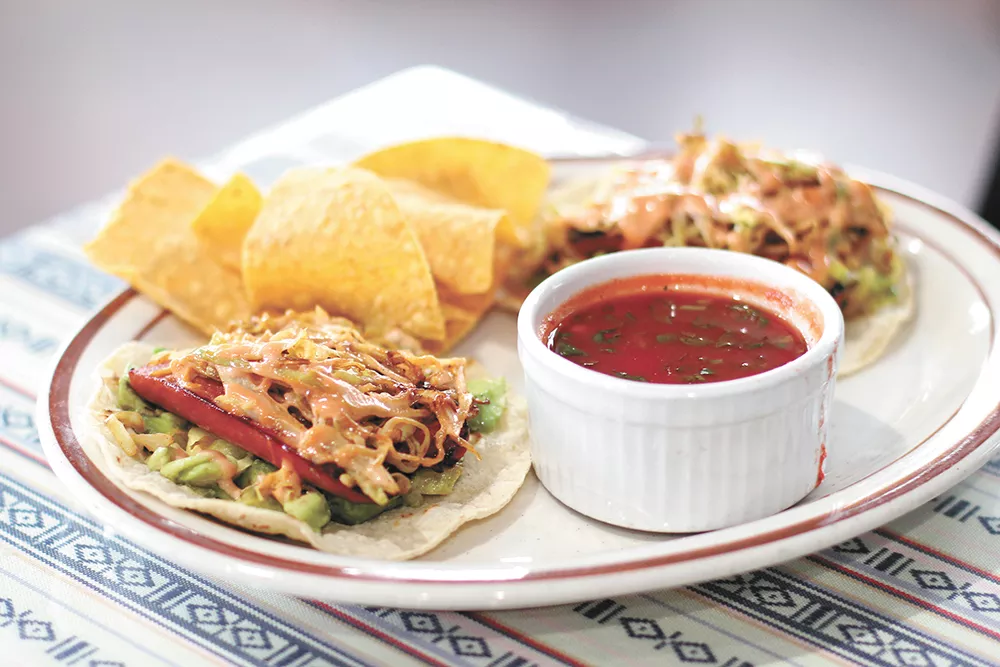 When Belky Ruiz and her husband of 33 years, Mario Ruiz, moved to the area, they couldn't find any of the Latin American foods they craved. So when a friend approached Mario about opening a restaurant in 2017 — Marandos is named for Mario and the original partner — they agreed to help, only to find themselves soon after faced with the prospect of running it on their own when the partner bowed out.
"I like pupusas," notes Belky, who does most of the cooking, working the evening shift after her day job.
She pulls inspiration from a variety of sources. She's from Ecuador, thus the Salvadoran pupusas, which resemble a thick tortilla made with masa (corn) and typically stuffed. Marandos serves theirs with varied combinations of cheese, beans, zucchini, ground pork and chicharron (fried pork skin), accompanied by a spiced cabbage slaw called curtido ($4).
Salchipapa, also Ecuadorian, piles pan-fried beef franks and sautéed onions on top of French fries ($6). A variation is the loaded street fries ($12) topped with melted cheese, avocado, pico de gallo, sour cream and choice of pork, beef or chicken. Yuca con chicharron ($13) swaps fried potatoes for yuca root, also known as cassava, served similarly to the pupusas with pickled cabbage.
The mixtas ($6) reflect Mario's Guatemalan heritage, consisting of two mini-tacos with beef franks, cabbage in a lime dressing and guacamole. Another item for dessert, the tiramisu with Kahlua liqueur ($4), pays tribute to Belky's Italian grandfather. The Bandeja Marando ($22) is a mashup of cultural influences served on a tray (bandeja translates to tray) brimming with Mexican carne asada, grilled chicken, pork, sausage and South American yuca and fried plantains.
Otherwise, much of the menu is Mexican: fajitas ($16), carne asada ($17), enchiladas ($12), ceviche ($10) and aguachiles ($16), which is shrimp, red onion, hot pepper, cucumber and a ceviche-like treatment with lime. Taco Tuesday is extremely popular with chicken, pork, barbacoa or chorizo tacos ($1), as well as lengua, shrimp and fish ($2).
The feel of the place is likewise a mashup of cultural influences. Marandos' event space regularly hosts parties, meetings and special occasions like paint night or dance lessons. In the bar area, they've welcomed drag queens and karaoke, rock and country music performers and a range of Latin American musicians and DJs including DJ Nolvis Del-Cid, DJ Carnavalito and DJ A1, who also appears at the Globe Bar & Grill's Latin Tuesdays. The bar is also where fans gather for fight night, to cheer on their favorite football team, both World Cup and local soccer, as well as American football.
"I'm trying to bring a little bit of everything," Belky says. ♦
Marandos Bar and Restaurant • 11420 E. Sprague Ave., Spokane Valley • Open Mon-Thu 11 am-10 pm, Fri-Sat 11 am-2 am, Sun 11 am-8 pm • facebook.com/marandospokane • 381-5956