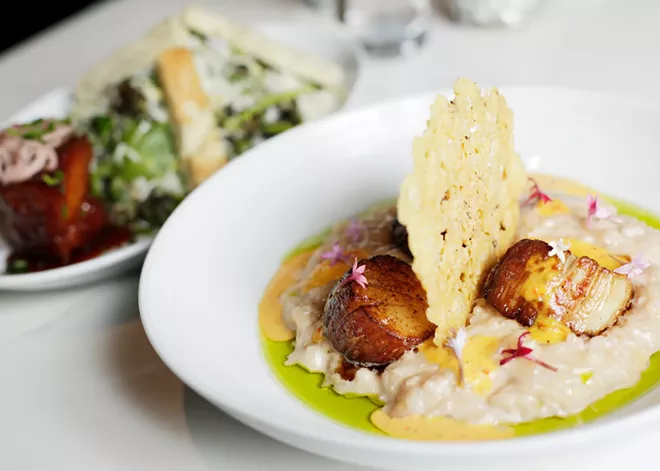 The basement of the Papillon building was cluttered with pipes and a cracked, uneven floor. For over 100 years, the thick stone walls blocked all outside light, and ancient wood beams held up a low ceiling. But even in the dark, the right eye could catch a glint of beauty.
"Somebody put a lot of craftsmanship into creating these beautiful arches down here," says longtime Spokane restaurateur Juli Norris, pointing at the carefully constructed brick archways inlaid into a dividing stone wall.
"For a long time, it was just storage. It wasn't really anything," she says. "I love the opportunity to really let this part shine because it hasn't been seen for so long. I don't even know if it's ever really been highlighted."
Norris has transformed the century-old cellar into Lorén, a chic, upscale French bistro that might as well be tucked in a cave outside Nantes. It's a swanky underground joint illuminated by low candles and a soft lavender glow. The elevated restaurant with a limited members-only social club, completed by a hidden room for private events, is a new concept from Norris, who also owns Kasa Restaurant and Taphouse on the first floor of the same building, just north of Riverfront Park. Norris shows her range as a chef and entrepreneur by reinvigorating a forgotten space and casting a new vision for what a speakeasy-inspired dining experience can be.
Lorén can be hard to find even with the location pinned on Google Maps. Go down the back stairs and along a basement corridor until you see the minimalist logo of a woman on the wall. Then, step out of the brightly lit hallway and through a heavy velvet curtain into a modern, sleek, dimly lit dining room. Gold-crusted geodes cascade down the dark gray stone walls. The backlit bar features a gray marble slab bartop, veined with deep violet ripples. Feather-like lavender plumes give a subtle feminine flair. You've found a hidden gem, though it's a far cry from the orange leather and cigar smoke that Norris says make some modern speakeasies feel like an old boys' club.
Both Norris and her executive chef, Tyler Gardner, are classically trained French chefs. As fun as Kasa is — and don't get her wrong, Norris loves the family-focused, casual fun and games there — Lorén captures some of her deepest passions.
"We get to have a lot of fun and work with pretty expensive ingredients to try to create something that is memorable and unique," she says. "That really lets our guests understand how important Lorén is to us. We want you to feel like you've just kind of walked into a really interesting bistro or high-end restaurant somewhere in Europe."
Premières, otherwise known as appetizers, include fried calamari ($17) and housemade fougasse ($12), a garlic- and herb-infused, strangely shaped bread from the Provence region served with honey brie butter and confit garlic. There's also flamenkuche ($14), a pizza-esque flatbread from the Alsace region topped with prosciutto and sherry-poached pear. The burrata salad ($17) features grapefruit, roasted fennel and small-batch olive oil. Fresh scallops at market price are served over rich Parmesan risotto.
But Norris' favorite plate is the grilled filet mignon (also market price) with a classic bordelaise, a sauce named for the Bordeaux region of France and reduced from the dry red wines produced there.
"It's very high-end cuts of beef," she says. "And then we make our own pasta in house — we cut it into that pappardelle shape, we stuffed it full of Gorgonzola steak butter, and we wrap it around in a rosette [shape] and put it on top of the steak. So when you go to cut into the steak, that delicious butter just rolls out."
Just as important as the food is the wine. Norris and her team tasted plenty of Old World wines, but they also sampled the best that Walla Walla could offer. They ended up with a wine menu that offers both imported French wines and local Washington wines, three of which are made by Townshend Cellars for Lorén alone — the Premier Rouge red, Deuxième Rouge red, and Très Belle Lorén sparkling white.
But in case you prefer cocktails to wine, Norris also partnered with Dry Fly Distilling to create a Lorén-specific gin.
"A lot of gins are very juniper forward," Norris says. "We still have juniper in there, but we added things to replace that, like fresh apple — because we're in Washington and Green Bluff is here — and lavender and orange and lemon peel and a little black tea. Not only does it make spectacular cocktails, but it's also good for sipping. Most people don't sip gin, but you can sip our gin."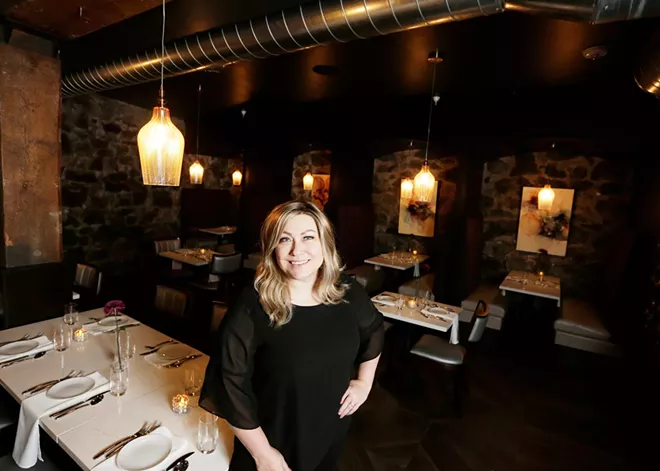 The surprises keep on coming. Behind the host stand is a dark, inconspicuous paneled wall. But if you know where to pull, it opens into a second, secret dining room fit for an intimate special event. A long table runs the length of the room, which looks like it's been carved out of stone. A flat-screen TV hangs at one end, while bottles of Lorén wines line the other.
It's named the Sophia Room, and anyone can rent it for bachelorette parties, birthday parties, anniversaries or business meetings. But it's also a perk for the 25 lucky people or corporations who have memberships to Lorén's new social club. Members get four complimentary bookings of the Sophia Room each year, and a special password that opens the room to their guests. They'll also receive perks while dining in and early ticket access to special events like pairing dinners. Plus, Norris will throw a members-only party twice a year, with food and drink and DJs.
"They just get to have a fun night and rub shoulders and meet each other," she says. "That's what it's all about. It's about community, and strengthening relationships within the community."
Norris' father was an entrepreneur as well. He passed his inexhaustible creativity and drive to his daughter. Wherever she is, or whatever she's doing, Norris wants to create something new out of the old.
"I love the innovation," she says. "As an entrepreneur and as a restaurateur, for me it is trying to create something that is original, that's needed, and that brings the community together. There's always a lot of risk involved, and that's just a part of being an entrepreneur. But it gets in your blood. I'm happiest when I'm creating."
She motions to the masonry she admires in the aged walls of her new restaurant.
"An artist definitely put that little arch in there. It's important for Spokane to see neat little places like that, and for them to be something instead of, you know, just a storage room." ♦
Lorén • 908 N. Howard St. • Open Tue-Sat 4-10 pm • lorenbistro.com • 509-315-8902