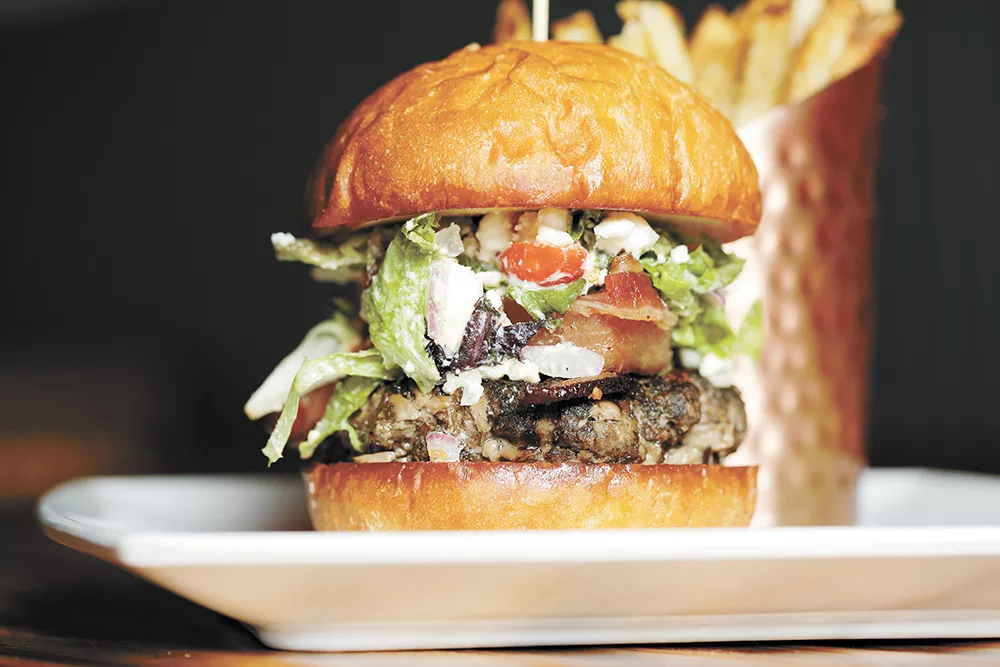 Food descriptions don't always match the ingredients. Mincemeat, for example, is actually made from fruit, while there is absolutely no dairy in head cheese. Although we're conditioned to accept a wide range of nomenclature — crab Louis salad, Reuben sandwich, Buffalo chicken wings — sometimes a menu item's name alone really stands out. Pubs, diners and places that serve sushi, burgers and pizza seemed to be especially prone to quirky item names on their menus.
What follows are the backstories of several local dishes that caught our eye.
Some places convey a whimsical menu from the outset. At Crafted Tap House + Kitchen (523 Sherman Ave., Coeur d'Alene), the menu is a series of amusing nonsequiturs, including many dishes honoring famous historical figures like tycoon-turned-philanthropist John D. Rockefeller, tributed with the Rockafella Ya'll chicken and waffles ($16), and baseball great Jackie Robinson with the #42 Burger ($15). Rainbows and Tunacorns ($15), however, is simply a mirthful way of saying ahi tuna poke and grilled corn.
"Voot" in 1920s parlance is money, hence the two meanings behind the Voot Burger ($16) at Prohibition Gastropub (1914 N. Monroe St.), where much of the menu is named after Prohibition-era slang.
"We thought it was a fun and fitting name," notes Jill Leonetti, who owns the restaurant with her husband and chef John D. Leonetti.
Even more interesting, the burger patty is a mix of coffee-infused beef and cremini mushrooms — the latter a requirement of the James Beard Foundation's Blended Burger Project competition into which it was first entered — and topped with onion, tomato, candied bacon and fontina cheese on a pretzel bun.
Unicorns are also a thing at the whimsical Gilded Unicorn (110 S. Monroe St.), which does its own take on the Cobb salad; a dish originally invented in the 1930s at the historic Brown Derby Restaurant in Beverly Hills. Gilded Unicorn, however, swaps out some of the classic salad ingredients like labneh cheese for Roquefort and squash for chicken.
But it's the Devils on Horseback ($9) — bacon-wrapped dates — that conjures Tolkienesque visions, and with good reason, it turns out.
"They are classic pub fare from England," says chef-owner Adam Hegsted. "Norman raiders would disguise themselves in suits of armor made by layering rashers of bacon."
Not only did it provide the wearer roughly the same protection as leather, the garb also frightened villagers in the area being raided.
"Then, when the job was done," says Hegsted, "the armor could be cooked and eaten."
Owners have made merry with menu names at Heritage Bar and Kitchen (122 S. Monroe St.), from Dough Boys (cheesy garlic bread; $6.50) to the Cheese Louise (grilled cheese with tomato and bacon; $13.50).
The Fancy Nancy ($16), according to co-owner Gabe Wood, is a family recipe from co-owner Alex King's mother, Nancy. The handheld meat pie features scratch-made dough, ground beef, cheddar, onions and tomatoes.
Wasabi Asian Bistro's (10208 N. Division St.) Nightmare on Division Street Roll ($15.60), is a double entendre, both a nod to the city and a reference to the Wes Craven slasher classic Nightmare on Elm Street. The roll packs in a considerable amount of ingredients: asparagus, shrimp tempura, crab, tuna, salmon, eel and spicy lobster sauce.
At Syringa Sushi (1710 N. Fourth St., Coeur d'Alene), the rolls are, like much of what owners Viljo and Autumn Basso serve in their other restaurants, a reflection of their lives, like the Coeur d'Alene Roll ($8) with smoked Idaho trout. Many names, however, have been contributed by or are about people they know, including the EZ-B Roll ($8), named for their son, who is partial to the eel, avocado and cucumber concocted in his honor.
Back in downtown Spokane at the Satellite Diner (425 W. Sprague Ave.), diners must suss out sustenance in several items, like the Hen Fruit on the Red River ($12). What is the fruit of a hen's efforts but an egg, of course; although some may still ponder the Red River reference. It's chili, served over the cheese-smothered hash browns and under the two eggs.
Another Satellite dish, the Billy Breen ($15), honors the father of a longtime patron, says kitchen manager Michael Glenn.
"It is based off of many 'all-inclusive' sandwiches that are served in the Midwest and East Coast that include protein, cheese and fries in a whole sandwich," Glenn says.
A locally made pizza named after a nearby ski hill is a no-brainer, but what impresses is the description of the Schweitzer Ski Flake ($16-$23) at Second Avenue Pizza (215 S. Second St., Sandpoint). It's got fresh spinach, tomatoes "avalanched" with feta cheese, garlic, "moguls" of mushrooms, black olives and at "the peak, knee deep" in Asiago cheese.
Another local pizza spot, the Flying Goat (3318 W. Northwest Blvd.) is all about community, a mission reflected in their menu, and much of which is named for local geography like the Milton muffaletta sandwich and Waikiki pizza. The Kerri Lynn Margherita Pizza ($13.50), however, is more personal; it's named for co-owner Jonathan Sweatt's cousin who passed away from cancer. The restaurant donates $1 from each sale of the pie to families in need.
When he wasn't scaling mountains, the late Spokane mountaineer Jess Roskelley often ate at the Flying Goat and was partial to its dumplings ($11.50) now named after him. The Roskelley Dumplings feature house sausage, roasted jalapeno and goat cheese, all wrapped in dough and deep fried.
"It's a tragedy that we wanted to acknowledge and honor [Jess and his wife Allison's] contribution to the community," says Sweatt.
As Flying Goat's menu indicates, restaurants have numerous ways to go when creating names for their food, from supportive to serious to downright silly, adding to the region's dining experience with dishes that are memorable to both eat and say. ♦
---
TEAM SPIRIT

Not surprisingly, many Inland Northwest eateries demonstrate their support of local universities and their respective sports teams through menu tributes. At Heroes N Sports (245 NE Kamiaken St., Pullman), try the Coug-It Club ($6-$13), from the menu's "All Stars" section.
Across the state line in Idaho, the Varsity Diner (203 W. Third St., Moscow) is serving the double-patty Vandal Burger ($12).
Also located in Moscow and using local Vandal Brand Meats, Rants & Raves Brewery (308 N. Jackson St., Moscow) nonetheless splits the difference of team support with the Cougar/Vandal Win Burger ($14), featuring aged havarti and pesto mayo.
Although it doubly honors Washington State with the Cougar Gold Burger (Cougar Gold cheese being made by WSU's creamery), Waddell's Brewpub & Grille (6501 N. Cedar St.) also pays tribute to hometown favorite Gonzaga University with its Big Dawgg Burger ($17.50), featuring jalapenos, Zag sauce (chipotle mayo), cheddar, bacon, grilled ham, pepper jack and topped with an onion ring.
Located just blocks from Gonzaga's campus, Logan Tavern (1305 N. Hamilton St.) serves the Kennel Wrap ($11) with crispy boneless chicken, blue cheese and optional buffalo sauce, the latter two standing in for Gonzaga's red and blue.