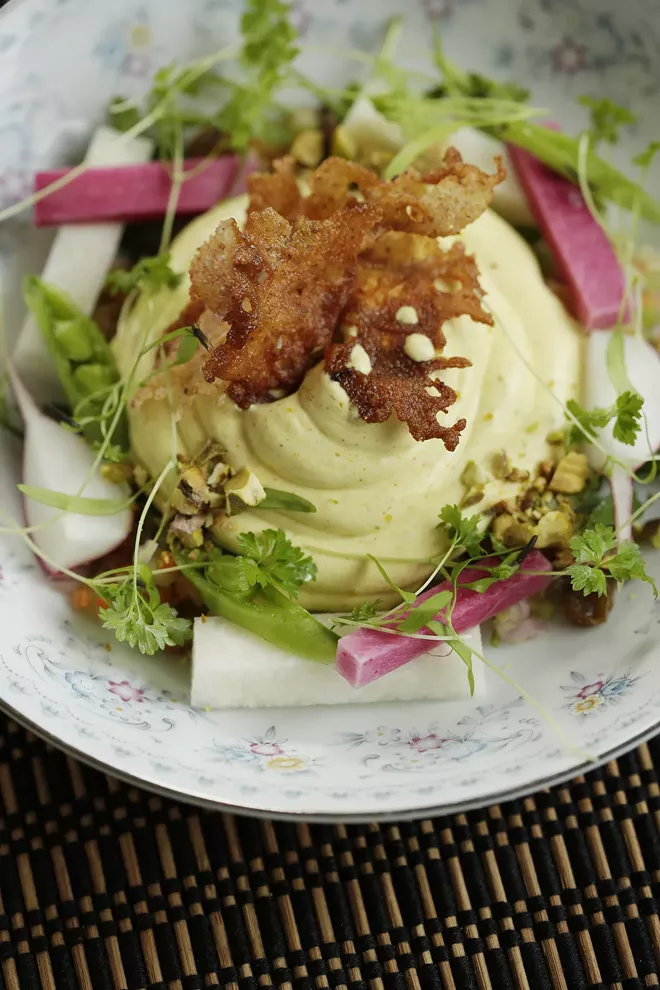 Jordan Obermeyer is serving ice cream with his chicken and waffles. Reverse ice cream, that is — a Phantom Tollbooth-esque treat that melts as it cools and stiffens as it heats up. That's just one of the fantastical surprises that awaits 50 very special guests.
On Sept. 24 only, Chef "Obi," as he's affectionately called, is serving a five-course meal called "Fowl Play" at Bowery on Riverside Avenue, with help from Bowery chef Shaun Ratty. Each dish is inspired by poultry, reinvented by molecular gastronomy, and paired with a Lumberbeard brew.
The native Spokanite has helped invigorate the food scene in Spokane for the past five years from posts at Cochinito Taqueria and Durkin's Liquor Bar, creating both unique pop-up events and regular menu items. Obermeyer is now headed to Austin, Texas, to start fresh and reconnect with old friends. But before he leaves, he's creating one last whimsical experience for adventurous palates in the Inland Northwest.
Fowl Play starts with "Chicken N Waffles" topped by the aforementioned, mind-boggling ice cream and a chorizo chili crunch. Next, the "Oyster Shmaltzafeller" features shmaltz spent grain, "shmaltz" being rendered chicken fat and "spent grain," the byproduct of brewing beer. The egg salad for the third course is curried and paired with a sparkling pale ale. The penultimate course moves on to quail, served with a North African sausage mousse and black cherries candied in a mustard-flavored syrup. And make sure you save room for dessert — a chocolate tart served with coconut, cherry and foie gras.
Wait, chocolate and foie gras? Trust Obi, young padawan. The master knows what he's doing. He's got it down to a science, in fact.
Molecular gastronomy is the study of food science, Obermeyer says, or "just the use of chemistry to manipulate the molecular structure of food."
It kinda seems like a description of all cooking. But the term is shorthand for the ways that chefs push the boundaries of food, like Grant Achatz serving "truffle meringue concrete with carrot graffiti" at Alinea in Chicago, or Thomas Keller plating tiny, tweezered morsels of compressed melon at the French Laundry outside San Francisco.
Obermeyer lived with a roommate in LA who worked at this kind of fine dining restaurant — the dry ice, the tiny portions, the white plates. But it wasn't until Obermeyer was back in Spokane, twiddling his thumbs during the pandemic, that he started getting excited about molecular manipulations.
He bought equipment from Spiceology and started experimenting for hours every day. He needed something to hyperfocus on, and not just because of the pandemic.
"When I was younger, although really for way too long, I had a problem with drugs and alcohol," Obermeyer says. Mastering intricate new skills "cathartically made me stay out of trouble."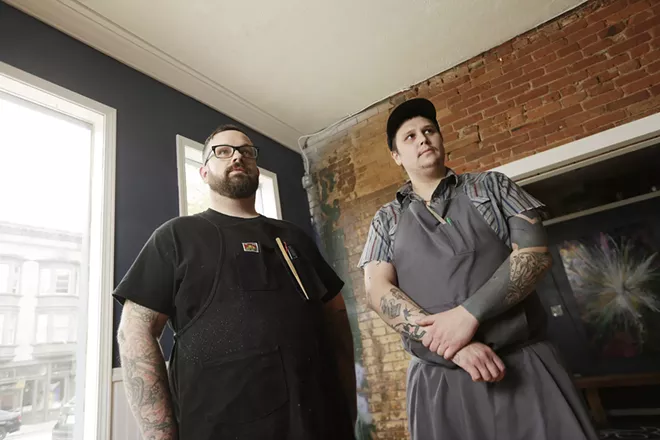 Obermeyer is modest about his expertise. As if Fowl Play's ingredient list wasn't already complicated enough, co-chef Ratty previews more insane techniques on Instagram, promising "brass monkeys, meats inside of other meats, and unassuming spheres," by which he means liquids manipulated into caviar-like solids.
Obermeyer combines his new scientific pursuits with a background in traditional Spanish cooking, which he learned under chef Kelly Wilson in Tacoma. Obermeyer is well-versed in rustic, Basque-style cooking. He likes modernizing European "peasant food," dishes that rely on basic grains, vegetables, and sometimes livestock typically available to the working class.
Once he moved back to Spokane, Obermeyer learned how to do pop-up events while he worked at Cochinito with chef Travis Dickinson. Cochinito hosted Obermeyer's first pop-up event in Spokane, which explored Moorish influence in Spain. Obermeyer served khobz, a traditional Moroccan bread, with lamb belly and chickpea fried green tomatoes.
"[It's] just an example of me doing my style of cooking and expressing myself," he says. "Doing something that's unique and different and a little bit dangerous."
Since then, Obermeyer has done about a dozen pop-ups with increasingly "dangerous" themes. Obermeyer's food is humorous, often self-deprecating, and a little dark, which endears him to Spokanites and sets him apart from other fine dining chefs. His "White Trash" dinner featured red curried Spaghetti-Os served out of miniature garbage cans and dubbed "Hot Trash." His most recent pop-up was "The Gnudi Bar," with gnocchi-like gnudi dumplings, bikini sandwiches (Barcelona-style grilled cheese sandwiches), and drinks with names like "shit punch" and "grimace piss."
Obermeyer prefers a grassroots approach to marketing and promotion. He mainly advertises his pop-ups on social media (including Spokane Food Finder on Facebook). Before learning to cook, Obermeyer managed hardcore rock bands touring the Northwest in the same low-key way.
"I think it builds a sense of community," he says. "When you promote things that way, you build more of a close network. It's more personal."
It also means that if you're not following any chefs on Instagram, you're never going to know about special events like this. Or worse, you'll find out the day after they happen, or hours after they sell out.
This is probably the conundrum people are facing when they say "there's nothing happening" in Spokane's food scene. Spokane chefs love to collaborate with their foodie friends and let the public tag along to give feedback in real time. Pop-ups are an important way that chefs throw spaghetti against the wall and see what sticks.
"Adam Hegsted [had] this place called The Wandering Table — that was originally a pop-up idea that expanded into a giant restaurant group that's been super successful," Obermeyer says, referring to the chef-restaurateur's spot in Kendall Yards that rebranded as Baba.
The thing is, you've got to have the checkbook and social media algorithm to be a part of these exclusive dinners. But once you're on the prowl for limited edition dining experiences, they'll probably keep popping up. And that's thanks, in part, to Chef Obi.
"I hope that a lot of people start doing pairing dinners in Spokane, and pop-ups, and creating a bigger scene than it already is here," he says. "I've been all over the country, and Spokane has a really solid food scene for sure."
Though no one can replace Obermeyer, he recommends keeping an eye on his co-host, Shaun Ratty.
"He works his ass off," Obermeyer says. "I feel like he's gonna be one of the best chefs that Spokane sees." ♦
Fowl Play: A Pop-Up Beer Dinner • Sun, Sept. 24 from 5-8 pm (tickets on sale through Sept. 17) • $118 • Ages 21+ • Bowery • 230 W. Riverside Ave. • secretburger.com
---
MORE POP-UPS!
Local chefs and restaurants to follow for info on future pop-ups and special events.
Chef Teague Tatsch @thesichuanreach
The chef at Dos Gordos specializes in Sichuan food, a cuisine from southwest China. He's done special tastings at Nectar and Chowderhead with dumplings, noodles and crisp, spicy veggies. His next pop-up is at Dos Gordos on Sept. 25.
Hogwash Whiskey Den @hogwash_whiskey_den
Hogwash has hosted two anime dinners so far this year with dishes inspired by Spirited Away, Demon Slayer, Ponyo and other franchises. Follow the restaurant or chef Joseph O'Neal (@jochefoneal) for the next fun idea.
Inland Pacific Kitchen @inland_pacific_kitchen
IPK has served a Disney dinner and a multicourse meal paired with unique wines. It's just upstairs from Hogwash, and the ideas flowing between the two is the hungry public's gain. Check in with the restaurant or chef Chong Vang (@incv).
Isaac Houger @laceysburgers
The chef at Sandos and Peace Pie also does a smashburger pop-up called Lacey's. It's more frequent in the summer, but maybe hungry social media followers can pressure him into making it a year-round thing.
Iolite Lounge @iolite_lounge
Need some more cheese in your life? Iolite Lounge in Spokane Valley has hosted two Parmesan dinners — that's right, a whole meal revolving around a wheel of cheese. If you're not lactose intolerant, check back to see if they put it on again.
Gander & Ryegrass @gander_and_ryegrass
If you want to experience a fixed menu but don't want to hunt for an exclusive event, Gander & Ryegrass offers chef-crafted tasting menus every day.