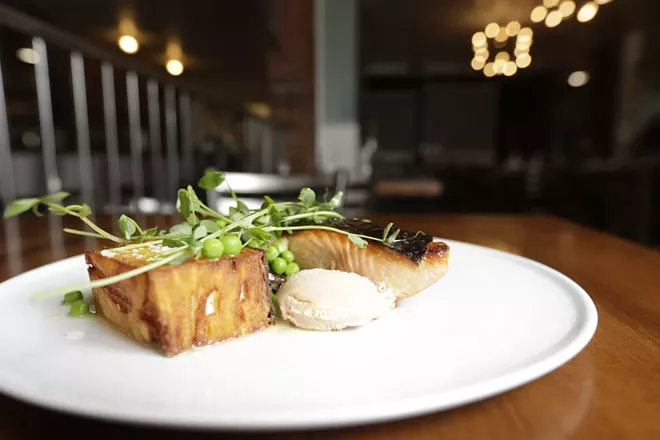 Bowery offers every moment of a day in Paris — pastries and espresso in the morning, elevated dinner in the evening, cocktails and mystique late at night. It marries Northwest flavors with classic French techniques, seeking the elegance of French food, but ditching the snobby French ego.
French cooking isn't so much a cuisine, executive chef Todd Andrews says, as an extreme attention to process. It is an invitation to experience expert craftsmanship, the way you would admire a skilled musician or a polished athlete.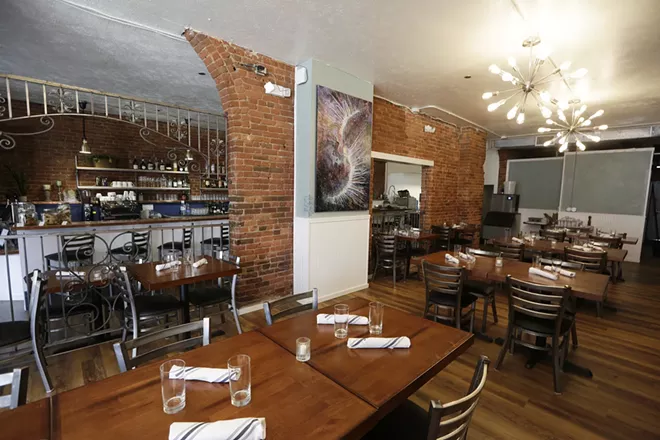 "Every food comes from French food, even the simple, three-ingredient Italian food," Andrews says. "It's not necessarily that it's a French dish, but the idea behind it — the technique behind it, the prep behind it, how we approach it and how we look at it — is almost purely based in French cuisine."
Bowery is the place to go whether you can recognize great French food or are desperately trying to figure out what all the hype is about. Thoughtful and unique flavor combinations are approachable and tempting. Gnocchi and hazelnut. Salmon and morel. Duck breast and grape.
Bowery
230 W Riverside Ave
boweryspokane.com
Bowery has a comfy interior of exposed brick and wrought iron scrolling, like a French patio brought indoors. It hints at avant garde with an acrylic galaxy painting in the dining room.
Service is laid back and friendly, the kind you might find at your favorite local cafe. No one is in black tie, and you probably won't geek out with your server about wine pairings. But you'll be welcomed, pampered and well-fed for much less than a ticket to Marseille.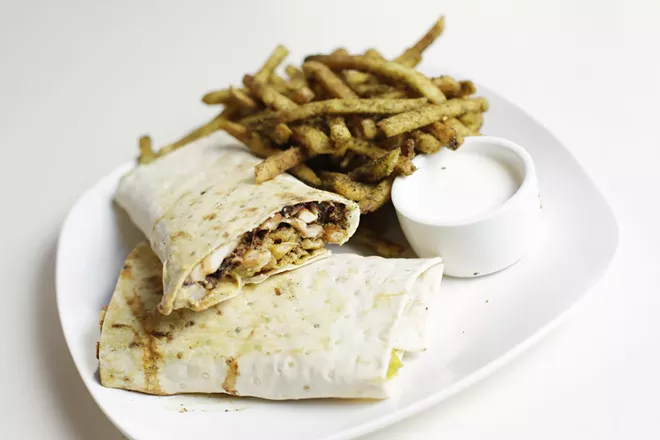 MORE TO CHECK OUT
THE UNITED
5016 N. Market St.
The United Building is a collaboration between Bellwether Brewing, Derailer Coffee and Locos, a new Tex-Mex extension of The Grain Shed by chef Victor Lewin. The building's first floor is a modern food hall featuring all three businesses. Each has its own kiosk facing a bright, open seating area where everyone can eat, drink and meet new people.
Lewin calls the food at Locos "modern redneck cuisine," with creative takes on comfort foods like barbecue ribs, tacos and pulled pork sandwiches. But he's got dishes for meat-ers and vegetarians alike, like his famous portobello mushroom burger.
KONALA
107 E. Seventh Ave., Post Falls
There is no frying of any kind at Konala, no high-sugar beverages, and the menu is nearly gluten-free. All meals are also high in protein and comparatively low in sodium — even lower in fat — says Trace Miller, who opened the Post Falls eatery with his wife, Jammie, in May.
Six full-size and six other mini bowls on Konala's menu offer around 40 grams of protein and allow for a choice of base: greens, rice, half greens and half rice, or cooked multigrains. Sauces are served on the side so you can decide how much sauce, if any, you want.
And if your companion at Konala's drive-thru or walk-up window is canine, the pooch gets as good as you're getting.
SKEWERS
1007 W First Ave.
Spokane's No. 1 food truck for four years running takes up permanent residence in the spaces previously known as Scratch Restaurant and Rain Lounge. Armenian chef Mirak Kazanjian of Skewers teams up with Chef Michael Wiley to offer authentic shawarma and falafel to Spokane five days a week.
In the lounge area, Skewers offers a convenient counter service for lunch, plus a late-night weekend hang-out space with great snacks and nonalcoholic options. Family-style sit-down meals will be served in the other half of the restaurant, which also can be rented out for events.
By serving up traditional Armenian food, Kazanjian creates a safe gathering space for the Armenian community, while educating the city about the historic and current violence that Armenians face.