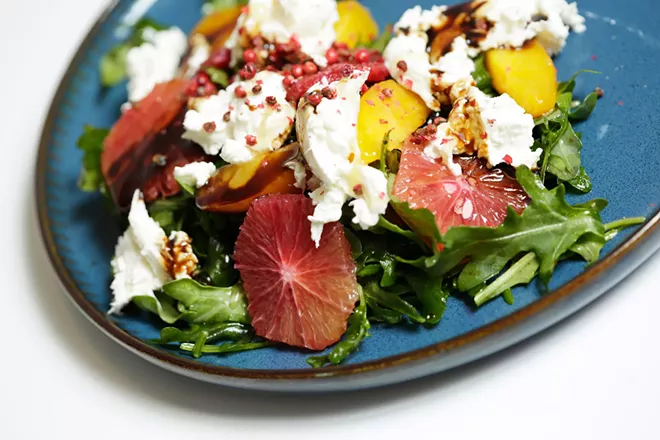 I
f you blink, you might miss
the last few days
of Inlander Restaurant Week 2023, which wraps up at the end of dinner service on Saturday, March 4. Looking for some suggestions of where to dine during these final days of the 10-day culinary celebration? Here are more highlights from our editorial team.
Find all 112 menus from this year's participating restaurants, offered at $25, $35 or $45 per person, at
InlanderRestaurantWeek.com
.
CHINOOK CRAFTED BY ADAM HEGSTED
($45)
37914 S. Nukwalqw St., Coeur d'Alene Casino, 208-769-2600
Menu served Thu 4:30-9 pm, Fri-Sat 4:30-9:30 pm
It's a bit of a drive, but heading out to Worley, Idaho for Inlander Restaurant Week is well worth the 45 minutes it takes to get there. With my two dining partners in tow, we sat down at Chinook and proudly declared that we wanted to order one of everything on the Restaurant Week menu. (According to our waiter, this was a first!)
Our three first-course options came out relatively quickly. The
fried mushrooms
were tiny nuggets of pure happiness. Battered, fried and then coated in a honey butter chili sauce, these little guys were the stand-out appetizer for the entire party. The
stuffed jalapenos
were completely different from your typical jalapeno popper — stuffed with peanut butter, wrapped in bacon and topped with pepper jelly. The
risotto arancini
was an interesting spin on an Italian dish usually made with rice. The deep-fried risotto and cheese balls were perfect vessels for the herby pesto sauce that adorned each piece.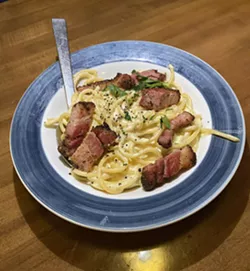 The second-course offerings are where Chinook truly shines as a culinary institution. The
steak chimichurri
was sensational from the meat to the smash-fried red potatoes that accompany it. The fresh chimichurri sauce is made of parsley, garlic and olive oil, cutting through the fattiness of the 6 oz. top sirloin. The other two main entrees were fabulous in their own right: the
pancetta bucatini carbonara
was delightfully rich and creamy. The
blackened salmon caesar
was the lightest option on the menu and had immense flavor and spice.
Dessert featured a
cannoli
dipped in chocolate, a dense
black forest cake roll
and a
mini Charlet
which consisted of a fluffy strawberry mousse surrounded by crisp and sugary ladyfingers.
If you're looking for a Restaurant Week menu that checks multiple flavor boxes, Chinook has got you covered. (MADISON PEARSON)
OUTSIDER
($35)

908 N. Howard St., 509-315-5442,
Menu served Thu 4-8 pm, Fri-Sat 4-9 pm

Chef Ian Wingate's wood-fired restaurant opened last fall to plenty of local praise, and has been a popular choice for many during its first year in Restaurant Week. My dining partner and I were excited to check it out, and enjoyed an early dinner reservation last weekend before things got too busy. We overheard the server telling many customers that walk-ins were unavailable, so at this point it might be difficult to get a reservation, but it's certainly worth a try.
One favorite from Outsider's IRW menu was the
cacio e peppe pizza
, in an ideal size for sharing. With parmigiano reggiano cream, garlic confit, rotisserie chicken and cracked black pepper, the star ingredient for me was the perfectly bubbly and crispy crust, courtesy of Outsider's wood-fired oven.
The first-course option of
burrata and blood oranges
in a fresh, light salad with honey, balsamic and pink peppercorns was quite a small portion compared to the
smoked brisket French onion soup,
but considering the aforementioned hefty pizza (about 10 inches) and the fact that we shared everything we ordered, we weren't too full until it was time for dessert, for which our picks were the
carrot cake
and
jaffa cake
. While similar to each other, the carrot cake was spiced with the familiar, warm notes and the jaffa cake offered notes of tart citrus and sweet chocolate. Both featured creamy mousse between each sponge cake layer — cream cheese for the carrot cake and chocolate for the jaffa. (CHEY SCOTT)
SCRATCH
($45)
1007 W. First Ave., 509-456-5656
Menu served Thu 4-9 pm, Fri-Sat 4-10 pm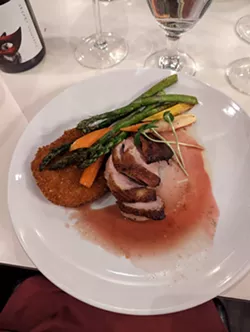 While he only

took over ownership

of Scratch restaurant and Rain Lounge in downtown Spokane mere months ago, Chef-Owner Michael Wiley wasn't going to pass up the opportunity to participate in Inlander Restaurant Week, along with two his other spots,

Prohibition Gastropub

and

Wiley's Downtown Bistro

.

The

Inlander

editorial team was fortunate to enjoy an evening out at Scratch earlier this week, and the team consensus is in: It's a hit!

With several gluten-free diners in our group, Scratch's menu offered plentiful choices for each course. Anything not already vegan/vegetarian or gluten-free on the menu can be made to accommodate such requests.

After enjoying soup or salad to start the meal, we dug into the true stars of the menu, the entree course. My choice, the

seared duck breast,

defied all prior expectations. I don't usually order duck, but decided to go out on a limb here with the assurance that Chef Wiley and team's preparation would be above average. And, dear reader, above average it was: perfectly seared and crispy on the outside, and moist and flavorful on the inside thanks to a marinade of orange juice, herbs and spices. It was paired with a savory, fried risotto cake, asparagus, carrots and a pomegranate gastrique.

For dessert, the majority of our group chose the

goat c

hèvre

cheesecake

, which our friendly server recommended for its ultra-creamy cheesecake base layered with a house-made berry compote. By the meal's end, we were all stuffed, but very satisfied. (CHEY SCOTT)

Still hungry? Make sure to check out our other Inlander Restaurant Week 2023 recaps on

Iron Goat Brewing Co.

,

Little Noodle

,

Inland Pacific Kitchen

and

Zona Blanca

.