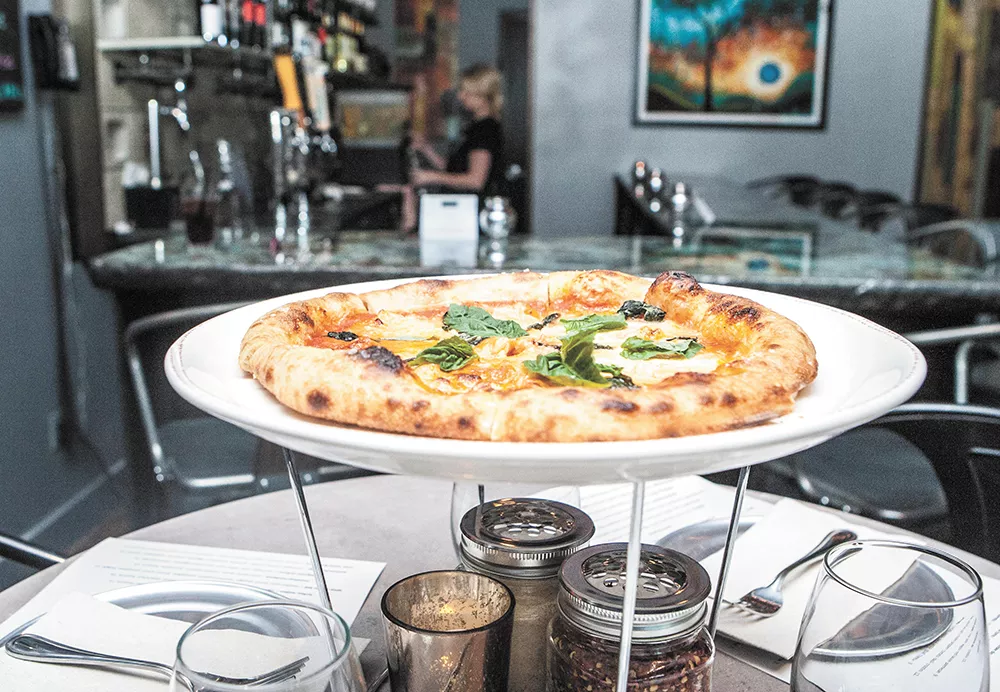 Not all pizzas are created equal. At least that's what Piccolo Artisan Pizza Kitchen wants to show the Inland Northwest by using traditional Italian cooking methods to create their gourmet pies.
Owner and chef Patrick Fechser has worked in kitchens since he was 15, but opening Piccolo earlier this month and focusing solely on pizza is new for him.
"We realized that pizza is kind of missing out here in Liberty Lake, so we thought that this would be a good opportunity to open a place and try it," he says.
Fechser described Piccolo's approach to pizza as more of the Naples style than this area is probably used to tasting.
"We're not going to be making any really crazy or off-the-wall stuff. We're sticking to more traditional, authentic Italian pizzas," he says.
Piccolo's pie menu reflects their traditional approach to pizza, with classic Margherita ($13) as the first pie listed. Though they're staying away from crazy combinations of toppings, many of these pies have bases other than tomato sauce, and bring together unique flavors to create their balanced pies.
Their Ortaggio pie ($14) has a basil pesto base, topped with carrot, tomato, peppers, onions, artichoke hearts, fontina and feta.
Beyond their pizzas, Piccolo offers some heartier entrées, such as their prosciutto-wrapped halibut ($27) and a rib-eye steak ($32). Their antipasti and salad options provide a few lighter dishes that fit with their classic Italian style.
Their wine list consists of mostly Italian wines, though they also serve a couple of Washington wines for Northwest oenophiles. Even though beer doesn't entirely fit with Piccolo's traditional Italian concept, Fechser says they want to support local breweries. They plan to rotate their six handles with local beers, always keeping one of the taps a hard cider.
"I'm honestly excited that everyone else has been so excited about our opening," Fechser says. "I've been a chef for a long time, but this is new to me, and I can't wait to see where it takes us." ♦
Piccolo Artisan Pizza Kitchen • 21718 E. Mission Ave., Liberty Lake • Open daily, 11:30 am-9 pm • piccolopizza.net • 926-5900