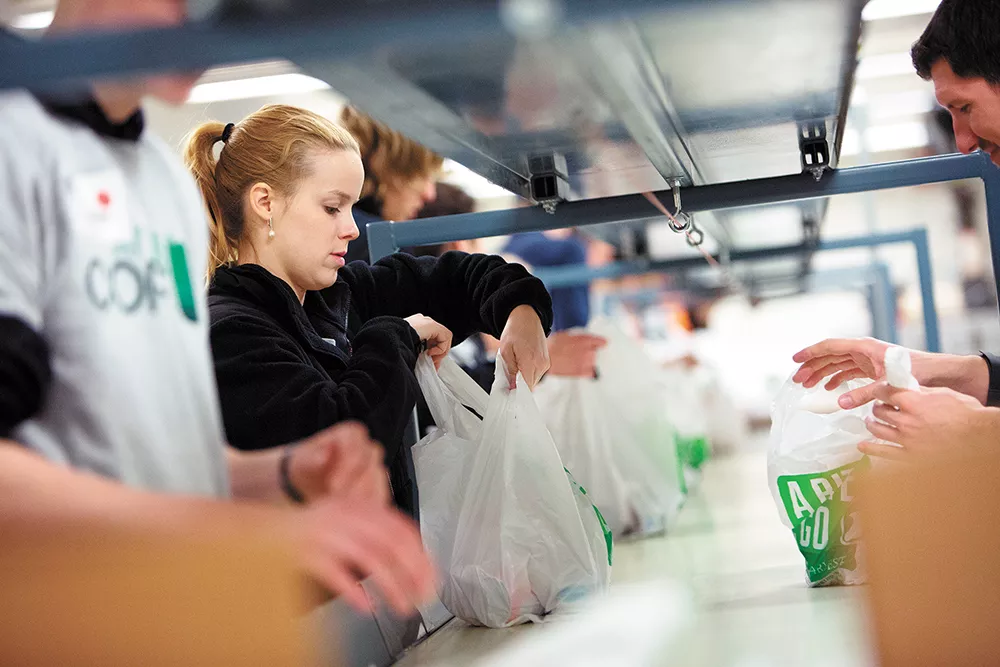 Feed Spokane started more than a decade ago with a simple question: What happens to the extra food that restaurants don't use?
The unfortunate answer is that much of it is thrown away. But Feed Spokane works to change that, says Steven Brashears, who has been its executive director for eight years. Feed Spokane, a nonprofit, rescues prepared foods from restaurants and grocers, then gives that food to other nonprofits that are able to quickly put it in the hands of those in need.
Food rescue isn't a particularly complicated process, but it's one that some companies avoid due to safety concerns. Restaurants and grocery stores may worry they'll be held liable should someone get sick. Or they simply think it's easier to throw it away.
"I think there's the impression from grocery stores and other stores that handle food, that they don't want to assume liability and have someone come back and sue them," says Trish Twomey, membership director for the Washington Food Coalition.
Brashears says a major part of his job is combating that misconception. Sometimes he runs into restaurants that won't donate due to fear of liability.
"There is that fear," he says. "But that fear is not founded."
Unless there's ill intent, it's unlikely you'll be held liable for donating food. The federal Bill Emerson Good Samaritan Donation Act, signed by President Bill Clinton in the '90s, was designed to encourage donations to charitable organizations. Essentially, any licensed restaurant can donate food to a nonprofit as long as it wasn't served to someone else and it was properly prepared and handled. The act broadly protects restaurants or grocery stores from liability should the food later cause harm to someone eating it, as long as there was no intentional misconduct.
That makes it easy to convince stores and restaurants to donate food, Brashears says.
"Your intent as a restaurant person is not to throw away food," Brashears says. "Our intent is to see that the food is safely handled, comes to us, and safely goes out to our coalition group."
Sage Dunaway, co-owner of Grocery Outlet in downtown Spokane, says the store began partnering with Feed Spokane last January. Except for spoiled produce, she says Grocery Outlet will donate all kinds of food. If a box of chips had one of six bags get damaged, the store will donate the other five bags. They'll also donate stuff that's still edible but is near its "best by" date, knowing Feed Spokane can help get it in the hands of those who will eat it soon.
"So much stuff goes to waste in our society and there are so many people out there who could use it," Dunaway says. "Every little thing counts."
While Second Harvest doesn't take prepared food like Feed Spokane, the nonprofit has relationships with 26 different retail chains including stores like Rosauers, Yoke's, Albertsons and others. Julie Humphreys, spokeswoman for Second Harvest, says 55,000 people per week depend on food from Second Harvest.
Yet Humphreys says she doesn't remember any food having to be recalled in the years that Second Harvest has operated.
"We're very careful about that," she says.
What's important, she says, is giving the food to those who need it. Second Harvest estimates that one in eight people are food insecure, and one in five don't know where their next meal is coming from.
"Most everyone that donates to us, they just believe it's the right thing to do," Humphreys says. ♦