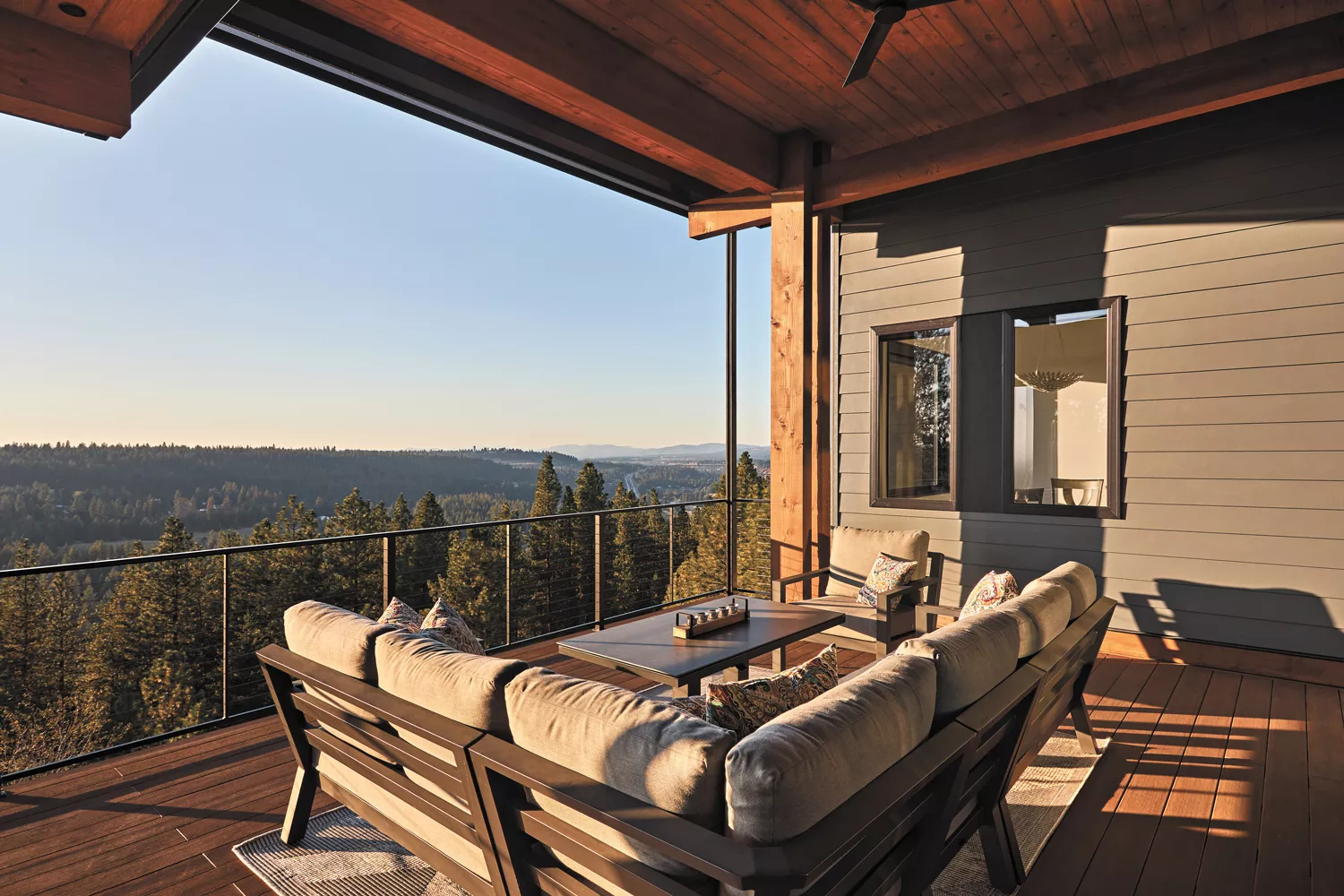 As the bright reds and teals that defined patio furniture for years fade out of style, earth-toned pieces with colorful accents and a focus on individual customization enter the spotlight.
The shift to more personalizable patio options is partly due to the COVID-19 pandemic, says Heather Hanley, co-owner of The Tin Roof furniture store in Spokane.
"It seems like this year we're seeing a lot more interior trends making their way outside," she says. "That's probably due to the fact that so many people, especially through COVID, really invested a lot in their homes and created these liveable outdoor spaces."
Hanley says furnishing a patio is an expensive investment, and while it may be tempting to buy cute, cheap pieces at big-box stores, she encourages people to invest in quality materials that will last longer, even if they're more expensive.
Dave Jacobs, president of Jacobs Custom Living in Spokane Valley, says some people try to decorate their entire patio all at once, but recommends taking your time and being creative.
"You don't have to just buy what's in the box. You can create your own space, and it can be what you want," Jacobs says. "The key to this entire thing is it's not just a space in your backyard, it's a living space."
PLAN ACCORDINGLY
Jeff Runge, vice president of Runge Furniture in Coeur d'Alene, advises people to figure out exactly what they want to use the space for before making a purchase.
"Measure your space and then purchase accordingly," he says. "You want to have something where you can enjoy the outdoors, but you don't want to crowd it out so that it completely fills up the space."
For big gatherings you may want more individual seating, but for smaller, more intimate get togethers, sectionals could be the perfect fit.
And for those who are building a patio or looking to renovate an existing space, Jacobs says constructing a covered patio, especially considering the Pacific Northwest weather, is a good investment.
"It doesn't have to all be covered, but part of it's covered," he says. "In that covering, I would put a ceiling fan. If you do something like that, you can put these fire pits in underneath the cover, turn the ceiling fan, and it will keep you warm enough to literally have Thanksgiving dinner out on your deck."
For those wanting to stare at the stars or bask under the warm summer sun, Tin Roof's Hanley says choosing the right types of upholstery fabric and materials is crucial.
"We have pretty crazy weather here, so I want to make sure that those are good cushions that can be outside," she says. "You want to make sure your patio furniture has solution-dyed acrylic fabric."
Solution-dyed fabric is dyed all the way through the yarn, whereas many cheaper fabrics are only dyed on the exterior part of the fabric so they have a white layer underneath, causing it to fade. According to Hanley, solution-dyed fabric could be sprayed with bleach and not discolor.
"Take it a step at a time, and just continuously look to improve because it's all about your comfort," adds Jacobs.

tweet this
SPRUCE IT UP
The neutral grays, beiges and browns trending in patio furniture can be easily paired with other fun and unique pieces and accessories to spruce up your outdoor space.
Recently, Jacobs has noticed a shift from sectionals and chairs with rolled arms to a straighter, cleaner and more contemporary style of furniture.
"A lot of (new) housing that is going in is more contemporary-looking housing, so you need contemporary-looking patio furniture to go along with it," he says.
Hanley says wicker and metal furniture also nicely complement that style of architecture.
Hanging basket chairs and double chaises are two seating styles Hanley says have become popular lately due to a fun, unique look and comfort.
TIMELESS MASTERPIECES
Some things never go out of style, so investing in timeless pieces can end up saving you time and money while creating a vibrant patio space.
Teak has always been popular, but it requires extensive upkeep to prevent its brown color from fading to gray, Jacobs says. At a recent market he discovered EverTeak, a synthetic plastic version of teak that doesn't weather or fade.
"This stuff is built chunky like teak furniture is, but there's no upkeep on it at all," he says. "It stays the color it is, and they've got it in all different styles."
Fire pits are a fun piece for patios, says Runge, and with multiple options and designs, they're easy to incorporate with other furniture.
"You can get smaller fire pits that act as kind of a coffee table or a place to put a cocktail, and you can sit around them with just standard sized chairs," he says. "Or we actually have some fire pits that are going to be more like counter height dining."
Adirondack chairs are also perfect for almost any patio, Runge says. With bright colors, they're an easy way to complement the other furniture.
"They've just got a classy look, they're comfortable," he says. "They're now made with this material so that they're sun-resistant and they're weather-resistant so that they're going to last you a long time."
At the end of the day, your patio is yours. To Hanley, it's worth spending a little extra time and money on something you love and that will last you a lifetime.