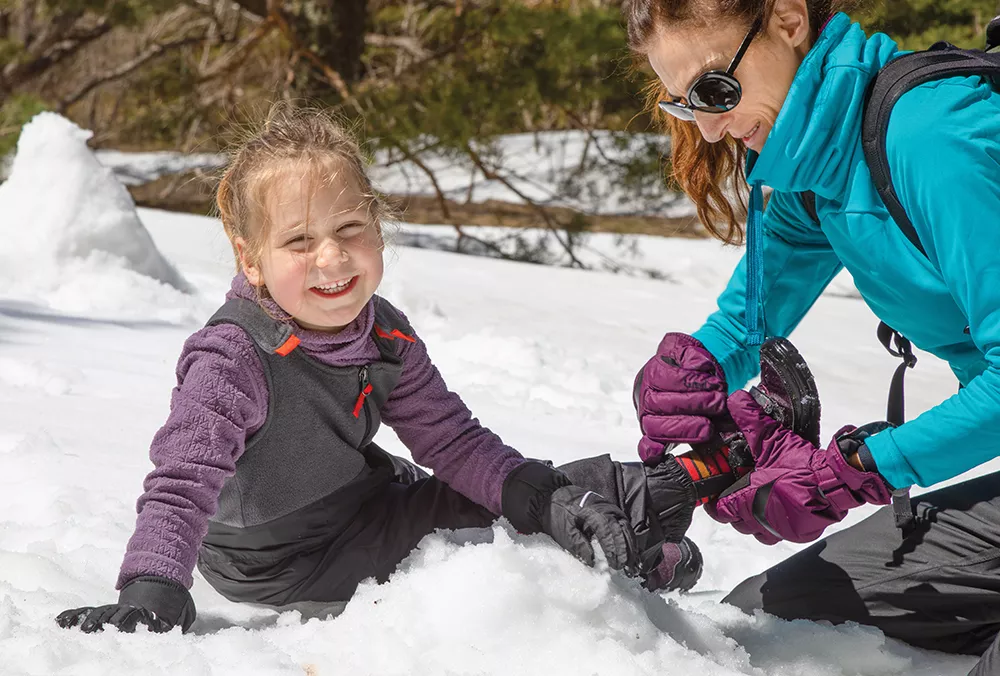 When his daughter turned about 18 months old, Jonathan Stahl had an idea — he could hike her and a sled up to the snowy top of 4,983-foot Moscow Mountain. Then they could ride all the way back down.
She enthusiastically agreed and they set out, but Stahl recalls she had never actually gone sledding before. After less than a 100 feet of cold wind and snow to the face on the sled, she started bawling.
They walked the rest of the way.
Stahl, an adventure coordinator with WSU's Outdoor Recreation Center, introduces young people to the outdoors for a living. Taking little kids out to the local sledding hill, ice rink or ski resort can seem intimidating, he says, but it's worth the effort to make those family moments.
"Anyone who wants to go out there and just have fun with their kids in the mountains," Stahl says, "should just go do that."
It may not always go quite as hoped, but a little planning and supportive expectations will set young children up for a lifetime of winter fun.
With her three-week-old baby cooing lightly in the background, Rachel Harding, owner of the Spokane Alpine Haus, explains keeping growing kids outfitted with winter gear can be one of the most daunting aspects. She says her staff makes families their top priority — especially first-time skiers and snowboarders.
"It's a big responsibility for us," she says. "We're their first experience. ... We want it to be a really fun experience for these little kids."
Her staff can help fit boots, bindings and winter clothes. Some parents will just bring in their kids and a pile of gear to sort for sizing and needs. Specialists can also check adjustments on bindings and other gear.
"We're happy to help them get organized," Harding says.
Many shops, including Alpine Haus, offer daily ski or snowboard rentals as well as season-long leases for kids just trying out the sport. Harding says they also offer a buyback program where they can take back gear within two seasons for 50 percent of the original price.
Many parents save money by tracking down used or discounted gear at regional ski swaps. Stahl suggests taking advantage of the expertise the different vendors can provide.
"It helps to shop around," he says. "Look for equipment that's good quality, but doesn't break the bank."
As his kids have stuck with the sport and improved, Stahl says he has gotten more comfortable investing in more expensive, specialized gear. He tries to make sure they have the gear to match their capabilities.
Once you have the kids geared up, it's important to stay organized, says Dan Henry, executive director of the Mt. Spokane Ski Race Team, which offers a youth program for ages 5 and older. Have a packing list. Keep things in dedicated bags. Remember snacks.
"I've had people show up on the hill and forget boots," he says.
For parents, using packs or duffel bags to keep snow gear together can make it easier to haul in and out of the car. Have children help sort and check gear. Make sure it all goes back in at the end of the outing.
Henry says parents can set kids up for success by making sure they are properly dressed for weather conditions, well rested and have gone to the bathroom prior to setting out.
"It's not as big of a deal as many first-time parents think it is," he says. "You've got to plan a little bit, but it's just as easy as any other sport."
Henry emphasizes parents need to set their objectives around the kids' experience. When introducing small kids to winter sports, it's about their fun and excitement — not yours. Don't let your passion for a sport turn into unreasonable pressure on them. Pace yourself.
"If the experience isn't going well, you probably have to look at yourself," he says. "Sometimes enthusiasm turns into expectations."
Parents can try out a wide variety of winter sports to find something that fits with their kids' skills and interests: snowshoeing, ice skating, or maybe curling. Stahl says he loved cross-country skiing while towing his bundled-up toddlers in a trailer on skis.
Reading together about snowy adventures, watching ski videos or sharing stories can help build anticipation and buy-in between outings, he adds. "That all contributes to their stoke factor."
Nikol Hampton, director of the Snowsports School at Schweitzer, says snow play and sledding make fun first outings. Kids can start trying out skiing or snowboarding at about 2 years old, but won't usually make significant progress until 4. By 6 years old, they might ski circles around you.
"Make things short," she advises. "End your ski time before they get tired. ... Quit while you're ahead."
Schweitzer has a day care for the youngest kids, so parents can still get out on the slopes. Many regional resorts offer lessons, which can take the burden off of parents and help build kids' confidence.
Hampton's daughter grew up on skis and now races as a teenager. She says parents can really seed that love for a sport by keeping things easy and positive during the early years.
"Make sure it is just super fun and there is no pressure," she says. "Create excitement. You know how little kids hold on to memories."