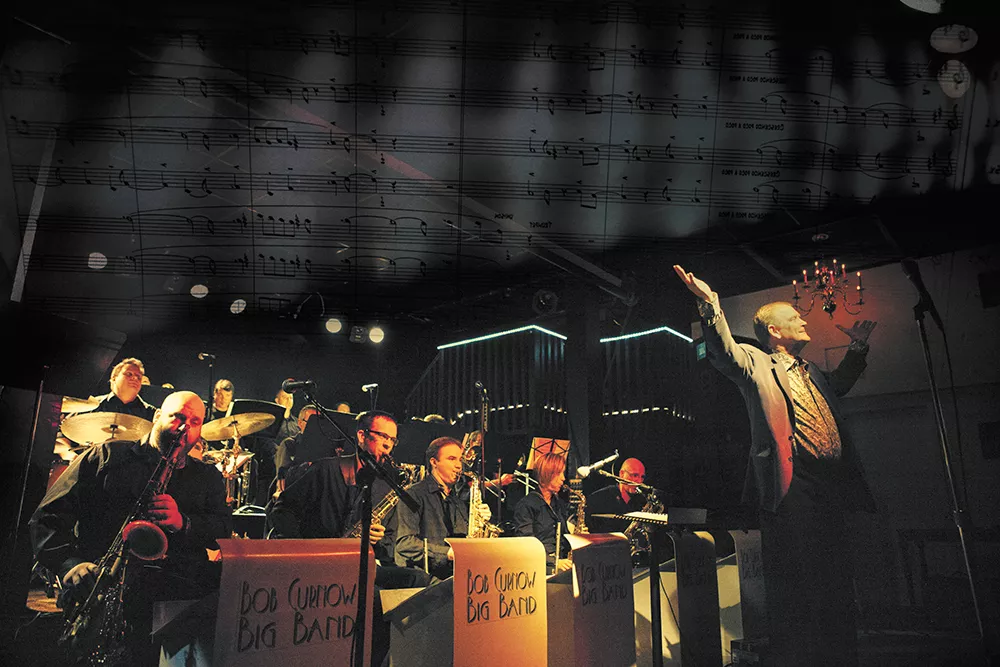 Out through the open Big Dipper doors, jazzy harmonies float into the inky night — over the rain-soaked streets, under the street lamps, echoing beneath the train overpass on this Monday night. Once inside the darkened music club, the crowd is surprisingly multigenerational, ranging from high school kids to grandparents in one room. These are people who understand the nuances of jazz music, and they want to hear it performed by the Bob Curnow Big Band.
The group plays some classic pieces, but also contemporary jazz artists like Pat Metheny and Lyle Mays, and even rock bands like Radiohead. Sometimes the music hits a quiet lull, then with a bang it's sexy and sultry again. All of the soloists' improvisations are as smooth and delicious as an aged bourbon.
"They're good at faking this," Curnow announces to the crowd in between pieces.
Jazz players and teachers from all over the Inland Northwest, as far away as Moscow and Richland, come to take on the challenge of sight-reading Curnow's charts with such high-caliber musicians. They like playing for Curnow, a living legend who has influenced many musicians inside and out of the jazz world.
The next evening, out at his home just outside Liberty Lake, Curnow, 73, sits by the crackling fireplace, feet up, his tiny, fluffy dog Molly on his lap.
"I don't have to do this band, I want to do this band," says Curnow. "The great thing about last night — that will never happen again — those songs will never sound the same again."
Curnow has played, composed, arranged, conducted and taught jazz music for 60 years. He owns one of the largest jazz sheet-music companies in the world, Sierra Music Publications Inc., which is headquartered on his property and has more than 700 charts in print. His 1994 album The Music of Pat Metheny and Lyle Mays by Bob Curnow's L.A. Big Band has never been out of print.
He says everything in his life has been serendipitous, beginning with hearing great jazz. He was a teen growing up in Easton, Pennsylvania, when his brother's friend introduced him to "Collaboration," a trombone feature by Stan Kenton Orchestra with Kai Winding, in a record store listening booth. Everything about it seemed so freeing that it completely consumed him. In 1963, straight out of college, he landed a gig playing trombone for the legendary Stan Kenton Orchestra. He then switched gears as a graduate student and teacher at Michigan State University. There was the teaching job at Case Western Reserve University, then a move to L.A. to take over as director for Kenton's Creative World Records. In 1987, he and his wife Darlene moved their family to Spokane for a change of scenery.
Creating what would become the Bob Curnow Big Band in 1990, he's always made it clear his group wasn't some knock-off Glenn Miller act.
"We're not here for nostalgia," he says.
Instead, the band is about making instrumental jazz that sounds of the moment. He once had a singer, around the inception of the band, but now he's not concerned with having one.
"Stan Kenton once told me, 'It's just too much damn trouble to have a singer,'" Curnow says.
The group has played all over Spokane, most notably at Ichiban Sushi Lounge before it closed down two years ago. Some nights the group would pull in 300 people. These days, they're residents at the reopened Big Dipper. Next week's concert is their last of the year. They'll resume playing in February.
About four years ago the demographics of his band's shows began to change, Curnow says. Young people started showing up.
"It's a matter of good music, that's what's bringing people in," he says. "Since I've lived here, the jazz scene in Spokane has grown exponentially. The band I have now is the best the Bob Curnow Big Band has ever been."
Curnow directs his band into a new piece. This one starts with a dramatic trap set solo. Instruments raised, the band moves into a rendition of... "Happy Birthday." Big Dipper owner Dan Hoerner appears up front, lighting candles on a monstrous slice of chocolate cake. Tonight is Curnow's birthday and the band has pulled a bait-and-switch on him. He's thoroughly embarrassed, but pleased.
They roll into Curnow's arrangement of Pat Metheny's super-charged "Stranger in Town." Soon, the show ends far too quickly. The audience pleads for an encore.
"We will not do one more," says Curnow with a grin. "I'm old." ♦
The Bob Curnow Big Band • Mon, Nov. 17, at 8 pm • $10 • All-ages • Big Dipper • 171 S. Washington • bigdipperevents.com • 863-8098