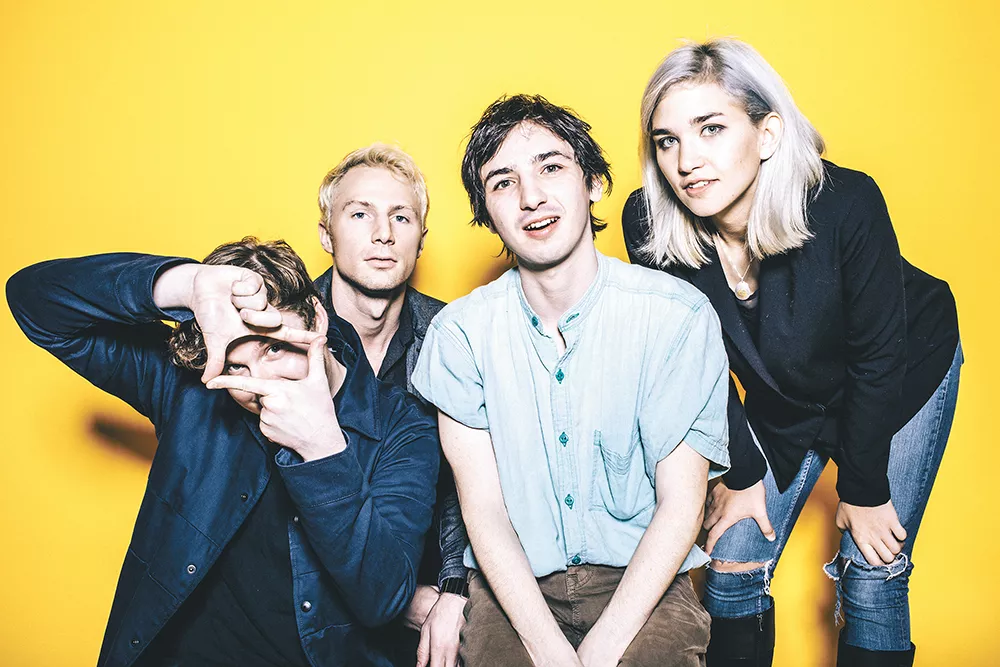 Over the past decade or so, the Hugs have carved out a niche in the Portland music scene as a DIY group with more polish than most indie-rock groups. In a place where roughness is celebrated, they "try to play as perfect as possible," says frontman Danny Delegato, so they've taken a fair bit of crap from snobby scenesters for being too polished and poised for commercial success.
"There was an article written about how we're the band hipsters love to hate," says Kauri Voss, the band's bassist. "There's a lot of shoegaze bands and the 'it's cool to be uncool' sort of stuff out here."
Some of the resentment may be tied up in the group's history. It seemed the sky was the limit when Delegato and a couple of his 18-year-old cohorts formed the Hugs and almost immediately created a buzz with their garage-rock, Britpop sound. They signed to vaunted label 1965 Records and reportedly entered the studio with White Stripes producer Liam Watson, but the 1965 debut never materialized and the buzz died. The Hugs kept going, though.
Some critics say that, over the years, the band became solely a vessel for Delegato's output as a singer-songwriter. But that changed when the band revamped its roster last November, adding guitarist Jack Burgess out of London, Voss from Chicago, and Detroit-based drummer Keagan O'Brien.
Speaking with Inlander by phone ahead of the Hugs' Saturday show at the Bartlett, the band says they've adopted a much more democratic approach to writing songs. To make the long-distance thing work, Delegato — the only remaining founding member — records demos and sends them to his bandmates, who come up with suggestions for changes and accompanying parts before they get in a studio together.
"I just try to write stuff that sounds good to me," he says. "It sounds really simple, but it seems to work. I just try to record with a certain style in mind, like I want to have a big pre-chorus or I try to write hooks that make sense, with verses and choruses that fit together in a song."
Everyone has to agree on which songs to play live, as well.
"I think it's very evident when you see a band and they're not into what they're playing," says Burgess. "If you want to keep that energy and enthusiasm about your songs, I think everybody in the band has to be on board with them."
Lately, everyone has been down to explore new sounds. The Hugs have sounded like a poppy four-piece rock band for its entire history, but they recently started messing around with synthesizers, drum machines and electronic programming thanks to their new drummer.
"I had a couple of beats when I first joined the band," O'Brien says. "One of the first demos I played for Danny, he just kind of latched onto it and wouldn't let it go. We started jamming around some of the hooks I had and then went back and wrote lyrics and really carved out what the songs would be."
The result is a new three-song EP, New Utopia, which includes the superb dream-pop track "Friends Can Break Your Heart." The EP is due for release on Valentine's Day.
"It's a big detour from what we normally do, which is like '90s garage-pop," Voss says.
"Now we're doing '90s garage-electronic," adds Delegato with a laugh.
They're still figuring out how to do justice to the new songs in the live setting, given the technical challenges of performing electronic-based music as a four-piece rock band. But that's more of a short-term concern, Delegato says. After the fun, experimental detour of New Utopia, the band is getting back down to business: This spring, the Hugs are headed into the studio to record the band's as-yet-untitled fifth full-length album.
"We just did this thing called the 20-song challenge, which was brutal," Voss says. "It's this exercise where you write 20 songs in 12 hours, and we got a lot of good bits and pieces out of that. Now we have two songs we could possibly look at again, and lots of little parts that sounded cool. We're going to lock ourselves in a room and hammer out the album thing this month."
Obviously, fans will have to wait and hear the new record, but one thing's for sure: It won't be rough around the edges. ♦
The Hugs with Summer in Siberia and Fruit Juice • Sat, Jan. 6 at 8 pm • All-ages • $8 • The Bartlett • 228 W. Sprague • thebartlettspokane.com • 747-2174