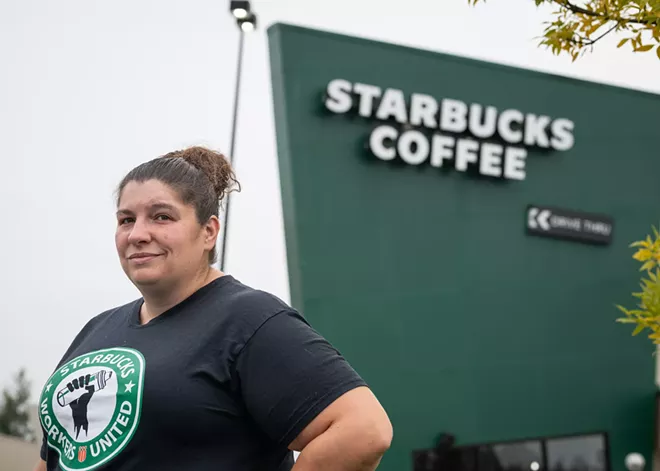 Organized labor is having a moment.
On Sunday, the Writers Guild of America union reached a tentative agreement with the Hollywood studios — ending a historic five-month strike that brought film and TV production to a standstill.
The writers will soon return to work with what the Guild's bargaining team described as an "exceptional" deal. But thousands of actors remain on strike, and workers in other sectors across America are continuing to walk off the job and demand better working conditions in record numbers.
Despite significant opposition from management, a wave of high-profile unionizations continues to spread across corporate giants like Amazon and Starbucks.
And on Tuesday, in one of the most significant shows of presidential support for unions in decades, President Joe Biden traveled to Michigan to show support for United Auto Workers union members striking against all Big Three automakers, simultaneously for the first time.
The increase in labor activity mirrors public attitudes on unions. Last year, public approval of unions rose to 71 percent — its highest since the 1960s.
"It's been building for some time," says state Rep. Timm Ormsby, a Democratic legislator, longtime labor advocate and president of the Spokane Labor Council. "There's a renewed enthusiasm and sense of hope about unions."
In Spokane, labor leaders say they're seeing an increase in momentum and people interested in organizing their workplace. A Starbucks in Spokane's Shadle Center successfully voted to unionize earlier this summer, and local health care workers might join what could be the largest nationwide health care strike in history.
A year of historic union activity doesn't seem to be slowing down. If anything, the picket lines are growing.
LOCAL HEALTH CARE STRIKE LOOMS
After months of unsuccessful contract negotiations, health care workers at Kaiser Permanente facilities in Spokane and other Washington cities may soon join Kaiser workers in other states who are threatening to strike.
The workers' contract with the Washington branch of the nonprofit health care giant is set to expire at the end of October, says Kenia Escobar, spokesperson for SEIU 1199NW, the local chapter of the Service Employees International Union, which represents 1.9 million workers throughout the U.S. and Canada.
This is the first time Kaiser workers have bargained for a new contract since the onset of the pandemic.
The union represents about 120 workers in the Spokane region. If a contract isn't reached soon and the union votes to strike, some 3,000 health care workers could walk off the job across Washington.
Kaiser Permenante operates in seven states, and a national contract is set to expire at the end of September.
Last Friday, a bargaining team from a national coalition of Kaiser Permanente unions, which includes SEIU 1199NW, notified executives that they plan a three-day unfair labor practice strike beginning Oct. 3.
The action would involve more than 75,000 Kaiser workers, making it the largest health care worker strike in U.S history, the coalition said.
If Kaiser executives fail to meet the union's demands to address staff shortages and cost-of-living increases, the workers say they are prepared for a "longer, stronger strike" starting in November, after Kaiser's contract with workers in Washington state expires.
In a statement, Kaiser Permanente noted that a strike notice doesn't necessarily mean a strike will happen and that the organization will "continue to bargain in good faith until we reach a fair and equitable agreement."
Marie Neumayer, a medical assistant at a Kaiser clinic on Spokane's South Hill, spent last week in California as part of a team bargaining on behalf of Kaiser workers in Washington.
Calling from a hotel room last Friday after a grueling (and unproductive) bargaining session with management, Neumayer acknowledged she's nervous about the possibility of going on strike for the first time, but confident in the power of collective action — not just from other health care professionals, but with workers across industries.
"There's energy and support with all unions, because being a union member, you have a voice... you have the support of all our brothers and sisters," Neumayer says. "People now are really looking and being more aware of that."
DECLINING MEMBERSHIP, RISING ENERGY
American unions were a powerful force in the first half of the 20th century. But after peaking in the 1950s, membership and public support began a steady decline as manufacturing moved overseas and major industries were deregulated.
Tina Morrison first got involved with organized labor in the late 1980s. It was the tail end of the Reagan administration — a tough time for organized labor.
"Union was kind of a dirty word," says Morrison, the secretary-treasurer of the Spokane Regional Labor Council, AFL-CIO. "We were taught that unions just take your money."
Despite the recent wave of organizing and public support, union membership in the U.S. remains low. The percentage of American workers who belong to a union dropped to 10.1 percent last year — the lowest it's been since the Bureau of Labor Statistics started tracking comparable data four decades ago.
In 2022, 16 percent of workers in the Spokane-Spokane Valley metropolitan area belonged to a union, according to unionstats.com, which tracks local union membership by analyzing Bureau of Labor Statistics data. The number tends to fluctuate by a few percentage points each year. It was 18 percent in 2021, and 20 percent in 2015, when comparable data first became available.
Membership data for this year isn't available yet.
While the increase in public enthusiasm has yet to manifest in increased membership, Morrison says, anecdotally, it feels like Spokane is seeing an uptick in activity.
"You work to live, you don't live to work."

tweet this
"We are seeing more organizing around the area. And there are more phone calls with questions from people who are looking to be organized," Morrison says. "It started picking up a little bit during the pandemic, and then it just continued to grow."
Morrison notes that larger economic forces — like the fact that so many people work full time jobs but can't afford to take care of their families or own a home — are also contributing to increased interest.
"You work to live, you don't live to work," Morrison says. "I think that is finally setting in with our young workers today. They're just not going to have it."
Shawn Fain, who was elected president of the United Auto Workers earlier this year, has framed the recent strike efforts as a "battle of the working class against the rich." Despite significant increases in productivity, wages in the U.S. have remained largely stagnant since 1980.
During just the pandemic, however, America's billionaires saw their wealth grow by 70 percent.
After 25 years in the labor movement, Morrison says she isn't holding her breath for a complete sea change. But she's hopeful about recent progress, including a landmark ruling from the National Labor Relations Board last month that sets precedent requiring businesses that commit labor law violations to bargain with unions without formal elections.
"Labor has been fighting for workers with both hands tied behind their backs for a very, very long time," Morrison says. "That decision at least unleashes one hand. It evens the playing field a little bit."
UNIONIZING SPOKANE STARBUCKS
Sarah Coning didn't expect to end up in a union.
"I'd always thought it was more like something they needed in the turn of the century, or maybe the 1930s," Coning says. "But not now."
Her views started to change last year, when she says new management brought reduced hours and product shortages to the Shadle Center Starbucks, where she works.
Coning says she and her coworkers were growing increasingly frustrated as their complaints to district managers were ignored. In spring this year, one of her coworkers came to the team with an idea: What if they unionized?
Workers at the Shadle Starbucks had been following national news about Starbucks unionizations in other parts of the country and began calling around to newly unionized stores to ask for advice. In April, they filed a petition to unionize with the National Labor Relations Board.
Throughout the national unionization campaign, Starbucks has repeatedly been accused of illegal retaliation and union busting activity. The National Labor Relations Board has brought a staggering 100 separate cases alleging unfair labor practices against the coffee giant. In March, former CEO Howard Schultz, a billionaire, told a Senate panel that the company hasn't broken any laws.
After they filed to unionize, Coning says officials from Starbucks corporate headquarters came to the store to meet with the workers individually and try to talk them out of it. Coning says the meetings were intense, but that she and her coworkers had done their research and were determined to move forward.
"We were all very nervous, but we also felt like we didn't have anything to lose," Coning says.
In June, the store voted 12-4 to unionize — joining over 300 Starbucks stores across the country that have voted to unionize over the past two years, one of the most successful union drives in decades. (In Washington, workers at 27 Starbucks locations have voted to unionize, including three in Eastern Washington: Spokane, Walla Walla and Prosser.)
Coning says her store has already seen benefits from unionizing and recommends that people interested in organizing their own workplace reach out to people already in unions to ask about the pros and cons.
Coning says local unions have been calling the store to offer congratulations, and customers have told baristas that, despite living on the opposite side of town, they plan to exclusively shop at the Shadle Starbucks to show support for the union going forward.
"People come sit in the cafe and order drinks just to show solidarity," Coning says. "We felt so alone for so long. To see that we actually had community support for what we were doing was big." ♦