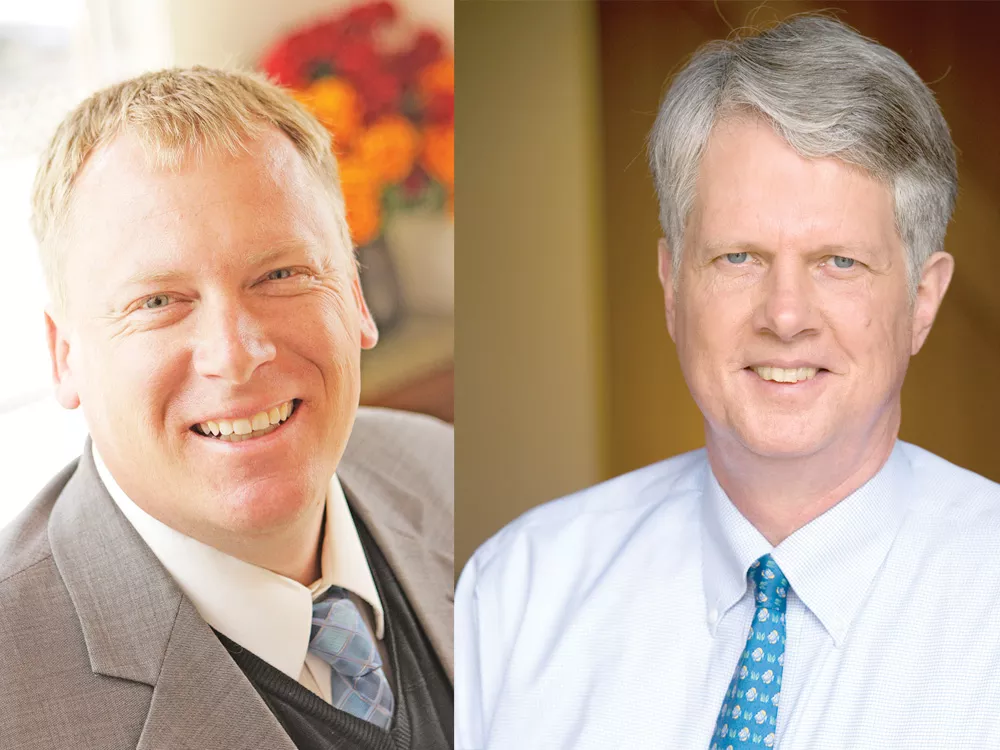 Before he even finished listening to the question, Spokane City Councilman Richard Rush summed up his feelings about running against Mike Allen in one word: "painful."
"He's as good a neighbor as you'd ever want," says Rush, the incumbent District 2 councilman. "He's even-tempered, he's kind. I'm sure he's a great husband and father."
And yet, Allen is trying to take Rush's job. "I like Richard Rush, I like Richard Rush as a person a great deal," Allen says. The affection seems to stop at the City Hall doors, though: "Well, I didn't want to leave in the first place."
Two years ago, Allen was a councilman. Since he was appointed to the seat Mary Verner vacated when she became mayor, he was running in his first election. The man who unseated Allen was Jon Snyder, who was recruited to run by Rush.
Rush also recruited Amber Waldref to run in that election. She also won, taking the seat of Al French, a longtime, conservative councilman. This year, he convinced Joy Jones to run for the seat being left by departing Councilman Steve Corker in District 3.
Rush, an Alabama native with a characteristic drawl, has made himself kingmaker of sorts on the City Council, presiding over what could become a bloc of progressive council members — if he retains his seat and Jones triumphs over her challenger, Steve Salvatori.
But Allen wants back on the Council. In 2009, he tried to win endorsements from both local Democratic and Republican groups. This time, he threw his lot in with the Republicans early on. He's tied his campaign to Salvatori's, who ran last year as a Republican for the county commission.
"We're the second-largest city in Spokane, and we have no performance measurements. It shows what we're getting for our tax dollars," Allen says, who has cast himself as a business-friendly fiscal conservative who wants to reorganize the city's priorities and increase accountability.
Allen assails Rush on the councilman's push to follow the mayor's Sustainability Action Plan and his championing of new bicycle lanes.
"Here we have a city full of potholes and they have prioritized funds to build bike lanes," Allen says.
Rush, an environmentalist focused on deliberative city planning, argues that development of bicycle lanes allows more options at a time of fluctuating oil prices. He also supports the sustainability plan, saying it will save money.
"I'm for implementing plans," says Rush, who is a vocal proponent of the city's Comprehensive Plan, a planning document authored almost a decade ago that has yet to be fully implemented. "Financial sustainability is the first order of that plan, as far as I'm concerned."
When it comes to the issue of city department accountability, Rush asks why Allen didn't push that issue during his previous tenure in office.
"It would be backsliding," Rush replies when asked what would happen if Allen were elected. "It would be more [of] the status quo."


For Rush, keeping his job is a little bit more complicated. He sees one of his greatest accomplishments during his three years on the council as having built "leadership capacity."
"I knew [Waldref's and Snyder's] values, I knew their public-mindedness. I recruited them both. … We've developed this leadership team in people who are working lockstep for the city," Rush says. He rejects the suggestion that the three vote as a bloc. "We vote against each other a lot more often than we anticipated."
If they weren't before, Rush and Jones have since become cozy on the campaign trail: They have been holding a number of fundraisers together, most recently a salmon feed last Sunday. Both have won endorsements from the Spokane County Democratic Party.
Jones demurred at the idea that she would join a voting bloc with Rush.
"I plan on working together with all the Council members," Jones says. "I would say that between Mike and Richard, I would probably work better with Richard than with Mike."
"There's a bloc already," says Councilwoman Nancy McLaughlin, who represents the northwest district that Jones is running in and supports Jones' opponent, Salvatori. She thinks the bloc would become even more forceful were Jones to come onboard. "I kiddingly say I caucus by myself."
McLaughlin cited the increase in water rates approved last September. It was passed with support from Waldref, Rush and Snyder. The fourth vote was cast by Council President Joe Shogan. McLaughlin voted against it, saying it would harm people on fixed incomes. (Rush and the others say the new rates are on a scale that charges more to people who use exorbitant amounts of water — typically, people with larger houses, lawns and pools.)
McLaughlin calls Rush "very single-minded." "Richard's goal is all things transportation, and all things environment, and that's it," McLaughlin says. "Sometimes it appears he wants to cause congestion just to frustrate people out of cars."
Bloc or not, Allen's election would act as a spoiler to Rush's priorities, including his preservation of the police ombudsman's expanded powers, which were recently stripped of independent investigative power by the state. Rush was the first council member to speak on the issue, saying the decision should be appealed and "ought to be taken all the way up, even to the Supreme Court." He says he plans to defend the ombudsman's powers in his second term. If he gets one.