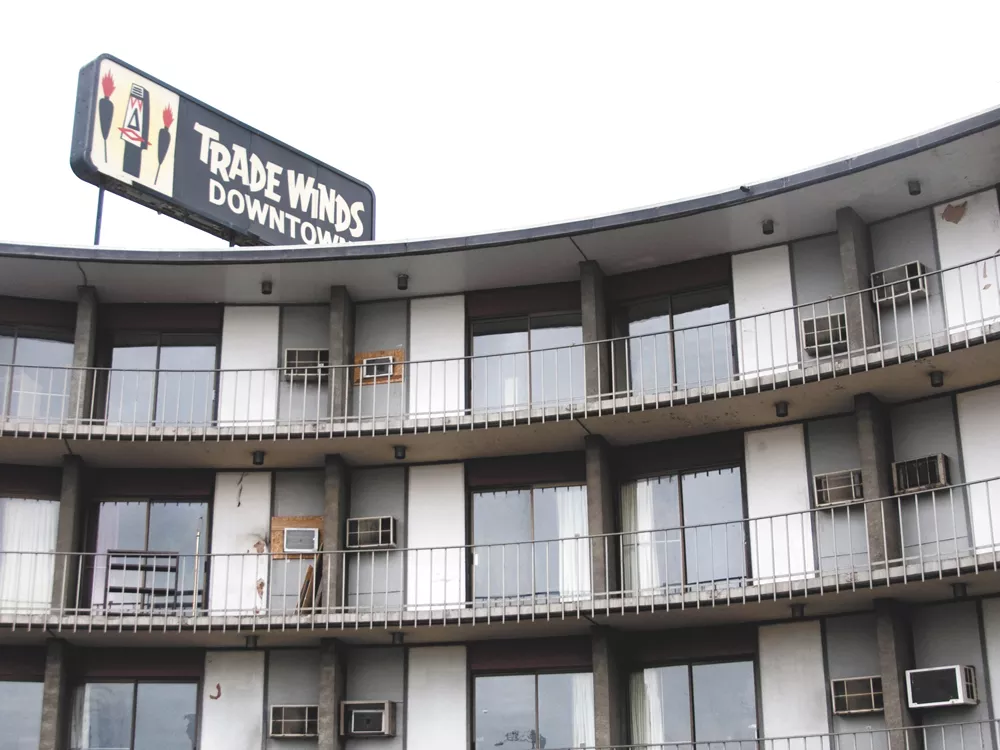 After making his way past a row of analog TVs, a group of mini fridges and a precarious stack of Bibles, Al Lackman stands inside Room 110 of the Trade Winds motel. With the mirrors gone from the walls and mismatched blankets folded on the room's two barren full-size mattresses, it's hard to tell someone used to live here. But someone did, says Lackman, until he evicted them last month.
"Now they could be living under a bridge," says Lackman, 64, owner of the motel. "I don't know."
That's because the Trade Winds motel — next to Interstate 90, between the fast food restaurants and car lots of Third Avenue — is locking its doors at the end of the month. Its 50-year lease is up and it's no longer a profitable business, Lackman says.
He's a mix of apathetic and nostalgic over the motel's fate, but says he's worried about the 50 residents who were living there because they couldn't find housing elsewhere due to low incomes or criminal records.
There are about 1,300 homeless people in Spokane, according to the latest official count, but there is another group with just a toehold on shelter, housing advocates say. While housing programs exist for financial assistance or help finding a place, almost all of them have restrictions on criminal records and rental history. That can exclude people with felonies and bad rental records, even if they qualify otherwise, advocates say.
Some programs are virtually inaccessible — the waiting list for federally funded Section 8 housing is years long in the Spokane area. And even if someone qualifies for a voucher program, like Section 8, they're often using that assistance to rent from a private landlord and are still subject to that landlord's rules, requirements and background checks.
"Realistically, [motels] charge more than affordable housing, but at the same time we understand the need," says Steve Cervantes, executive director of the Spokane Housing Authority. "The more motels that close down, the tougher it gets on the folks that are looking."
Neil Richardson, 57, had been staying at the Trade Winds for three years because it was the only place he could afford to rent by the month.
"It was nice. They had Comcast," Richardson says from the Spokane House, a hotel in West Spokane where he's staying now and, he's quick to add, not enjoying the DirecTV service. "I liked it [at Trade Winds]. There was quite a bit of stuff going on, but it didn't bother me."
Richardson says his criminal record, which includes drug charges, has been his biggest barrier to finding permanent housing. After a few places requested background checks, he says he "just gave up."
That's the cycle that keeps people struggling, says Mary Tracey, a longtime social services worker and development director at Transitions, a nonprofit that offers transitional housing and educational programs for women and children.
Federal guidelines say that to adequately fund other needs, people should be spending no more than 30 percent of their income on housing. In Spokane County, 54 percent of residents are spending more than that, according to a 2011 report from the National Low Income Housing Coalition. Meanwhile, there's been a big push nationally for "housing first," a social service strategy that banks on a stable living situation to get people on the road to a better life overall.
Tracey says more affordable housing is obviously key to getting people out of motels and off the street, but so are programs like the "Responsible Renter" curriculum, in which nonprofits in town teach people basic renting information and skills. Sometimes, she says, having gone through that program can earn a risky applicant a second look from a landlord.
"When people are alienated and can't access housing, we are sort of keeping them in this system that's going to perpetually keep them homeless. If they're in a hotel spending more than 30 percent of their income, we're sort of guaranteeing they can't save up," Tracey says. "If we want people who can access employment or income, or just be their best self, there really has to be that option for housing."
Lackman, who smiles a lot despite how tired his eyes look, understands the needs of the people who stayed at the Trade Winds, but his management of the motel has been driven as much by business as by compassion. Lackman says he started working for his father, who owned the motel first, when he was 15. But they started to feel the pinch during Spokane's economic boom in the late 1970s. Every three or four years they'd see a new hotel move into town, taking business from them. Then, within a couple of years, they'd start to rebound just to see another hotel going up.
"All of a sudden Spokane was very overbuilt," Lackman says. Downtown developed, and it became "more and more difficult to stay alive."
Then the elevators went out, making it even harder to attract travelers with luggage. By the mid '90s, monthly tenants were an attractive option for the struggling motel, so Lackman started offering the rooms for $525 a month including all utilities, cable and, for a while, full maid service. An extra $25 would get you a refrigerator and microwave. Finally, he wasn't reaching into his own pocket to keep the business afloat. But he was watching the building fall into disrepair and the tenants get rougher. (Spokane Police Department spokesperson Jennifer DeRuwe says motels with a lot of long-term residents often attract illegal activity, but that a check over this summer's reports shows the Trade Winds was about average for the area and type of business.)
In 1999 the company Trade Winds LLC purchased the land and the building, though the details of Lackman's lease stayed the same. Dave Black, a managing member of the LLC, says the land is worth at least $1 million. Black says he's talked to city officials about "improving" the area near the motel, but if that doesn't happen he'll upgrade the building and operate it as a short-term hotel.
Though Lackman says he tried to contact the LLC about extending his lease, he wasn't convinced he could turn the business around.
"I couldn't raise rates because most of the people were on fixed income or on the public dole," Lackman says. "I couldn't possibly put half-a-million into this building and expect to get a return."
Today, as the guts of the rooms sit consolidated on the main floor, ready to be sold or given away, he's nonchalant even as he reflects on the motel's legacy.
"All good things come to an end," he says as he squeezes past a desk in the hallway and looks back toward Room 110. "I just look at it as I provided a service for the last 15 years."