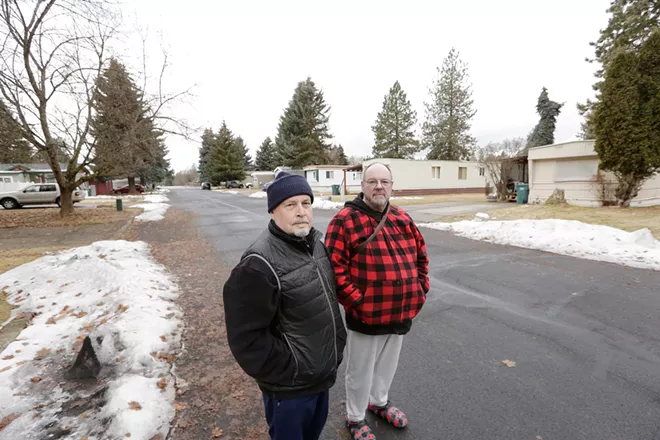 Kootenai County's population has grown by more than 23 percent over the last decade. At the same time, the median home price has jumped 235 percent.
As home prices have surged in a market that hasn't kept pace with demand, working families are having a hard time finding somewhere they can afford to buy or even rent, sparking concern among city and county leaders.
But an idea that began with a member of the Coeur d'Alene City Council has turned into a multi-pronged effort to combat the area's housing crunch and ensure that people like teachers, firefighters and city employees have a place to live. From helping mobile home park residents form cooperatives to pairing older homeowners with roommates who can help around the house and finding a way to retain affordable homes, people in Kootenai County are working on multifaceted local approaches to a national issue.
In 2016, 75 percent of Kootenai households could afford the median home price of $250,000. Within five years the median price doubled to $500,000, which only 24 percent of Kootenai families could afford, according to a 2021 University of Idaho study solicited by local nonprofits and concerned agencies.
To make matters worse, the study found that rental rates surged 35 percent from 2018 to 2021, and the rate has grown since, with the average one-bedroom in Kootenai hitting $1,585 recently.
To find solutions, Coeur d'Alene City Council member Kiki Miller brought together housing and planning experts from local nonprofits and each major town in the county. Meeting over the course of the last two years, the Regional Housing and Growth Issues Partnership created a "toolbox" of housing strategies that could be implemented fast.
Rather than focus on "affordable" housing options as defined by the federal government, which target the poorest households, the group specifically looked at options for working families making around the area's median income.
"These people are making fairly good money, but they're still way out of range of renting or owning a home," Miller says. "How do we house the people who keep our economy running?"
Some of the strategies the volunteer group highlighted are already underway, and they're passing the torch to nonprofit Connect Kootenai to continue the push for housing options.
"There isn't one thing that's going to create housing for our local workers," Miller says. "It's a shotgun approach, a bunch of different things."
RESIDENT-OWNED COMMUNITIES
One of the early strategies Miller helped connect people with was the concept of forming a resident-owned community.
Some mobile home parks in the area were sold to large investment companies in recent years, with immediate repercussions as lot rents jumped by hundreds of dollars — putting it out of reach for many residents, who are retirees and living on fixed incomes.
Miller got in touch with Victoria O'Banion, marketing and acquisitions specialist for the Northwest Cooperative Development Center, who started working with at least six communities in Kootenai County. The goal: to get residents some warning before a sale.
The resident-owned community model that O'Banion helps implement in the Northwest was first developed in New Hampshire, offering a blueprint for mobile home parks nationally.
The overall concept is that at least half of the homeowners in a park agree to form a cooperative, putting together a volunteer board and alerting the owner of the park. In states like Idaho, that gives mobile home owners the "opportunity to purchase," with the right to be notified before a park is listed for sale.
The co-op can then work with O'Banion to get at least 80 percent of their community on board to apply for funding. They then develop a market-value offer for the land, with the loan including enough money to deal with operations and upkeep of the park, O'Banion says.
Residents in Oak Crest — a park with more than 450 manufactured homes in Coeur d'Alene — know what can happen when you don't have that co-op in place before a sale. In late 2021, the park was sold to Havenpark Communities, which owns manufactured home parks around the country.
Oak Crest homeowner Michael Collum says his lot rent was about $305 per month when he bought his home in 2019. Since the sale, he says his rent has increased three times, and he now pays around $450 a month. For new owners moving into the park, he says the lot rent is more like $795 per month.
"Mobile homes were affordable housing until these capital investment companies started buying them up," Collum says. "If I want to sell my home and move, it's worth less now ... because of the new lot rent."
Collum and others have organized Oak Crest to form a co-op with O'Banion's help. They hope that within a year or two, they can make an offer to buy the park from the new owners to prevent future rent hikes.
A man named Turns to the East, who lives in a Coeur d'Alene mobile home park called Dorchester, is working to organize his community into a co-op before they face the same situation.
"We own our homes and can't move them ... so they've got a captive market, and they know they can do whatever they want," East says. "When we become a nonprofit we'll cut out that slice of the profits. It'll form a tighter community, and we'll be able to help each other more."
O'Banion says Washington doesn't currently require landlords to offer homeowners the chance to compete before a sale, but state Senate Bill 5198 would establish a similar right if passed this session.
"There's a healthy mix of older adults living on fixed incomes that are ready to age in place ... and you have families looking to build generational wealth. That first home they can afford is often a manufactured home," O'Banion says. "Being able to live in a community that is safe and has intergenerational residents is appealing to working families."
SHARING YOUR HOME
Another new effort is HomeShare Kootenai County, which is also using a national model to find places for local workers to live.
The recently formed nonprofit started accepting applications from home providers and home seekers in February. The nonprofit runs background checks and then works to pair up people who would likely be a good match.
While some agreements may look similar to a straightforward lease, the idea is to connect roommates with people willing to accept services around the house in exchange for a more reasonable rent, says HomeShare's Executive Director Carrie Ward.
Home seekers might be hospitality workers, traveling nurses, college students, teachers or others who need more options, Ward says.
"Our home providers are going to be seniors that maybe have spare rooms, or recently divorced people that have too big of a house, or snowbirds that are out of town part of the year, and singles that need extra income," Ward says.
She hopes the nonprofit can ultimately work with seniors who will be able to stay in their home longer if they have someone move in who can help with chores and companionship.
After a successful match, home providers give the nonprofit 25 percent of the first month's rent and the home seeker pays $35. So far, the group is finalizing three matches, and they hope to make at least 50 this year.
"It could take a couple weeks to possibly a couple of months to find a match," Ward says. "But I want to emphasize it's better than filling a spare room through Facebook or Craigslist. We do the background checks and check references."
"The idea is we're going to spread the benefit between more than one owner."

tweet this
AFFORDABILITY THROUGH PAPERWORK
Deed restrictions may also be a useful tactic to maintain home affordability into the future.
The concept isn't new. Community land trusts have operated around the country for decades, buying or accepting donated land to provide housing and maintain control over pricing.
But for nonprofits like Habitat For Humanity of North Idaho, it's new to incorporate the structure into their homebuilds, says James Casper, its executive director.
Previously, Habitat would buy land, build a home and sell it to a family at an affordable price. When the owner decided to sell, they pocketed the profit.
But with land and housing prices ballooning out of control recently, the homes went from affordable to not affordable with just one set of owners, Casper says, which defeats the intention of helping those in need well into the future.
Instead, Habitat is now working with a model where it retains ownership of the land and, through a deed restriction, limits how much equity a homeowner can build over time.
Habitat retains the first right to purchase the home when someone is ready to sell, Casper says. Additionally, they're able to restrict equity to, say, 3 percent per year. If someone buys a home for $150,000, by the time they want to sell in 10 years they'd have built up $45,000 in equity, in addition to the amount they've paid on the mortgage.
"The idea is we're going to spread the benefit between more than one owner, more than one generation," Casper says. "The first person gets to buy, build equity and move on. The next person who buys the house also gets to buy something affordable."
Relatedly, the Panhandle Affordable Housing Alliance is spearheading a similar type of deed restriction, where developers would agree to provide some homes in new developments at affordable costs, and homeowners would buy both the land and the home. The ability to build equity would similarly be limited on the deed, says Maggie Lyons, the alliance's executive director.
"This is a great opportunity to unleash the private market in order to build houses our workers can afford and keep them affordable in perpetuity," Lyons says.
Major financial institutions came up with the new model about a year and a half ago, Lyons says. She was among the first to get trained on the new restrictions, and says the alliance is the first nonprofit in Idaho set up to build partnerships with developers and manage the restrictions.
The homes will be targeted to those making 80 percent to 120 percent of the area median income, which for a family in Kootenai County is $82,200, Lyons says. The deeds may restrict owners to 1 percent equity per year, and require that the home be their primary residence.
The hope is to incentivize local governments to work creatively with developers (perhaps allowing townhouses or condos in areas zoned for single-family homes) in an area that has developed strong anti-growth sentiments.
"People think if we just don't build, we'll keep people from coming here, but that's not how it works," Lyons says. "We could become Sun Valley where the billionaires are replacing the millionaires because the supply is so short." ♦