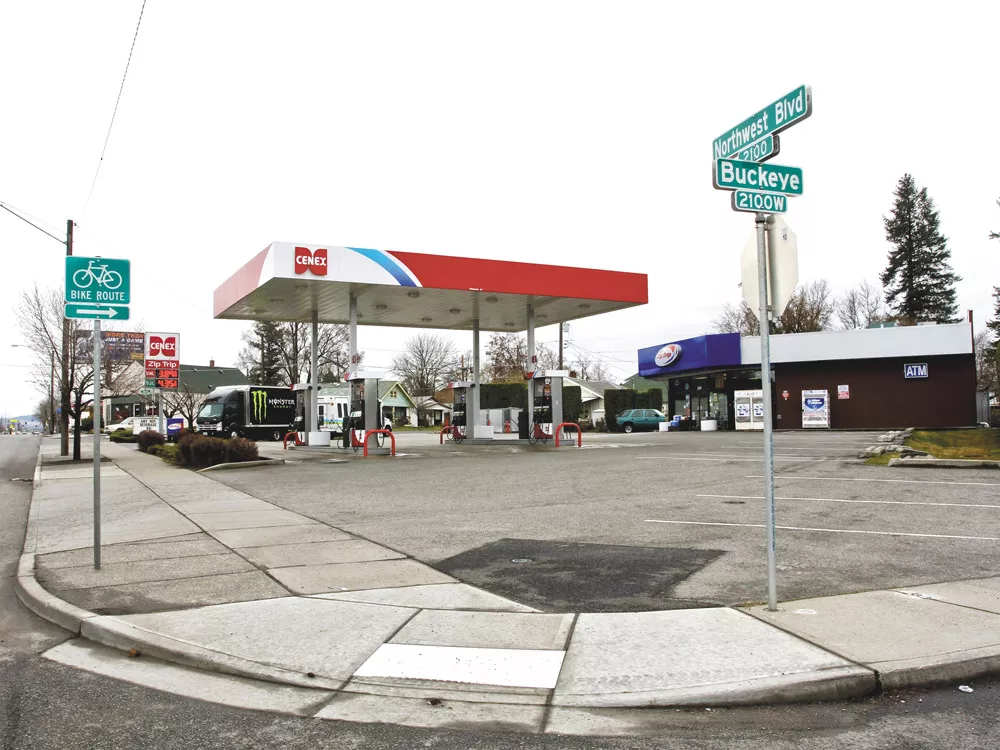 Patricia Searl, 69, had crossed Northwest Boulevard at Buckeye countless times before.
She'd cross the street to buy groceries and food for her cats at the Cenex minimart. On the overcast evening of Oct. 25, 2010, using a cane, she slowly hobbled across the street, still wet from the rain.
Cars stopped to allow her to cross. Except one, a white City of Spokane-owned pickup truck.
Though the driver, city engineering employee Daniel Hirst, braked hard, the impact threw the old woman nearly 19 feet, records indicate. For Searl, it changed her life. She suffered an injured arm, a head injury that made it harder to think, and a broken back that meant she'd never walk again.
For the City of Spokane, it meant the possibility of a huge lawsuit, one that could cost the city at least $1 million.
As police began investigating the case and Searl lay in a hospital, the city's risk management team hurried to control the story — contacting Searl before she got an attorney and, according to city emails, trying to influence the police investigator.
In November, Searl's family found an attorney and sued the city anyway. And when those attorneys, Kathleen Paukert and Breean Beggs, started gathering public records and interviewing witnesses, they discovered how the city's risk management sometimes worked.
"What we're realizing is a lot of this manipulation is going on behind the scenes," Beggs says.


"We don't want her to get an attorney…"
Pam Schroeder, the city's risk manager, laughs when asked if a risk management employee would meet with a police investigator, asking him to help save the city money.
"Can you imagine a situation where we were doing such a thing?" she says, though she won't comment on ongoing cases. And no, she says when asked, risk management employees wouldn't try to influence the city or police department's press releases. Yet emails sent after Searl's collision paint a different picture.
Beggs says the police department and city should operate independently in such situations. The police want the facts of the accident, while the city wants to protect itself from lawsuits. But from the first night, some of the efforts were coordinated, records show.
The morning after the accident, Jennifer DeRuwe, public information officer for Spokane police, sent the initial internal emails from the police investigation to city spokeswoman Marlene Feist.
The ensuing police press release was actually written by Feist with the city, not DeRuwe from the police department. DeRuwe says that's common. They're both city-employed communications staff, so they share workload.
Beggs is more concerned with emails from Alternative Service Concepts, a national third-party risk-management firm with office space in City Hall. The city pays ASC $260,000 annually to help handle claims and quickly investigate any liability issues. In fact, ASC advertises that it financially rewards its employees for contacting injured parties within 24 hours of notification. After Searl was hit, ASC employee Debra Eubanks first sent an email requesting the police department issue no public press release at all — because the media wasn't "aware that it was a city vehicle," email records show. (Eubanks did not reply to several requests for comment.)
When Feist began working on a press release anyway, Eubanks asked for the release to say "near the intersection" instead of "at the intersection." The police investigation had not been completed yet, and the city would be less liable if Searl was crossing in the middle of the street rather than at the intersection.
Eubanks' next suggestion went even further, asking the press release not to name the hospital Searl was recovering at. In an email to Feist and other city employees, she worried that "an unscrupulous attorney will find out who she is and take advantage of her current condition to sign her up before we can sit down with her and try to work with her to fairly resolve her possible claim."
Despite Eubanks' objections, Feist's press release named the hospital. "We always err on the side of openness and transparency," Feist says.
In response, Eubanks complained — not to Feist, but to Cpl. Dave Adams, the police officer investigating the accident.
"Well, Marlene was insistent on her press release and now it's a huge headline." Eubanks wrote in an email to Adams. "Please let me know, Dave, as soon as we can contact Ms. Searle [sic]. I would like to gain control of her and her claim before any more damage is done out there."
Fewer than two days after her accident, while Searl was still fighting for her life, according to her attorneys, she did receive a visitor in the hospital: then-Mayor Mary Verner. In an email, Verner says she was accompanied by Schroeder, the risk manager, and left a card.
Feist says that's common practice. Public officials want to express their sympathy. Late Mayor Jim West visited the wife of an employee who died in a wastewater treatment plant accident.
But Searl's lawyers felt it crossed a line. "That is not the appropriate time to do it," Beggs says. "She was so vulnerable. It's not like the mayor went to her family."


"If you guys want a raise…"
Searl's lawyers discovered even more. On three separate occasions, Paukert and Beggs requested all documents relating to the collision. They received hundreds of pages.
But when Paukert deposed Adams, the police investigator, she discovered that "the smoking gun"— a single page handwritten by Adams — had been left out of the official record provided to her.
In it, Adams outlined his frustrations: Risk Management had been interviewing witnesses before he could. He worried it would cause "bias in civil investigation/witness contamination."
"We're after the truth, not trying to [defend the City of Spokane]," he wrote.
He then quotes Eubanks saying, "We don't want her to get an attorney…" and Dennis Paradis, a subcontractor, saying "If you guys want a raise…" Adams, in an email to The Inlander, says he can't give many details, restricted by the ongoing litigation and the police department's media policy.
"Please understand I am not trying to be evasive or confrontational, I just don't think I can talk about the case without SERIOUS repercussions to the parties involved, and (quite frankly) my continuing employment with the City," he says in an email.

To Searl's lawyers, the fact that this document was withheld underscores the lengths the city has gone to limit its liability.
"None are saying it was an accident, or they were confused," Beggs says. "At this point, my understanding is they're pointing the finger at each other."
Beggs had already drafted a suit against the city for the missing document but says the city has agreed to investigate the matter and attempt to resolve it outside of court. (Coincidentally, just last week, Beggs helped a client win a landmark $400,000 settlement from Spokane County, after the county failed to produce a missing document in a public-records request.)
Paukert adds that, according to Adams' deposition, Paradis was trying to convince the police officer to help protect the city from an expensive payout — that way, the city could afford to give Adams a raise.
"The city decided the civil [case] took precedence over the criminal investigation," Beggs says. "You're trying to put money on the table to influence how someone could do a public investigation."
Beggs and Paukert say this is a story of a cop doing the right thing despite the pressure. He was the whistleblower. "He's a hero in this case," Paukert says.
Already, Adam's comments have had an impact. Mayor David Condon met with City Administrator Theresa Sanders to discuss the concerns, and on Monday, Sanders asked Chief Financial Officer Gavin Cooley to examine the 10-year relationship the city of Spokane has with Eubanks' employer, Alternative Service Concepts.
"[Their] comments don't represent what we could call appropriate, or professional," Feist says. "We take this very seriously."