Don't get a payday loan. That's what Jay MacPherson tells the crowd gathered at the East Side Library for the "Give Yourself a Raise" financial education class.
"You get $100 now, but you have to pay $120 next month. And when you're in a tight situation and you have nowhere else to go, it seems like a good idea," he says. "But most of the people, when comes time, now have to pay $120 — how are they going to pay $120 next month when they didn't have $100 this month? So it starts this cycle of bondage that's really hard to get out of."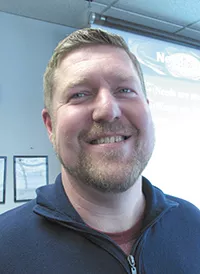 They take out a new loan to pay off the old loan, then a third loan to pay off the second, as it all piles up into a massive, rolling snowball of debt.
Sitting in the audience, nurse's aide Margaret Kavanaugh knows that story well. "You do get into a trap," she says. "You get your check, then you've got to pay them back, then you've got to borrow again."
Five years ago, the Washington State Legislature reformed the payday loan industry, curtailing its worst excesses. Now the legislature is poised to eliminate payday loans entirely, while simultaneously opening the door for a new kind of loan.
A bill legalizing "installment loans" — which last six months instead of just four weeks — has already passed the state Senate, 30 to 18. Proponents see it as a kinder, gentler alternative to payday loans. Yet many consumer advocacy groups have lined up against it, warning that it represents a dangerous new kind of debt trap.
In 2009, state Sen. Sharon Nelson (then a representative in the House) largely solved the problems with the state's payday loans industry. Now, consumers can only obtain a maximum of eight short-term loans a year, and no more than one at a time. The "payday advance dance," getting payday loans from Peter to pay off loans from Paul, mostly was eliminated.
Most crucially, debtors were given an escape clause. If they couldn't pay off the payday loan, lenders were required to let them repay their debt in installments, with no extra fees.
It got results: Payday loan defaults in Washington state fell to only 19 percent, one of the lowest rates in the country. The amount of payday loans fell from $1.3 billion from 2009 to $330 million in 2013. It hit the payday loan industry hard, with a vast swath of Washington payday locations shuttering. In response, the industry has shifted, with lenders like Moneytree pushing to legalize "installment loans."
"In 2007, the small family construction company I operated went out of business, and a year later my family was forced into bankruptcy," Democrat Marko Liias, the Senate bill's sponsor, began his committee hearing testimony in February. For the majority of borrowers, he said, installment loans would save money.
Instead of borrowers being forced to repay the entire lump sum in two to four weeks, installment loans stretch out repayment over a period of six months, giving borrowers much more breathing room.
Moneytree CEO Dennis Bassford says he's been "baffled" and "perplexed" by the level of opposition to the bill. From his perspective, installment lending is exactly what consumer advocates have been crying out for.
"I think it's a great example of emotion trumping facts," Bassford says. Pay the loan off before the first month is up, he says, and it's a better deal than taking out a new payday loan every few weeks.
Yet stretch it out for the full six months, and the price tag skyrockets. The instant you get an installment loan, there's a 15 percent "origination fee" tacked onto the principal, and the 36 percent annual interest rate starts ticking. On top, add an additional monthly maintenance fee — up to $45. A maximum $700 loan quickly racks up hundreds of dollars in fees and interest.
So Nelson isn't impressed by Liias's bill: "It will put folks in high-interest debt traps."
Not only that, Washington Attorney General Bob Ferguson argues, state law already lets defaulting borrowers pay off debts without any extra fees. If the legislation passes the House and is signed by the governor, it would eliminate that option.
Rep. Kevin Parker, R-Spokane, says he was skeptical of the bill at first, but has been convinced of its need. He worries that current restrictions can leave some low-income people without access to credit at all, forcing them to seek out alternative regulated loans in "uncharted, shark-infested waters."
But Nick Bourke, director of the small-dollar loans project at the Pew Charitable Trusts, calls the loan shark argument a red herring. "The vast majority of people don't like going to an illegal unknown source," Bourke says. Fifteen states, including Montana, don't have payday lending. There, he says, people rely on other methods, like borrowing from friends and family or cutting back expenses, to make ends meet.
Colorado is the one state where installment loans are legal. It's an imperfect comparison, Liias says, because Colorado transitioned from a far worse payday loan system than Washington's, but its improvement is undeniable.
"What we've learned in Colorado is that consumers really like this type of product, where the payments are much smaller and spread out over time," Bassford says. He points to Bourke's recent American Banker op-ed praising Colorado's reforms.
But Bourke says Washington's proposal has big shortfalls when compared with Colorado — it has a higher cap, a higher effective interest rate and a more immediately punishing cost structure. With the federal government hinting at big national reforms to the payday loan industry, Bourke suggests waiting.
Things aren't perfect in Colorado either, where the default rate is twice as high as Washington's. The debt cycle still lives in Colorado. The National Consumer Law Center calls the installment loans in Colorado "dangerous and unaffordable for many borrowers," noting that a third of Colorado borrowers get a new installment loan the moment they pay off the old one. That's the debt cycle. ♦