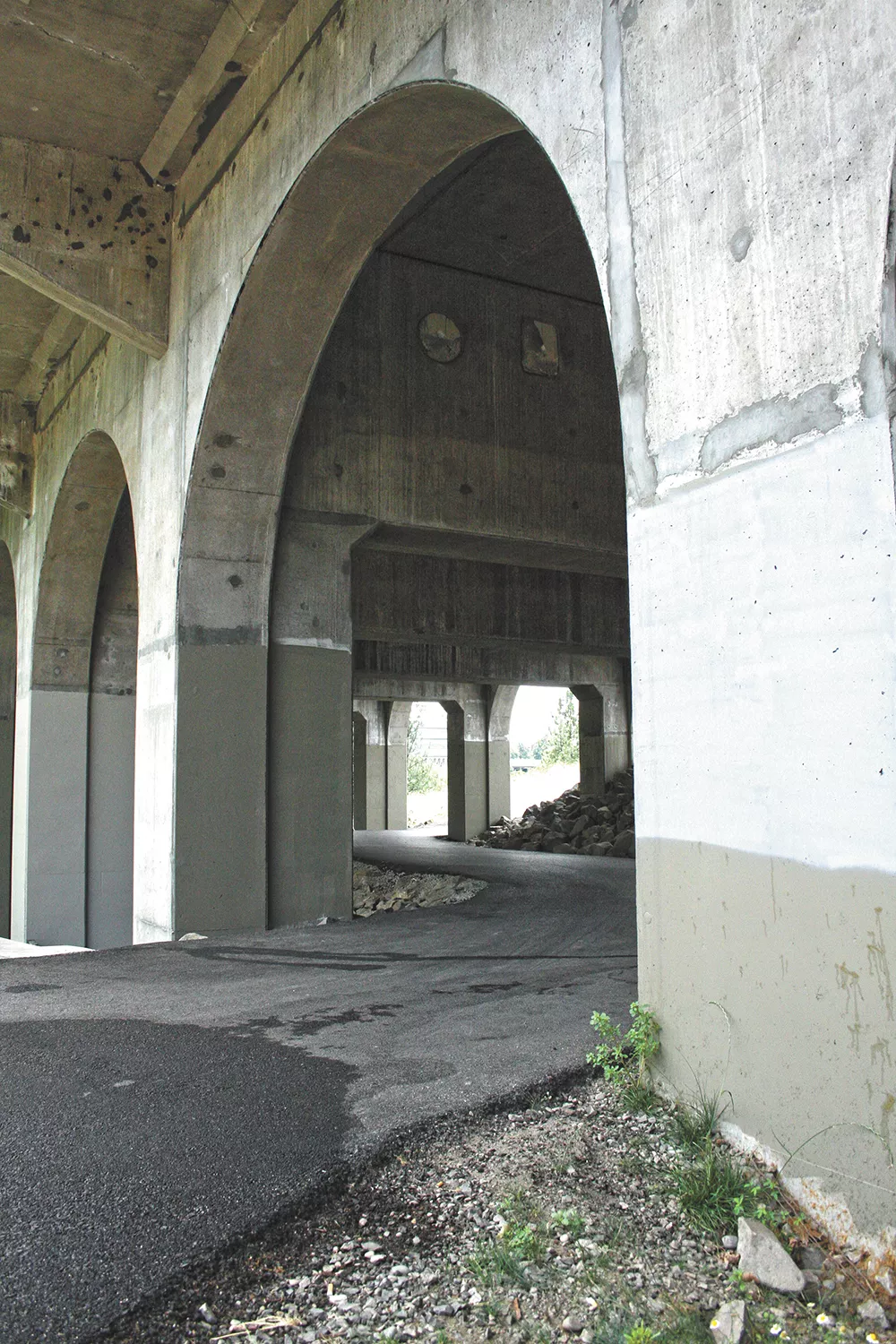 The darkness comes suddenly. Just past the first curve of the S, a gray ceiling of concrete closes in. The falls roar and traffic grinds overhead. For a moment, it's as if you've shut out the whole world. Then, as quickly as it came, it's gone. A bath of bright light and greenery takes its place.
Heading east on the Centennial Trail beneath the Monroe Street Bridge, just where the darkness turns to light, what's left now is a set of tire marks and a dark spot on the gravel. Earlier this month it was a gruesome scene, where 18-year-old Quintin Horseman was biking to work when he slammed into a bridge support, crushing his skull and cutting short a hard life in which hope was finally beginning to peek through the cracks.
Horseman had been biking to Spokane Valley with his mentor, Eric, who has asked the Inlander not to publish his last name. When Eric heard the crumpling of metal behind him and turned back, the severity of what had happened was unmistakable. He called an ambulance, and less than three days later Horseman's family had removed him from life support.
"It was pretty clear from the get-go that he wasn't coming back," Eric says.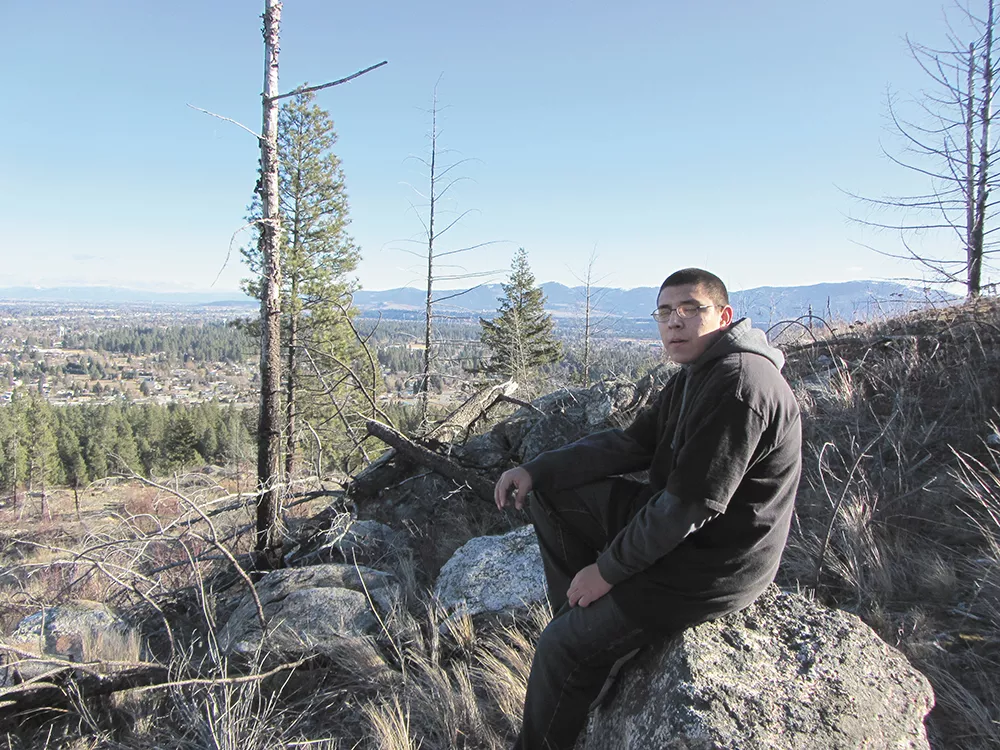 The accident has left Eric calling on the city to make that portion of the trail safer, as a web of family and friends navigate the loss of a young man who was working to improve himself.
At 2½ years old, Quintin Horseman walked through BJ Horseman's front door with two broken front teeth, the nerves so exposed he could barely eat. She says police had taken him and his two brothers from their parents' care when neighbors saw two of the boys playing in the snow in nothing but their underwear as their mother lay passed out inside. They'd called BJ, a licensed foster parent, because she and her husband shared the boys' last name and authorities wondered if they might be related. They weren't, but the Horsemans took the shy boys in anyway. BJ would learn in "bits and pieces" over the coming years about their parents and the violent home they'd come from, balancing her efforts to shield them from more turmoil with a desire to preserve some sort of connection between them and their biological family in case they could ever be reunited. At one point, they returned to living with their mother before the state removed them from her care again. Then, in 2006, as BJ's husband grew ill, the couple transferred the kids to a different foster home. That, BJ says, is when everything changed.
BJ says the home was abusive and drove the boys to leave. Quintin landed on the streets and dropped out of 9th grade. His criminal record is a pattern of assaults, theft and trespassing, all concentrated in 2010 and 2011, including an incident where he and others were tagging a downtown building and got into a fight with witnesses who tried to stop them.
According to BJ and court records, Quintin had fetal alcohol exposure and developmental delays, and had been diagnosed with attention deficit hyperactivity disorder and Tourette's syndrome. BJ says he also had post-traumatic stress disorder and "nonspecific mood disorders," putting him on edge.
One court document arguing against saddling him with more than $24,000 in restitution fees reads: "[Quintin's] history being abused and neglected, fetal alcohol exposure, ADHD, communication issues, drinking history which is resistant to treatment, and emotional/behavior issues that were totally unmanageable in the most restrictive placement available all point to a high likelihood that [Quintin] will experience moderate or severe instability in the next 10 years."
But since coming home last year, BJ says Quintin had been trying to become more independent and stay away from bad influences. He'd completed a welding certification program and found work thinning wooded areas with Northwest Youth Corps, a program designed to give at-risk young adults work experience. Quintin's crew leader in the program, Grey Pickett, remembers him as guarded and wary of authority. In time, Pickett says he also proved to be a "goofball" who made friends with coworkers and was "really committed to personal growth."
"The deck was stacked against him, and he drew lot of bad cards throughout his time, but he was pushing so hard to improve himself," Pickett says, "[His story] is about going against what you're given and fighting for what you want."
After the accident, Eric met with staff from the city and Greenstone, the development company that created Kendall Yards and paid to pave the portion of the trail under the bridge, hoping to inspire new safety measures in the area. While Eric and Greenstone CEO Jim Frank say bike speeds need to be slowed in the area, Parks Department Director Leroy Eadie says his department hasn't yet decided whether extra measures are needed. (The city is currently renovating Veterans Court just east of the bridge, adding new paths and lighting to the area.)
"The trail is all built to code," Eadie says as cyclists pedal by him on the trail. "[But] we're constantly looking at is there anything else we can do. ... Everyone is open-minded and listening."
Yet for Greenstone's Frank, there's little uncertainty. Frank says he rides the trail himself and has seen riders take the S-shaped curve under the bridge too fast.
"We jointly agree that we have to do something to slow down bike speeds [in that area]," he says, suggesting bollards, which are posts on the trail that slow bike traffic and prevent larger vehicle access.
The discussion also brings up a bigger philosophical argument about the trail, Frank says: Is it for recreational users or commuters? Can it be for both?
"I don't feel responsible for the accident ... I do feel responsible to make sure it doesn't happen again, to make sure we're not creating the potential for anyone else to get hurt," Frank says. "Ultimately that means you're going to make it less desirable as a commuting facility."
"Look at this street," he says, pointing toward Summit Parkway, the main thoroughfare through Kendall Yards, lined with lights and wide sidewalks. This, he says, is a safe place for cyclists speeding to work or pedestrians traveling after dark, when the Centennial Trail is unlit.
Friends of the Centennial Trail Director Loreen McFaul says her group encourages both commuting and recreation on the trail. While the accident was "tragic," McFaul emphasizes the importance of riders' own safety measures, like wearing helmets (Quintin was not wearing one), as much as trail improvements.
Today, nearly two weeks after the accident, Frank says he keeps a photo of Quintin on his desk.
"He is a real person," Frank says. "This isn't just some accident, an anonymous thing that happened and you forget."
After an argument about a month ago, Quintin left BJ's, planning to stay with friends until he could move out for good. On the night before the accident, he'd been unable to get into the house where he was staying and called Eric for a place to crash. They spent the evening playing Frisbee golf and talking around the dinner table. Eric says Quintin told him about his hopes to mend his relationship with BJ and continue the welding education he'd started. He talked about moving to Seattle or following the oil-and-gas boom to the Dakotas; maybe getting trained to be a wildfire-fighter.
"Quintin wasn't an angel or anything, but he was making good choices," Eric says. "He was a kid who was thinking about his future." ♦