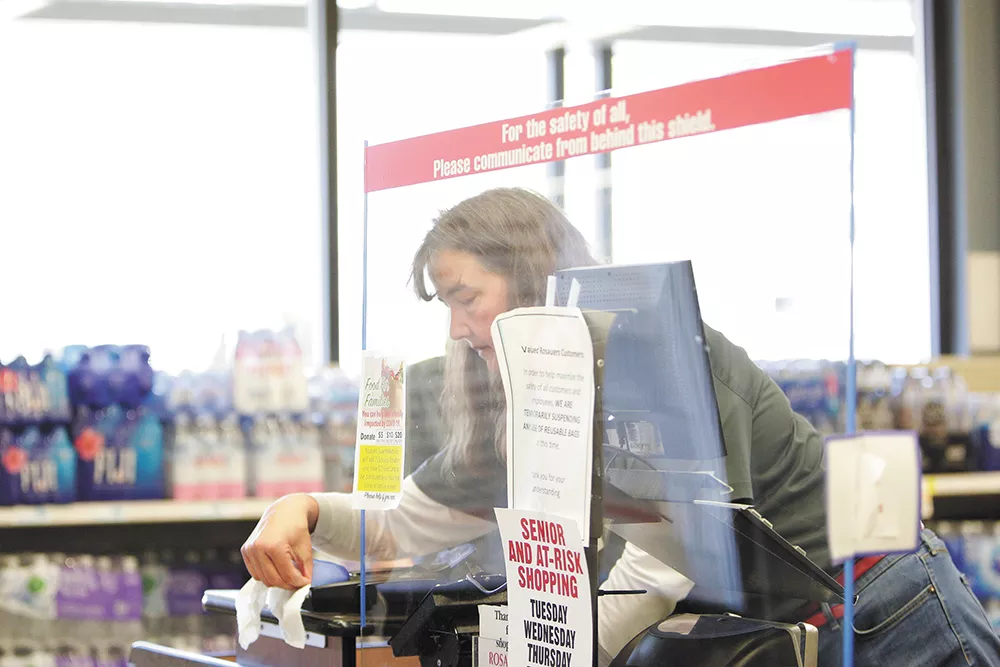 New TV ads that started airing on morning shows throughout the Spokane region are aimed at grocery shoppers, but they're not hawking deals on cabbage or Cap'n Crunch. Instead, the ads plead with shoppers to take measures — like wearing a mask and cleaning shopping cart handles — to prevent the spread of the coronavirus.
The ad is not paid for by Safeway or Rosauers. Eric Renner — a former Safeway courtesy clerk turned president of the Union Food and Commercial Workers — says it's the grocery union's latest attempt to try to keep shoppers safe.
As plexiglass barricades have risen up at checkout stands, as stores begin to place limits on the maximum numbers of shoppers, as cashiers begin to wear personal protective equipment, Renner says his union has been there every step of the way, striking deals with chains like Rosauers not just for safer procedures, but for benefits like a $2-an-hour wage increase for workers on the front line.
"We're calling it 'hazard pay,'" Renner says. "The employers are calling it 'appreciation pay.'"
Right now, the American workforce is fighting for its survival on two fronts, battling a rampaging virus and a collapsing economy. For some workers, their jobs are in danger. For other workers, their lives are.
It's not just grocery workers. Firefighters want to be able to quarantine themselves without dipping into sick leave. Nurses want to feel safe to speak out publicly about unsafe conditions.
Two years after a Supreme Court decision threatened to further cripple already-weakened unions across the country, unions throughout the region say they've rushed into the fray on behalf of their workers, hammering out new worker-safety agreements with employers, pushing for temporary pay increases, and — in some cases — protecting the free speech rights of their members to speak out against the unsafe practices of their employers.
Yet, at the same time, the crisis has given anti-union groups the chance to call for unions to be defunded.
THE WORKER'S VOICE
"The job that we do has always been a hazardous job," says Spokane Valley's MultiCare Valley Hospital nurse Shawn Reed. "But the nature of the pandemic and the infectious rate of COVID has really highlighted exactly how much risk we're in."
The Service Employees International Union 1199NW, which represents MultiCare nurses in Spokane, set up a COVID-19 hotline for members to call in any safety concerns they have at their hospitals.
Jane Hopkins, vice president of the SEIU 1199NW chapter, says they nailed down an agreement with MultiCare about a month ago to win assurances related to sick days, quarantines and protective equipment.
"We use the collective power of having a union statewide to make sure that people on the east side are getting what they need," Hopkins says.
Similarly, the Washington State Nurses Association, which represents nurses at the Providence-run Sacred Heart and Holy Family hospitals, says they've been making a litany of requests to local hospitals and other employers: Scrubs and a safe location to change their uniforms. Telecommuting or other alternatives to protect older at-risk employees. Prompt notifications when they may have been exposed. Enough masks and other protective equipment to match the quantity and quality recommended by experts.
"They're trying to save patients and protect themselves without proper equipment," says Anne Tan Piazza, director of strategic initiatives with the WSNA.
Piazza says the union has already secured multiple "COVID agreements" with institutions across the state — though so far, she says, they haven't reached a deal with Providence.
Last month, multiple Providence employees reached out to the Inlander to express fear about the lack of proper face masks — but were too afraid for their jobs to identify themselves by name.
In hospital systems across the state, Piazza says, nurses have been threatened if they speak out publicly.
In one sense, businesses often discourage their employees from talking to reporters.
"[Our employees are] under a lot of stress right now, and sometimes those questions bring out some raw emotion," Jeff Philipps, CEO of Rosauers, told the Inlander last month. "We just don't want to put our employees in a position where they have to go through that."
But grocery stores are one thing. Hospitals are another. "One of the sacred codes of ethics for nurses and health care providers is to speak up on safety concerns," says Piazza.
Can unions effectively protect their members from potential retaliation if they speak out? It depends on which union you ask.
When the Inlander tried to connect with nurses working in the Spokane Veterans Home, where at least 23 residents and two staff members have tested positive for the coronavirus, the WSNA expressed concern.
"We don't want to risk putting one of our nurses forward to talk about what's going on inside the Spokane Veterans Home at this point," WSNA spokeswoman Ruth Schubert says in an email.
She points to the case of Dr. Ming Lin, who was fired from St. Joseph Medical Center in Bellingham shortly after criticizing the hospital's response to the coronavirus in the Seattle Times.
Even when employees tell the truth, she says, if they're accused of "disparaging" hospitals, the hospital system can consider that grounds to fire them.
"We can definitely fight for them, but it can be a lengthy process," Schubert says.
But Hopkins, with SEIU 1199NW, expresses a lot more swagger about her union's ability to protect employees who tell the truth about safety concerns.
If a member tells them they're being threatened by their employer for speaking out publicly, she notes, "we will go after the employer."
"I don't think they will mess with 1199," Hopkins says.
ALL IN THIS TOGETHER
In a lot of cases, however, this crisis hasn't stressed the relationships between unions and management. It's done the opposite.
"People have really pulled together," says Gordon Smith, with the local chapter of the Washington State Council of County and City Employees. A few months ago, the union was clashing with Spokane County Detention Services over hiring strategies and bargaining tactics.
But right now, with the threat of coronavirus flooding into jails and prisons, he says that the county and the union immediately launched into collaborative brainstorming sessions, drawing up plans for everything from slashing the jail population to "taking the temperature of everyone who enters the facility."
Similarly, when the Inlander talked last year with Tim Archer, president of the union that represents Spokane firefighters, he had plenty of complaints about Spokane Fire Chief Brian Schaeffer. But today he praises Schaeffer's eagerness to bring in organized labor to the discussions about the coronavirus immediately, and says the station was an early leader in taking measures to keep employees safe.
"It might make for boring news," Archer says. "But we've been working very harmoniously with our fire administration."
Dennis Lawson, president of the Washington State Council of Fire Fighters, says fire unions are trying to be intentionally modest as they ask for changes.
"We've really told our members not to take advantage of the situation," Lawson says. "We're not trying to politicize a virus that's actually killing people."
Lawson says firefighters are not pushing for hazard pay — though he's not objecting to those who do. After all, he notes, firefighters have always dealt with hazards. That's why they call them firefighters.
"This is what we do," Lawson says.
BANNED FOR FREEDOM
Not everyone shares Lawson's enthusiasm for organized labor.
"Our brothers and sisters in the union have reported stories of harassing phone calls from the so-called 'Freedom Foundation,'" Lawson wrote in a letter sent Friday to the Freedom Foundation, a network of state groups dedicated to impeding the Democratic donor base by weakening unions. "Firefighters know that we are stronger when we stick together and that your divisive propaganda is harmful."
Peter Starzynski, director of the pro-union Northwest Accountability Project group, cites a Freedom Foundation robocall recently sent to a Clark County firefighter.
"Have you considered opting out of your union during these times of uncertainty?" the transcript of the call reads. "This is a sure-fire way to increase your take-home pay and keep more of your money in your pocket where it belongs during this economic crisis."
That sort of rhetoric isn't unusual: Since the Supreme Court ruled in 2018 that public sector employers can't be forced to pay union dues, the Freedom Foundation, an explicitly anti-union group, has been on a campaign to persuade union workers to opt out.
But now, they've gone further: The Freedom Foundation has asked the governors of the states they operate in —Washington, Oregon, California, Ohio and Pennsylvania — to use their emergency executive powers to suspend union dues entirely for three months.
Workers and businesses have been sacrificing, Freedom Foundation spokesman Maxford Nelson argues, and so should unions.
"A lot of the major unions have cash reserves out there that would allow them to operate for a year, even if they lost all revenue and income today," Nelson says.
Nelson argues that it can be a complicated process for individuals to opt out of paying union dues — and that even if governors halted union dues, "if somebody really wanted to voluntarily support their union, they could continue to do that."
Starzynski, however, doesn't believe that the Freedom Foundation honestly believes that their request will persuade a pro-union governor like Washington state's Jay Inslee to ban union dues. He says it's nothing more than a PR stunt intended to snag more donations.
"It keeps them afloat in right-wing circles and makes their funders think they're doing work," Starzynski says. "They're exploiting the pandemic to further a political mission that is dictated by out-of-state billionaires. It's shameful." ♦