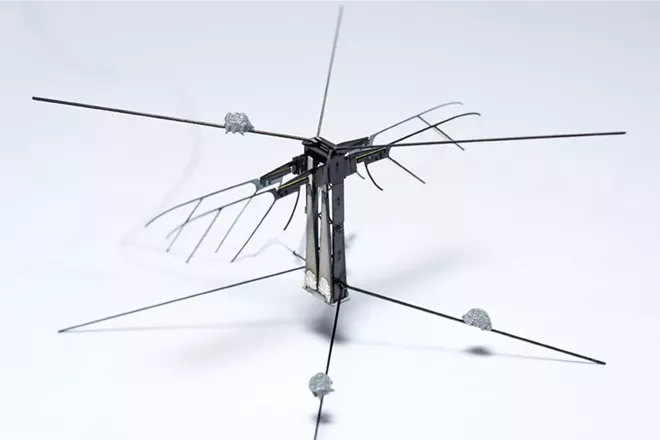 A robotic bee flutters from flower to flower, its clear wings whooshing back and forth as it collects pollen on spindly appendages and glimmers under the blazing sun.
Although it sounds like part of a science fiction film, it's actually the Bee++, a new invention from Washington State University researchers.
Néstor Pérez-Arancibia, an associate professor of engineering, and his team began the project in 2019, but are presenting their work at the IEEE International Conference on Robotics and Automation in London this week.
It hasn't been a simple process. A slew of challenges come with creating something as small and intricate as the Bee++, which has a 33 millimeter wingspan and is about twice as big as an adult honeybee.
The team redesigned existing technologies to invent an autonomous, flying robot with a full range of motion and yaw, the rotation of an object around a fixed central point.
"To create this motion, the yaw, is extremely hard because of our limitations of the bandwidth of the actuators or these artificial muscles," Pérez-Arancibia says.
The scientists designed brand new controllers, or artificial brains, allowing the bee to move instinctively.
They also developed new transmissions and actuators, which are artificial muscles connecting the components of the robo-insect together, allowing its four wings to flap and twist, swirling the air particles around at angles that lift and sustain the robot in the air.
The bee's wings are made of carbon fiber and mylar, as well as other light-weight materials for the rest of the body. It weighs over nine times more than your average 10 milligram bee, and is equivalent to about four grains of rice.
Currently, the Bee++ is battery powered, but its weak battery lets the robot fly for only five minutes without being plugged into a power source.
"That's not an issue related to the robotics or the control, it's an issue related to batteries," Pérez-Arancibia says. With the right battery technology, "the robot can fly for days or weeks."
He says upgrading the Bee++ to a new power system could take anywhere from months to years.
While the Bee++ has a myriad of applications, a major one is artificial pollination.
Currently, for instance, bees are shipped from Massachusetts to California to help pollinate certain crops, says Pérez-Arancibia, so the Bee++ could help replace those. But his primary goal isn't replacing bees, but rather to revive plant species crucial for bees across the globe.
Due to the low production cost of the Bee++, which Pérez-Arancibia says averages to $5 per robot, it could also provide affordable options for search and rescue endeavors.
"It's going to be cheaper and easier in situations, for example, after an earthquake, if you have a nuclear disaster or you have fire, to send in a swarm of these flying robots than send a person or humanoid robots," he says.
The Bee++ could also inspect pipelines for leaks, and venture into caves or high into the trees to research wildlife and environmental issues.
The Defense Advanced Research Projects Agency, a research and development agency of the U.S. Department of Defense, is funding part of the research, so the Bee++ could have military applications as well.
As his team continues their work, Pérez-Arancibia notes the project's difficult scientific and technical issues.
"All these problems we solved are extremely hard," he says. "There are probably only four or five groups on the planet that can do the things we do. This was a longstanding issue, so we feel very happy that we were the first group to solve it." ♦