When I was a kid, the greatest place in the world was the neighborhood video store.
The first one I remember had thousands of VHS boxes lined up floor to ceiling, shelves and shelves of endless possibilities. The tapes were separated by genre, but they weren't alphabetized, and I'm still not sure if this was a byproduct of mere laziness or a brilliant business decision that forced customers to browse.
I would spend what felt like hours there, mostly just looking, occasionally gathering up the courage to creep to the horror section on the back wall and marvel at the morbid box art. Picking a video was a big decision, one you couldn't reverse, and it felt like a small victory dropping loose change onto the counter and leaving with my own temporary copy of Beetlejuice or Ferris Bueller's Day Off. It's where my love of movies started in earnest.
Those days are long gone, and now even the homogenous chains like Blockbuster and Hollywood Video that pushed so many mom-and-pop video shops out of the market are dead themselves. It's weird, but not being able to go anywhere during self-isolation has made me nostalgic for places I couldn't visit even if I was able to. I miss the video store.
This is no doubt inspired by adolescent nostalgia as anything else, but it's something that Ryan Tucker, the host of the Spokane Public Library's Lilac City Live variety show, can relate to. He also grew up wandering the aisles of video stores and obsessing over weird VHS box art, avoiding corporate stores like Blockbuster in favor of the quirky independent shops that carried more off-the-wall titles.
"I think that's where my love of B movies came from," Tucker says.
As a teenager, he landed his dream job managing the video section at the Wellesley Hastings, and he has held on to that obsession well into adulthood. Tucker has amassed a collection of more than 1,300 VHS and Betamax tapes, several hundred DVDs, 200 Laserdiscs and many other obscure, long-dead media formats, and they're all on display in what he calls his Video Basement. He's really leaned into the concept, even producing laminated rental account cards and loaning out tapes to his friends.
"It's weird to think that there's a whole generation that doesn't even fathom that you'd have to go to a store to borrow a movie and return it," he says. "It was such a massive global thing, and it was so short-lived — maybe two decades."
Like just about every business whose bread and butter is physical media, the video store has struggled in this digital age.
Some of the most prominent (at least within film-nerd circles) of the country's remaining video stores haven't survived the COVID-19 pandemic: Chicago's Odd Obsession Video and Austin's Vulcan Video, both cultishly adored local institutions, closed in April, and Moscow's Main Street Video Co-Op recently shut its doors and sold off its inventory. Blockbuster, once the granddaddy of rental chains, had 4,500 U.S. locations at its peak; now it's down to just one — a single operating store in Bend, Oregon.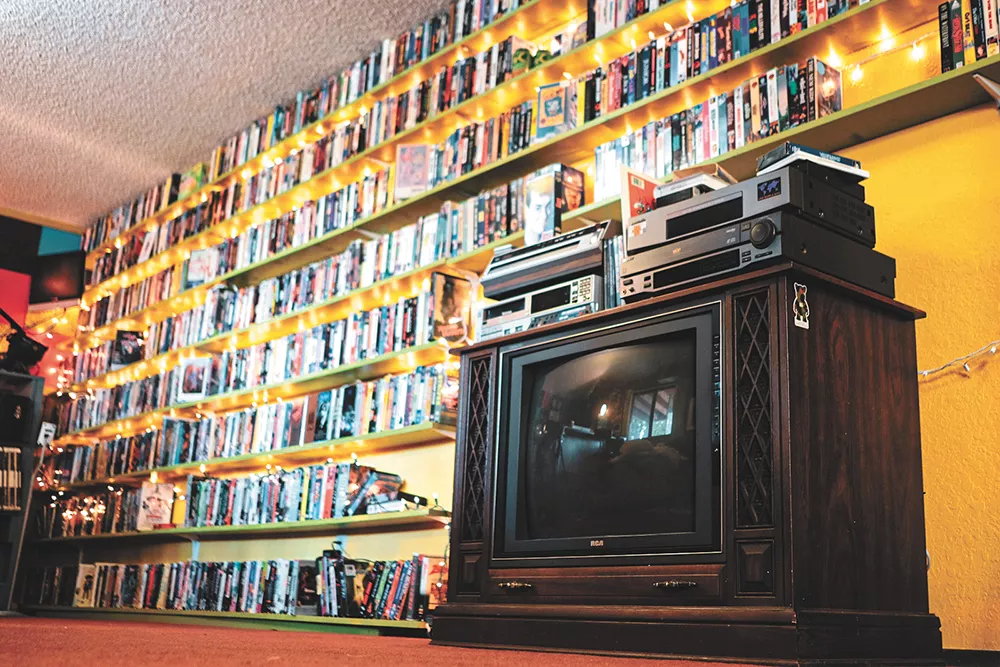 But that sole remaining Blockbuster has become something of a tourist destination, an analog throwback preserved in bright blue amber. The Illinois-based rental chain Family Video, meanwhile, is still going strong, operating more than 500 brick-and-mortar rental stores, primarily in rural communities dogged by spotty internet connections.
Although Spokane no longer has any active rental stores — Hastings, the regional rental and retail chain, hung in the longest, declaring bankruptcy in 2016 — Idaho still has a few. The independently owned Video Theater has two operating locations, in Coeur d'Alene and Post Falls, and they've been open since the video store boom of the early 1980s. Both sites have remained in operation during the COVID-19 pandemic as well, renting BluRays, DVDs, video games and even a decent selection of VHS tapes.
And then there's Seattle's Scarecrow Video, which may be the ideal video store. Its two floors are packed with DVDs, BluRays and VHS tapes and an inventory that has everything, and I mean everything: Scarecrow's collection exceeds 130,000 titles, including films that are difficult to find or been out of print for years. You can browse a director's entire filmography in one place, or explore a genre that has been exhaustively broken down into specific subcategories.
It's that hyper-specificity that has made Scarecrow a pilgrimage point for movie dorks everywhere. In the age of search engine optimization and the instant gratification of streaming and VOD rentals, a business model predicated on the act of wandering around until you find the thing you want is kind of unfathomable. Part of the video store's perceived drawback is the limited selection, an Achilles heel that streaming and VOD promised to heal. But digital platforms merely offer the illusion of completism: In fact, Netflix's once-vast film library shrinks more and more each year, favoring its original content over the properties of other studios.
"Whenever people talk about streaming, they tend to say, 'I can stream anything I want and whenever I want.' But that's definitely not true," says Matt Lynch, Scarecrow's marketing coordinator. "I stream shit on Netflix and Amazon all the time. It's insanely convenient. I'm not trying to tell you that streaming is bad. I just don't think it's the answer. I think we have to find a way to coexist."
Scarecrow is one of only two functioning video stores in Seattle — the other is Reckless Video, which is less than three miles away on the same street — and it has been operating as a nonprofit since 2014. Scarecrow is as much a retail store as it is a film archive, preserving thousands of movies that still haven't been released on DVD or BluRay. Having a vast and tangible film catalog is no different than a really good record store with an excellent selection and knowledgeable staff, or a library overflowing with all the books you've ever wanted to read.
Lynch, who has been a Scarecrow employee since 2003, says he's hopeful the business will reopen its doors when the pandemic has slowed. To make up for the lack of foot traffic, Scarecrow started a rent-by-mail program in March, and it has so far established 400 accounts and is shipping to 10 different states. I started one myself, and I've been renting stuff I've wanted to see for years but haven't been able to find. It's not the same as actually going to the store and stumbling upon a long-forgotten favorite or a tantalizing curio, but at least it's something.
"It's definitely been a struggle, but we've had a lot of help from the community," Lynch says. "People recognize that even if they don't necessarily have direct access to us, that we're a valuable resource." ♦