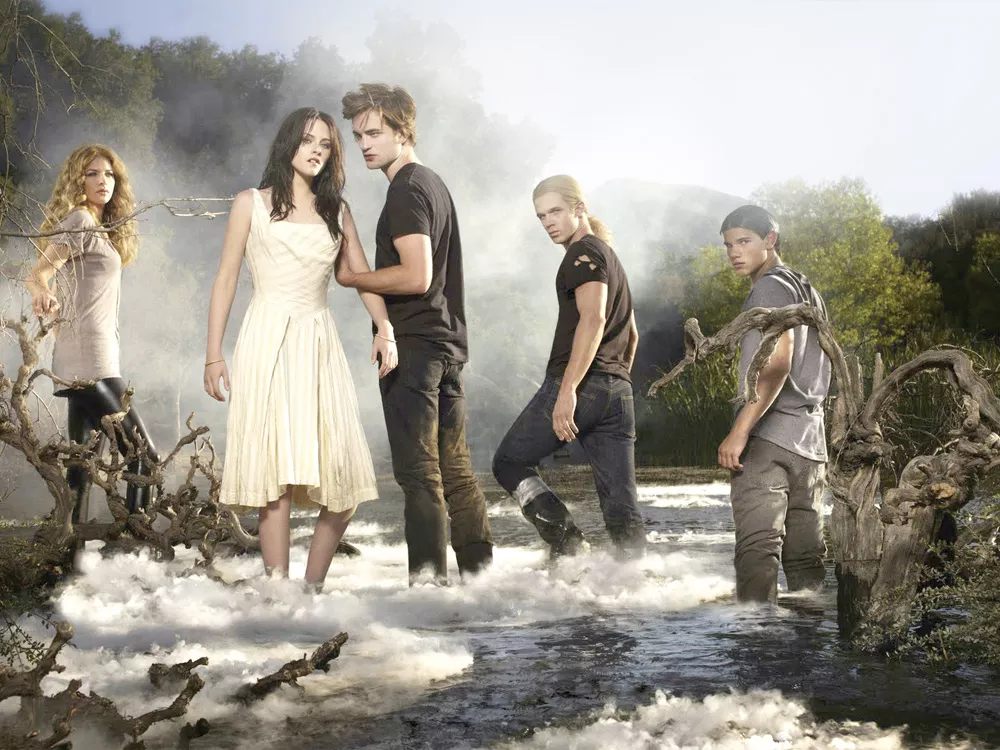 The initial plan was to take a low-key, even-handed approach when explaining why this fourth installment in the (monetarily) successful Twilight series disappointed me. As did the second and third ones after a promising start with the original. But I've decided to go the no-mincing-of-words route.
Breaking Dawn - Part I is a stinker, an overlong, unnecessarily melodramatic movie, filled with bad-pop montage after bad-pop montage taking the place of dialogue. It's a blatant attempt to stretch out the story, forcing a Part II, thereby cashing in on young viewers who are slavishly devoted to the books and preceding movies.
Granted, this is exactly the ploy used in the Harry Potter franchise. It worked there because the production — like the source material — had quality oozing from every crevice. Not so here. You know just what you're gonna get in Breaking Dawn - Part I when, about 25 seconds in, Taylor Lautner rips his shirt off and bares his bulging muscles. Funny? Yeah, but I know that I'm not the audience that moment was aimed at. I think the scene was supposed to be hot!
It happens because Jacob, the werewolf Lautner plays, has just received an invitation to the wedding of Robert Pattinson's vampire Edward, and Kristen Stewart's Bella, the blank-faced-except-when-frowning human girl they both lust after.
In short order, Edward gets something off his chest (but doesn't bare it) when, on their wedding eve, he admits to Bella an embarrassing, dark secret involving the movie Bride of Frankenstein. Too bad it didn't have to do with other, more appropriate '30s films like Dracula or The Wolf Man. But at least it's not a musical.
Breaking Dawn director Bill Condon made the excellent Gods and Monsters, about Bride of Frankenstein director James Whale. But Condon also directed and adapted the overblown Dreamgirls and wrote the questionably Oscar-lauded Chicago. Breaking Dawn is closer to an overblown musical than a taut psychological portrait — what with all those music montages every few minutes. It's a wonder that Lautner, Pattinson, and Stewart don't break out into song.
But I get it. Breaking Dawn is really for that young female audience that's already wrapped up in the story. It's certainly no place for the uninitiated to start. Seriously, those not familiar with the tale of love and jealousy and friendship and the impending breaking of tribal treaties among vampires and werewolves need not — should not — buy a ticket.
After the mercifully brief wedding in the woods and the picturesque island honeymoon and some weird PG-13-rated sex — resulting in black and blue marks on Bella, more embarrassment for Edward, and a hint that Bella kind of dug it — there's an even weirder pregnancy, which leads to discontent among the groups of different night creatures. Something must be done!
The baby might be a demon, you see, or at least as odd as the sex that led to its conception. That storyline might remind you of that hallmark of paranoia horror, Rosemary's Baby. Breaking Dawn is no Rosemary's Baby, though, and leaden, sad and confused-looking Kristen Stewart is no Mia Farrow. But we already knew that.