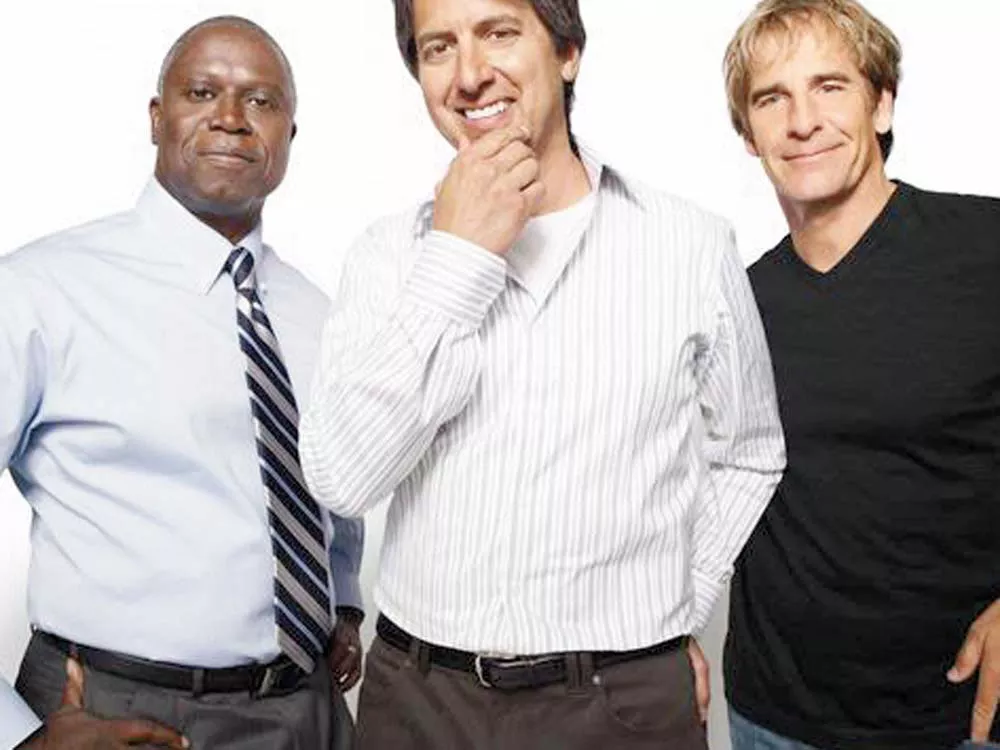 Men of a Certain Age doesn't have to be well-written. Have three charming award-winning veteran TV actors make jokes about colonoscopies and reading glasses, and we're in: Men can relate, and women appreciate male self-deprecation. But it so happens that the writing is quite good. Sure, Men of a Certain Age has "getting old" body humor, but it's in the background. The central themes are friendship, failure and grappling with broken dreams.
The series' co-creator and lead actor, Ray Romano (Everybody Loves Raymond), used aspects from his own family life to source Raymond, so it's logical that the comedian, now 53, is writing about his own midlife adjustments.
During his time off from running a party supply store, Romano's character, Joe Tranelli, is training for the Senior PGA Tour. While Joe gave up gambling (after having to fire a 70-year-old immigrant janitor to cover losses) at the end of Season One, his conviction already appears to be wavering.
One-night stands are the province of Terry Elliot (Scott Bakula, Chuck, Quantum Leap). An aging character actor, Terry is faking his real-life roles, too. Even for his two closest friends, he masquerades as a carefree womanizer, grateful for a lack of family constraints. But Terry's promiscuity and bleached bangs thinly disguise his fear and restlessness about growing old alone.
Of the three lifelong friends, only Owen Thoreau Jr. (Andre Braugher, Thief, Homicide) is in a fulfilling relationship. Lisa Gay Hamilton plays Owen's wife, and the couple have three young children. During one of the threesome's (already classic) diner scenes, Owen the married man claims that his sex life is better than Terry's.
"How often do you have sex, on a monthly basis?" asks Joe.
"Anywhere from two to ... 15 times," Owen claims.
Braugher shines in dominant dramatic roles, but as Owen he gets an opportunity to be funny, awkward and vulnerable.
Joe's addiction is gambling, Terry's is sex and Owen's is trying to impress his father. Last season, Owen Sr. promoted another man to general manager of their family car dealership and Owen Jr. threw a tantrum, taking a job at a competing lot. This season, Owen Jr. is back managing the family dealership, but as long as he refers to his father as "daddy," suggesting no shift in their power dynamic.
These three actors — but particularly Braugher — own the small-screen. Especially at their particular ages.
Men of a Certain Age, TNT, Mondays, 10 pm
---
TIVO-WORTHY
The Sing-Off
Turns out I would much rather watch a cappella and ensemble than solo pop artists. While I often wanted to set myself on fire while watching American Idol, I cheered for Sing-Off contestants. The performers have diverse range and the judges, including Ben Folds, know their trade. (NBC, Mondays/Wednesdays, 8 pm)
Tower Prep
An intriguing action/adventure/mystery, Tower Prep is well acted and has an intriguing premise. Each student attending has a special ability, and none of them knows how they got there, or where it is. The kids work together to get out, and bad guys try to keep them there. It's The Firm meets Harry Potter. (Cartoon Network, Tuesdays, 9 pm)
Falalala Lifetime
There's a charming cheesiness to each of Falalala Lifetime's holiday-themed made-for-TV movies, and I admire the women's network for creating original movies each season. One that shows the most promise: The 12 Men of Christmas, based on Phillipa Ashley's book, Decent Exposure (Dec. 20). (Lifetime, through Dec. 25, 6-11 pm)