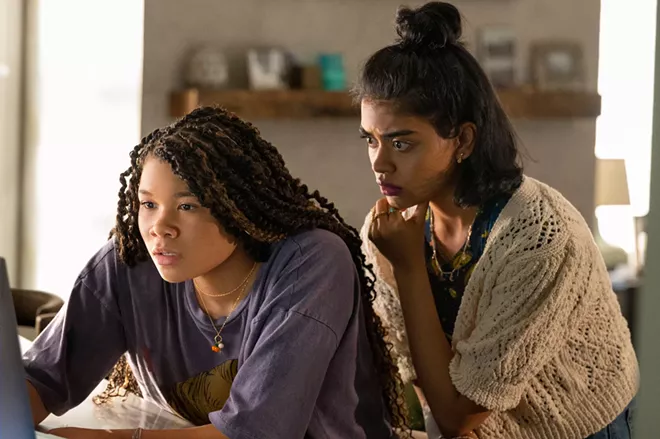 Movies about the internet have, to put it lightly, always been a mixed bag. Just as there can be incisive works like last year's We're All Going to the World's Fair, that shined in its specificity and acute awareness of the social worlds built in the digital space, there are misfires like 2014's Men, Women & Children which are doomed to be forgotten due to how broadly they approach the material.
That made the 2018 film Searching a surprising improvement. Using the narrative tenets of a thriller, it starred John Cho as a father whose daughter disappears and leaves him desperately searching for clues about where she could have gone in the online identity she kept secret from him. The hook was that this all took place via screens, meaning that all we were able to see was tied to technology. It served as a mirror that brought into focus small details we wouldn't otherwise notice when observing someone in-person.
That film's editors, Nicholas D. Johnson and Will Merrick, have now stepped in as co-directors/writers with Missing. It initially follows much of the same narrative beats, though in a manner that has flipped the script somewhat. Rather than seeing the online world through the eyes of a parent, it is the child — Storm Reid's June — who guides the story. This is quite literal, as every single click of a phone keyboard or hesitation when typing a message comes from her.
It all begins in exchanges with her mother, Grace (Nia Long), who is going on a trip to Colombia with her new boyfriend, Kevin (Ken Leung), and leaving June home alone. Each cares for the other, though they struggle to speak about a past loss (similar to Searching). After Grace departs for the airport, June throws a jubilant party at the house that we get glimpses of through social media posts that reveal that she still carries this weight on her shoulders. This is brought into further focus when her mother never comes home and stops answering any of her messages.
Missing then becomes a film that serves as an updating of Searching, using new gadgets and applications that have become more present since its predecessor, while still utilizing the same framing device. It never falls into the trap of being a gimmick and, for the most part, feels organic. The knowledge that June has of the internet means everything moves faster, and the film trusts us to go along with the solutions she creates to get the next clue. Reid, who has been solid in recent supporting performances (Euphoria), makes the most of this leading role even when acting largely within the confines of FaceTime calls. She also finds an ally in the Columbian gig worker Javi (Joaquim de Almeida), who serves as her eyes and ears on the ground. While initially just a transaction, the two become a team.
The film also does a far better job than Searching of not telegraphing its revelations too much, which makes the payoffs more earned. It even takes a couple humorous shots at the often toxic world of true crime with a recurring joke about a fake streaming series and TikTok talking heads making appearances. Though not robust commentary by any means, this awareness of how people package and consume tragedy online still gives it a bit of a relevant edge. There is some tension in how the conclusion comes awfully close to feeling more like the parody series the film was poking fun at prior, but it is still restrained enough to work. It's more dynamic than Searching, which kind of petered out with forced exposition tying everything up. When paired with Reid giving a multifaceted performance that provides an emotional grounding point, we're able to go along with wherever the story takes us. While it might not be remembered as one of the best films about the internet, it also avoids the trappings that have doomed many before it. ♦

Missing
Rated PG-13
Directed by Nicholas D. Johnson and Will Merrick
Starring Storm Reid, Nia Long, Joaquim de Almeida