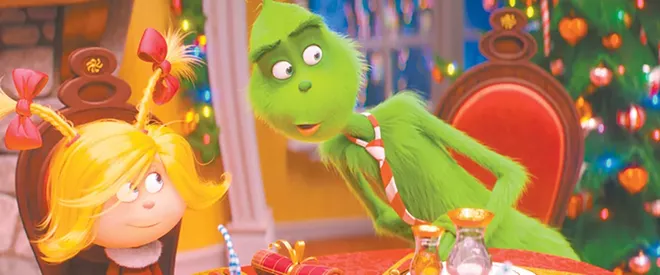 It becomes increasingly difficult with each passing autumn not to sympathize more and more with the Grinch, Dr. Seuss' green-furred grump who cannot abide Christmas.
In this totally uncalled for and entirely superfluous big-screen adaptation of the classic picture book, he is annoyed by nonstop holiday songs on the radio and aggressive carolers who stalk him on the streets of Whoville. And as for the latter, at least, he's clearly in the right to be cheesed off.
But at least the story of The Grinch begins on Dec. 20. It's legitimately Christmastime. Imagine if the Grinch lived in a world in which aggressive Christmas cheer was foisted upon him in early November, with manufactured corporate entertainment carefully constructed for maximum Yuletide blingy-ness and minimal actual impact.
This new Grinch, you see, appears to have been deliberately designed to be instantly forgettable, with all the disturbing rough edges of Dr. Seuss' story and illustrations ironed out. The Christmas curmudgeon here is almost cuddly, more Oscar the Grouch than truly grinchy, and his dog, Max, isn't the mangy cur of Seuss but a happy, well-cared-for canine companion.
Benedict Cumberbatch's voice is unrecognizable as that of the Grinch, and he may be the best and only memorable thing about this relentlessly mediocre endeavor: He's actually trying to do something fresh, and succeeding. But then again, would the submerged sweetness Cumberbatch brings out truly be appropriate to a Grinch who hadn't been softened? It doesn't feel as hard won when his heart grows three sizes.
Oh, the Grinch still hates Christmas, and still vows to ruin the holiday for the people of Whoville by pulling a reverse Santa on Christmas Eve and stealing all their presents and decorations. But the movie's heart is less in it than the Grinch's is. Perhaps it's inevitable in trying to pad out a short picture book to feature length, but the backstory for the Grinch's meanness concocted here is pretty halfhearted: The Grinch was turned off to the holiday as a child when he was ignored and left alone in the Whoville orphanage at Christmas... which actually doesn't make sense, seeing as the Whos, aggressive caroling aside, are genuinely nice and kind. (This backstory also fails to answer the unasked but obvious question: Just what is the Grinch, anyway? An alien? Why is he the only one of his kind?)
Even when life isn't perfect in Whoville, it's still pretty darn lacking in conflict. The biggest expansion to the story is the subplot in which Cindy Lou Who (the voice of Cameron Seely) wants to ask Santa to bring her mother, Donna Lou Who (Rashida Jones), something nice, because she's always doing things for other people. This will set Cindy Lou on a Christmas Eve encounter with the Grinch-as-Santa, and her kindness will help to soften his heart. But Mom Who is honestly doing just fine; it's never mentioned what happened to Cindy Lou's father.
If it's all too mild, we can at least give thanks that there was no attempt to push this story in the direction that Ron Howard's appalling 2000 live-action How the Grinch Stole Christmas took, turning the Whos of Whoville into materialistic monsters, selfish and greedy, and turning the Grinch's childhood into a nightmare in which he was subjected to actual cruelty and neglect. Maybe this simply is a story that shouldn't be attempted at feature length. Some questions are better left unanswered.
Mostly what we get here is candy-colored slapstick and affable action sequences — see Cindy Lou racing through the snowy streets of Whoville to catch the mailman to deliver her letter to Santa! — and gentle, kindergarten-level humor: Behold the Grinch in his tighty-whiteys! It's perfectly suitable for small children, and perfectly bland and inoffensive to the adults accompanying them. But somehow, I don't think Dr. Seuss would entirely approve.♦
DR. SEUSS' THE GRINCH
Rated PG
Directed by Yarrow Cheney, Scott Mosier
Starring Benedict Cumberbatch, Rashida Jones, Kenan Thompson, Angela Lansbury