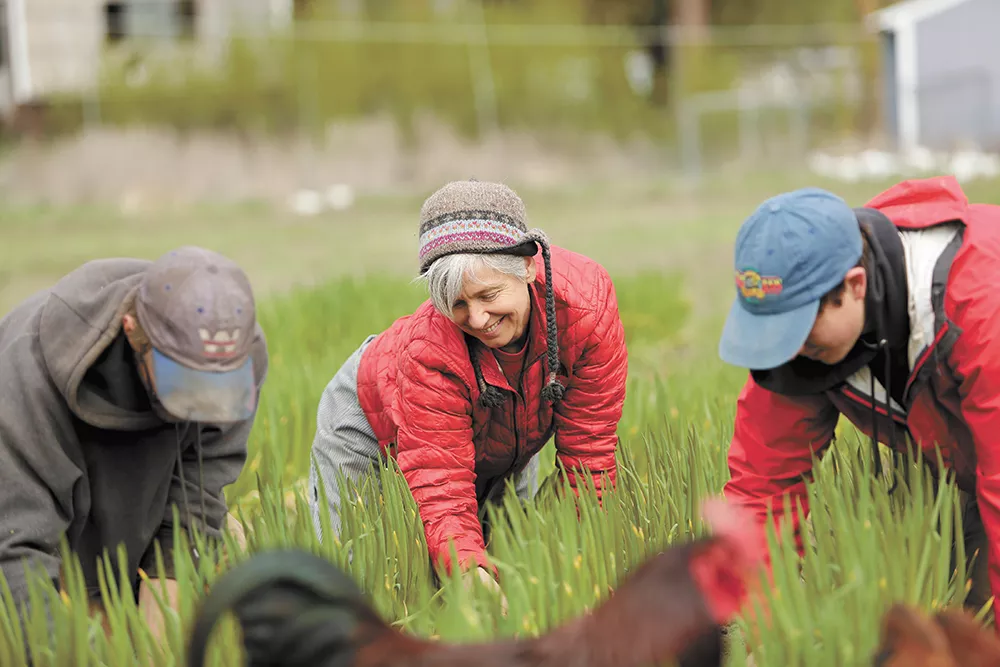 As chickens roam freely and ospreys nest in trees overhead, a handful of farmers work minutes away from downtown Spokane. This farm, a roughly 40-acre property, is sandwiched between a highway and what's been called the most polluted waterway in the state, Latah Creek.
Poor agricultural practices have polluted the creek, according to the Washington State Department of Ecology. The farmers here at Urban Eden Farm — owned by Jim Schrock and Tarawyn Waters in the Vinegar Flats neighborhood of west Spokane — say they won't use it to water their vegetables. It's filled with herbicides and chemical fertilizers from other, more conventional farms.
Urban Eden is not a conventional farm. It's a small farm that sells vegetables directly to locals and nearby restaurants, and farms similar to this may play a larger role in the future of food production in the Inland Northwest.
Urban Eden doesn't use herbicides, pesticides or chemical fertilizers. Through sustainable growth practices and without long-distance transportation, Waters says this farm is more environmentally friendly than the alternative.
"I'm not in this for the money," Waters says. "I want to do good in the world."
Yet the sustainability of small, local farming can be more complex than transportation costs. And according to a recent report from the Spokane Food Policy Council that assesses regional food systems, the push for more locally produced food has grown around Spokane, and the farmers who produce that food need more support and infrastructure to meet the demand.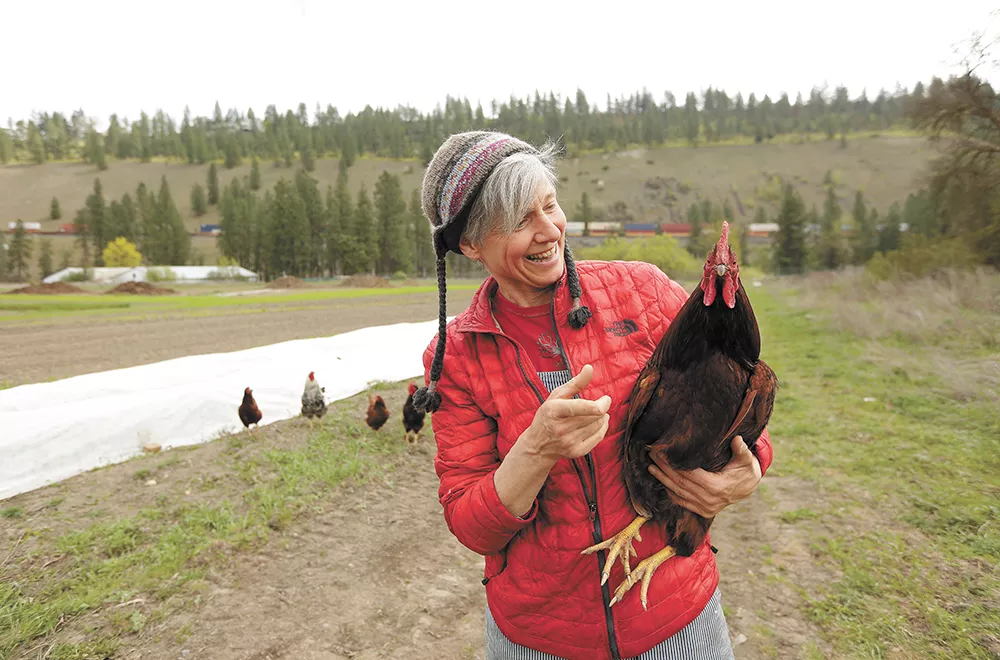 Having a farm as big as Urban Eden located within city limits is highly unusual, but it allows them to easily sell directly to consumers, says farm manager Patrick Mannhard. They use a model called Community Supported Agriculture, where customers pay for a season's worth of produce at the beginning of a growing season and pick their food up at the farm each week.
"All we have to do is walk it to the front and put it in a cooler," Mannhard says. "We're able to give people exactly what's fresh, exactly what's in season, and we're able to reduce our waste by selling it all or giving it away when we have abundance."
Thirty farms in the region market through CSAs, according to the Spokane Food Policy Council. Other small farms use farmers markets to distribute their produce, a method that can be time-consuming. More restaurants and institutions in the area have started buying and advertising local food as well.
Still, roughly 90 percent of the food consumed in the Inland Northwest is sourced outside the region, according to the Spokane Food Policy Council.
People should not automatically equate local food with sustainability, says Jeremy Cowan, regional horticulture specialist for Washington State University Spokane County Extension. He points out that the global food system model has efficiencies in place that can make it more sustainable for the business of industrial farming. And if you look at carbon emissions only, food coming across the country can often have less per-pound emissions than food coming from smaller farms in Washington, he says.
Yet Cowan says that smaller farms often take better care of their land. He adds that there are three legs to sustainability: economic, social and environmental. The social aspect, direct interaction with consumers, is a real benefit to small farms. That interaction increases the awareness about where food comes from.
"That, in the long run, would lead to improved long-term sustainability, whether the farm is large or small," Cowan says.
Jorge Cano and Maddie Versteeg work 12 hours a day at Casacano Farms, just south of Spokane off the Palouse Highway. The young married couple started this farm about three years ago, and last year expanded their acreage at a new property near Valleyford. They get help from an intern, but do most of the work themselves — both the labor and the business.
Kitty Klitzke, Eastern Washington program director for growth management group Futurewise, says there are systemic barriers in place for small farmers. The Spokane Food Policy Council, of which Klitzke is a member, found that the need to grow food, process it, deliver it, market it and sell it can overburden them. The council recommends, among other things, a centralized delivery and retail system that serves small farmers, more manufacturing facilities for crops and livestock grown locally, and more wholesale and distribution facilities.
"[Small farmers] have to be full-on business people and work all the time," she says. "And it's not exactly lucrative."
Cano and Versteeg want to build their business so it's a model for sustainable small farms, and so others know that it's possible in Spokane. They doubled their sales in their second year, selling their vegetables and meats to local restaurants like Durkin's, Casper Fry, South Perry Pizza, Wild Sage and Luna. They also sell to customers at the South Perry Farmers Market. But they have some work to do before they can consider themselves a model.
"We're on the right path, but we're not there yet, where we can be telling people that this is the one way to do it," Cano says. "We're trying to be thoughtful of the steps we're taking as we move things up, so that it's scalable for other people."
Consumers, too, need to be educated about the reasons to purchase local food, and even how to cook with it, according to the Spokane Food Policy Council.
"Spokane is just growing into this culture," the report states, "but has a long ways to go to really embrace it."
Cano and Versteeg have noticed a slow push for more local food. Yet some people don't even realize that the food being sold at farmers markets can be grown so close to Spokane.
"People ask, 'Where's this corn coming from? Odessa? The Columbia River Basin?' And it's like, no, this is all of our stuff. We grew this right here," Cano says. "So there's some dots that aren't being connected." ♦