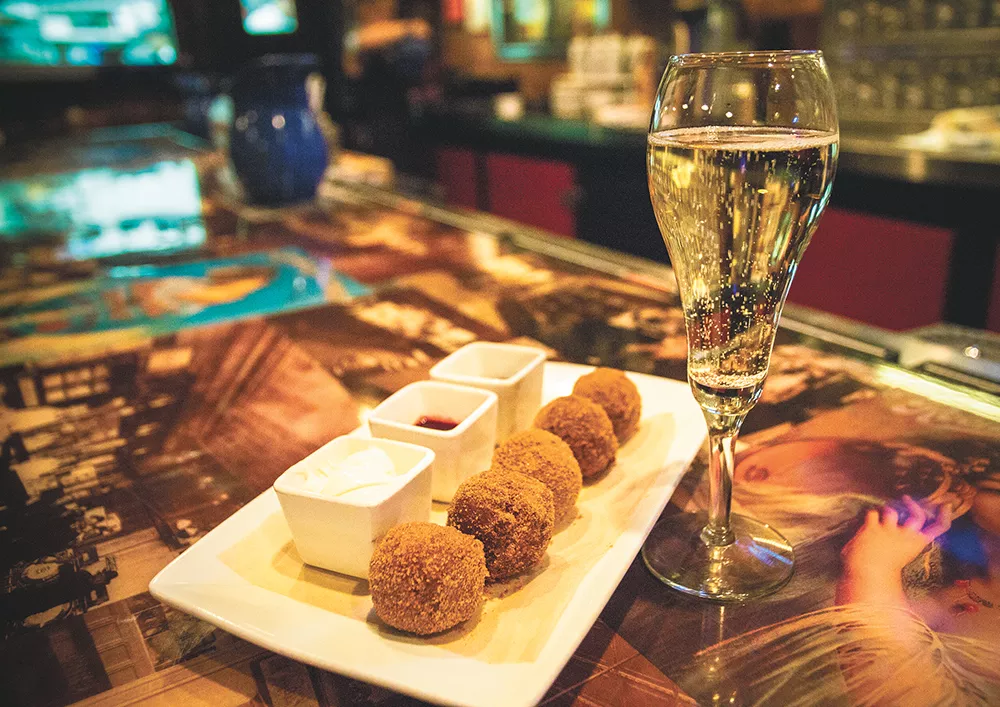 Within easy driving distance, residents of the Inland Northwest have access to a wealth of wine, with extremely varied character. While you're probably familiar with excellent Washington Syrah and Cabernet Sauvignon, you'll also find vintners trying their hands at less-expected varietals like Sangiovese and Albariño. Washington's latitude and climate are similar to areas known for some of the best wine in Europe. Pair that with a Northwest willingness to innovate, and it's no wonder that our wines are poured and enjoyed all over the world.
Not only does this make for interesting trips to the tasting room, it offers great latitude for restaurants that want to pour and pair local wines. You'll find many area wines on local menus. (Most servers are happy to recommend a pairing.)
Scott Cook, owner of Spokane Valley's Ambrosia Bistro and Wine Bar, and Krista French, general manager and sommelier at Midtown Bluebird in Coeur d'Alene, share some of their current favorite local pairings.
If you're in the mood for a white, French recommends Orr Wines' Old Vine Columbia Valley Chenin Blanc (a French grape, often made into a delightful dry white wine) made in Woodinville, Washington.
"Erica Orr is the winemaker for this awesome wine. She graduated from [UC] Davis with a Master's degree in oenology and has done consulting work for many different California and now Washington wineries," says French.
Orr, known as winemaker for Woodinville's Baer Winery, has ventured out into her own label. French, who is choosy about what she puts on her menu, is eager to talk about how special this wine is.
"There were 220 cases of this wine produced from the 2016 vintage, and the grapes used for the wine [are] from vines planted in 1979," she says.
"[Orr] Chenin is the perfect partner for shellfish — I put it on the list specifically to pair with oysters. It also pairs nicely with our seared diver scallops. The wine has racy acidity that is bracing and refreshing paired with the beautiful, and often creamy and briny, Pacific oysters we bring in from the Seattle area. The wine has aromas of pear, melon and lemon-lime. On the palate is a luscious balance of tropical fruit, lime, melon, nutmeg, minerality (like you're licking a wet stone) and mouth-watering acidity."
Ambrosia's Cook is staying even closer to home, with a Spokane winery. His choice? The 2015 Arbor Crest Merlot.
"Kristina van Löben Sels does a great job in making varietally correct wines. Her Merlots always showcase what is so special about Washington's climate and growing regions," says Cook. "The Merlot is a natural choice to pair with our braised short ribs, because the structure and balance of the wine complement the richness and unctuousness of the dish.
"It also pairs well with our steak au poivre — the dark fruit, spice and earthy qualities of the wine go well with the beef, black pepper and mushrooms — and the wine's acidity stands up to the mustard and garlic in the sauce. Besides being a great food wine, the Arbor Crest Merlot is a great cocktail wine for happy hour or to have on the patio."
Still, there are times when only sparkling wine will do. Midtown Bluebird's French has a wine for that, too: Treveri Cellars Brut Blanc de Noirs.
"Treveri is a family-owned sparkling wine house out of Wapato, Washington. I really like all of their wines, but I'd say my favorite is the Blanc de Noirs — made from 100 percent Pinot Noir (which is why it's called Blanc de Noirs; they also make one from Chardonnay grapes called Blanc de Blancs). It has red fruit characteristics; strawberry and cherry. It's slightly richer than a sparkling wine made with Chardonnay, or a combo of both Chard and Pinot Noir. You'll get a whiff of brioche upon opening the bottle; the wine has medium bubbles and is well-balanced, with a citrus component and nice acidity to finish," she says.
"I like to pair this sparkler with our housemade donuts — deep-fried, rolled in cinnamon sugar and served with vanilla bean mascarpone, housemade 'Nutella,' and a seasonal fruit sauce."
She's quick to add that it's hard to go wrong pairing sparkling wine with anything: "Have it for breakfast — or when you're sad or happy or mad... whenever!" ♦