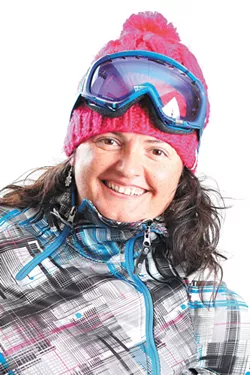 For skiing and snowboarding, this really can be the best time of the season. The base is typically great and with every passing storm the coverage just gets better and better. For those who don't want to deal with the elements down low in the valleys, the snowline has remained primarily above town elevation, leaving a much simpler way of living day-to-day life.
Now, as we move into the spring season, ski days get longer, the presence of bluebird spring skiing days become more prevalent and each mountain is offering events galore to entice viewers and spectators to come to their mountains. The ease of this season continues with improving mountain pass and highway conditions — all making spring storm chasing a little more enticing.
A good reminder this time of year is snowline. I wrote about this in a blog a couple of seasons ago. How important it is to see the snowline when living in the valleys. It seems like doomsday when waking up every morning to pouring rain. Check your webcams, social media outlets and watch the local news. Skiing has been great — even with Mother Nature's mood swings.
With the great coverage, the mountains have an incredible way of "healing" easily after a "mixed-precip" event. Don't believe it? Then head to the mountains and find out for yourself.
Sure, I know we all love watching the Winter Olympics, but wouldn't you rather be on the mountain yourself, cutting some new tracks down the hill?
Cheers to a strong finish to an already epic season!