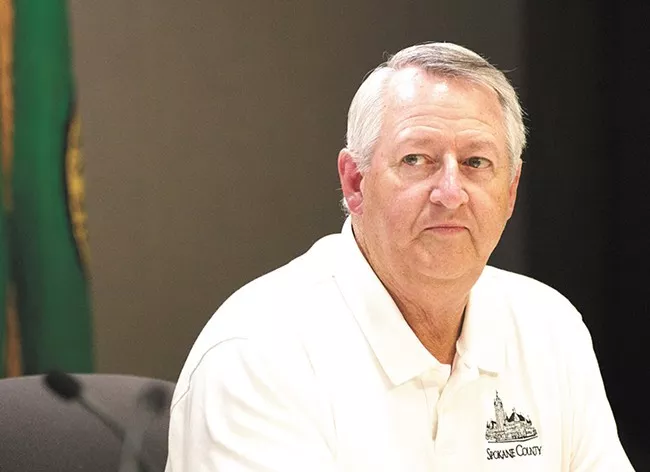 If the election for Al French's position on the Spokane County Commission counted only voters in his district, the commission's longest-serving member would be losing in a landslide.

Robbi Katherine Anthony, a 26-year-old transgender woman who owns two local tech businesses, holds a 16-point lead over French, according to preliminary results from last night's primary election.
"The results really exceeded our expectations," Katherine Anthony says.
Fortunately for French, the November general election will count votes from the entire county, not just his district, which covers most of downtown Spokane and the southwest part of the county. The countywide vote should be a major advantage for
French,
since it typically leans Republican.
And that happens to be an advantage French is currently fighting to keep in place for future elections. He's
loudly opposed
a new state law that would make the general election district-only voting starting in 2022. In fact, he supports both the county commission and Washington State Association of Counties possibly taking legal action against the law, which would also expand the commission to five members instead of three.
In French's view, district-only voting takes away voter representation, since citizens would only vote for one out of five members on the county commission.
Still, even with the countywide election working in French's favor this year, it looks like he has a serious race on his hands. Democrats in Spokane County were strong overall last night. More than half of Spokane County voters supported Democrat Lisa Brown in her bid to unseat Rep. Cathy McMorris Rodgers. (McMorris Rodgers still has a slight edge when counting all of District 5.)
But French says he's not worried. In the primary, he says, people vote for parties. In November, they vote for candidates.
"That's going to change the dynamic significantly," French says, adding he has a "long track record of success" in the community.
His opposition to district-only voting for the general election has little to do with whether he'll keep his seat, he says. The boundaries for a five-person commission will look much different than they do now.
"We need to make sure that we have people in office that value dignity for everyone."

tweet this
It's been more than a decade since a Democrat won an election for the Spokane County Commission. But Katherine Anthony feels that might work in her favor. Voters, she says, want to see balance from their government, not one party controlling a government body like Republicans have the county commission.

"We've got a couple things going for us," she says. "People are looking for
change
."
Katherine Anthony grew up in Spokane and owns two local businesses, a tech company called Firedove and a co-working space called Praxis Coworking. She supported Bernie Sanders in the 2016 primary, then Hillary Clinton in the general election. In 2016, she worked on Andrew Biviano's unsuccessful campaign to unseat County C
ommissioner
Shelly O'Quinn.
Katherine Anthony's political views have been shaped, in part, by policies that take away the rights of transgender people, like bills restricting where they can use the bathroom and the Trump administration barring transgender people from serving in the military.
"We need to make sure that we have people in office that value dignity for everyone," she says.
But Katherine Anthony is focused on other things besides her gender identity.
"The fact that I am transgender is probably the most boring part of this campaign," Katherine Anthony says.
Her main priority, should she serve on the county commission, is balancing the budget. The county has faced budgetary challenges in recent years, due in part to a lack of state funding, commissioners say. Katherine Anthony says the budget crisis is becoming an "annual tradition," and that's of concern.
"I'm finding we have people complaining about it, kicking the can down the road," she says. "Instead, we should elect people who are willing to work the hand they're dealt."
Facing a budget shortfall last year, commissioners entertained the idea of sending a ballot initiative to voters for a property tax increase, before deciding against it in August. While Katherine Anthony says she'd look for other ways to balance the budget first, she wouldn't be opposed to sending such a proposal to voters if necessary.
"If it came to that point, and that's the only thing we can do to get things to a stable place, then yeah," she says of the idea.
Katherine Anthony has purposely not been doorbelling in her campaign. She calls it "intrusive" and says "people hate it." Instead, she's putting her experience in tech to good use, running an online campaign and communicating with people via the digital world.
While she's looking to beat the longest-serving county commissioner, she's not interested in a long political career. She's looking to serve as county commissioner for four years, then she's out. That, she says, will allow her to make decisions based on "objectivity," not worrying about whether a decision will win or lose an election.
"If I don't have personal motivation apart from doing the right thing," she says, "that is going to surface."