G
etting voter attention is expensive these days
, as can be seen in the record-shattering spending in Spokane's elections this year.
With reports coming in daily to let voters know about independent ad buys, as of Monday, Oct. 28, nearly a million dollars ($960,242) had been spent on Spokane candidates by political action committees, which make ads and talk to voters without input from the candidates they support or oppose.
Since we wrote a few weeks ago about spending by the largest independent financial players this season, the
Washington Realtors PAC,
the realtors have put even more money toward the candidates they see as most favorable to development in the city.
So far, they've spent more than $572,000 on Spokane races, according to filings with the state Public Disclosure Commission (PDC). That includes about $258,000 supporting Nadine Woodward for mayor, $224,000 supporting Cindy Wendle for city council president, and in their respective city council races, $59,000 for Andy Rathbun and $31,000 for Michael Cathcart.
The next largest influx of money this season has come from the Citizens for Liberty and Labor PAC, which has spent about $207,000 so far opposing Woodward and $12,000 supporting sitting Council President Ben Stuckart in his bid for mayor.
The PAC's largest contribution of $80,000 came from the Spokane Firefighters Union PAC. Citizens for Liberty and Labor is also supported by other unions such as SEIU Union WA State Council PAC, UFCW 21 PAC, Washington Education Association and the organization Fuse Votes.
Not too far behind in independent spending is the conservative PAC, Spokane Good Government Alliance, which reported spending about $152,000 as of its most recent report extending through Oct. 14. Some of that money was earmarked for things like paying 25 door knockers a total of $26,475 in September. The PAC has raised a total of about $305,000 so far.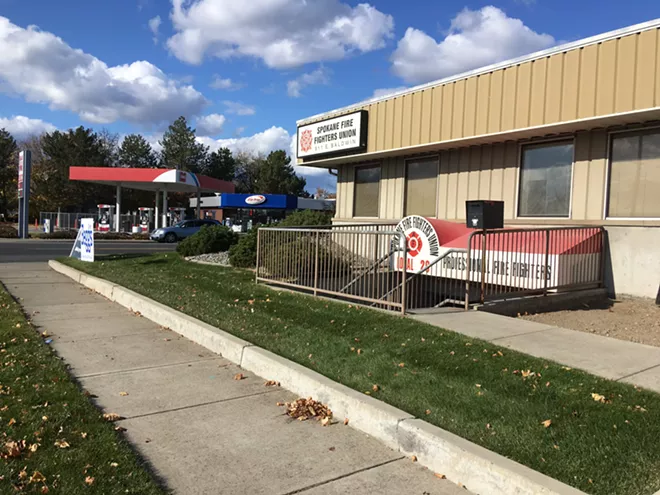 FIREFIGHTERS PDC COMPLAINT
In mid-October, a PDC complaint was filed by conservative activist Glen Morgan against the Spokane Firefighters Union PAC, alleging a "Failure to report mystery secret contributions."
The issue he raised involves a discrepancy between the publicly filed accounting form known as a C4 that was filed in May, and the following C4 filed in June. Between those two, the total cash and in-kind contributions jumped by about $67,000, but with no indication where the additional money came from.
The case is still being assessed by PDC staff; however, it appears the issue was that the continuing Spokane Firefighters Union PAC, which is required to start a new committee each year, did not rollover its remaining balance from December 2018, of about $68,000, until May this year.
Spokane Firefighters Union PAC treasurer Thad Frater declined to comment on specifics of the apparent accounting error until hearing back from the PDC. However, he showed the
Inlander
the PAC's books and reports, which reflected the carryover balance from last year and accurately balanced amounts on the PAC's user interface.
A PDC spokeswoman couldn't comment on the case specifics, but said in instances where a PAC were to make a change such as rolling over money from a previous year later than required, that committee would need to amend and refile the previous C4 forms to reflect the proper amounts.
Generally speaking, the Spokane Firefighters Union PAC receives voluntary donations from the 360-member firefighter union on a regular basis, which brings in about $4,200 a month, give or take. The money rolled over from last year came from that same type of ongoing donation by members.
"The local has no choice but to be involved in politics, because politics won't leave us alone," Frater says. "Every day at work, we're impacted by politics."
The candidates supported by the Firefighters Union PAC this year include Stuckart and Councilman Breean Beggs, who is running for council president.
"Our candidates are chosen by their willingness to support public safety and their track record," Frater says. "That's Ben, all day long."
Woodward's campaign emailed a statement from Oct. 22 in which Woodward said in part, "It is comical that the unions are running attack ads accusing my campaign of being funded by dark money, when they in fact have a $60,000 black hole in the same account which paid for them."
NEXT BIGGEST SPENDERS

Part of the reason the largest benefactor of firefighter money this season, Citizens for Liberty and Labor, is spending so much money against Woodward is a concern with her lack of political experience, explains PAC director Randy Marler, the former president of the Spokane Firefighters Union.
"She has absolutely no background whatsoever that would give us any kind of reason to believe she would be qualified," Marler says. "What she has done during her campaign is hide from the media, hide who she is so we can't actually understand who she is. She has stated she has no solutions. She has talked about developing outside the city limits."
The realtors have supported candidates who appear more open to expanding the city outward, he says, which isn't the right move for multiple reasons.
The PAC supports candidates with proven experience in office, who have a deep understanding of complex city issues, Marler says; in particular, that means Stuckart and Beggs.
"Those two have a very deep understanding of the complexities of our housing shortage, it's not a simple answer. The homeless problem is not a simple solution, but when you talk to them they have real solutions," Marler says. "They understand the value of supporting a healthy environment, clean energy, the value of public safety, and they have a track record of proving that."
While the PAC hasn't spent money on them, Marler said they also support Lori Kinnear and Karen Stratton in their bids for office.