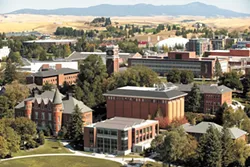 W
ashington State University
has chosen a law firm to look into the departure of former Provost Mitzi Montoya, who served in the role for less than two months in 2019.
Karr Tuttle Campbell, a Seattle-based law firm with experience in labor and employment law including workplace investigations will begin the review this week, according to WSU. The former provost, Montoya, clashed with university leadership when she raised questions about the budget and administrative structure at the university last summer, as the
Inlander
detailed in an earlier article this week
.
a news release
from WSU announcing the law firm reads.
The review was prompted by faculty members at WSU who became concerned when seeing an email Montoya sent WSU President Kirk Schulz days before her demotion. In the email, first
reported by Whitman County Watch
, Montoya described a performance review from consultant Jean Frankel, who works for Ideas for Action.
"I learned that there are major concerns about me — I need a personality transplant, I need to be more feminine and conforming in my communication style, and I need to be less intelligent," Montoya wrote to Schulz.
WSU released the email months later, and that's when faculty senate leadership immediately asked President Schulz to initiate an outside investigation into the matter. Greg Crouch, chair of the faculty senate, says the state Attorney General's Office provided a list of law firms and some members of the Executive Committee of the WSU Faculty Senate.
"We had asked for those that had done work along the lines of gender bias," Crouch tells the
Inlander
.
The university says that the results of the review will be made publicly available.
Meanwhile, WSU is still looking for a new provost, which it says should be named by the end of spring semester this year. But Crouch calls the situation with Montoya a "cloud" looming over the new provost search that impacts the ability to recruit candidates. He says faculty is hoping the independent review will be done by the time a new provost is chosen.
"I think it's essential that happens," Crouch says.
Montoya remains employed by the university as a professor with tenure in the Department of Management, Information Systems, and Entrepreneurship.