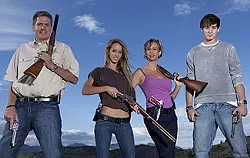 OK, so don't actually get your gun, but do have your questions ready because The Wyatt family, owners of Gunsmoke Guns outside of Denver, Colorado and stars of Discovery Channel's "American Guns," will hold a meet and greet tomorrow at the Red Lion Inn at the Park, located at 303 North River Drive.
The meet and greet, which will be from 3:30-5 pm, is before the annual Friends of the NRA banquet, which raises money to promote gun safety, education programs and scholarships. Tickets can be purchased at Sharp Shooting, White Elephant, Wholesale Sports or Mountain Shadow Arms.
If you've never watched "American Guns," then you're missing out on seeing the behind the scenes of one of the premiere firearms facilities in the world. Rich Wyatt and his wife Renee, along with their children, Paige and Kurt, run Gunsmoke, known for its wide variety of guns and out-there custom made orders. In the past, customers have requested hand cannons, a pink semi-automatic handgun and a cannon that shoots bowling balls.