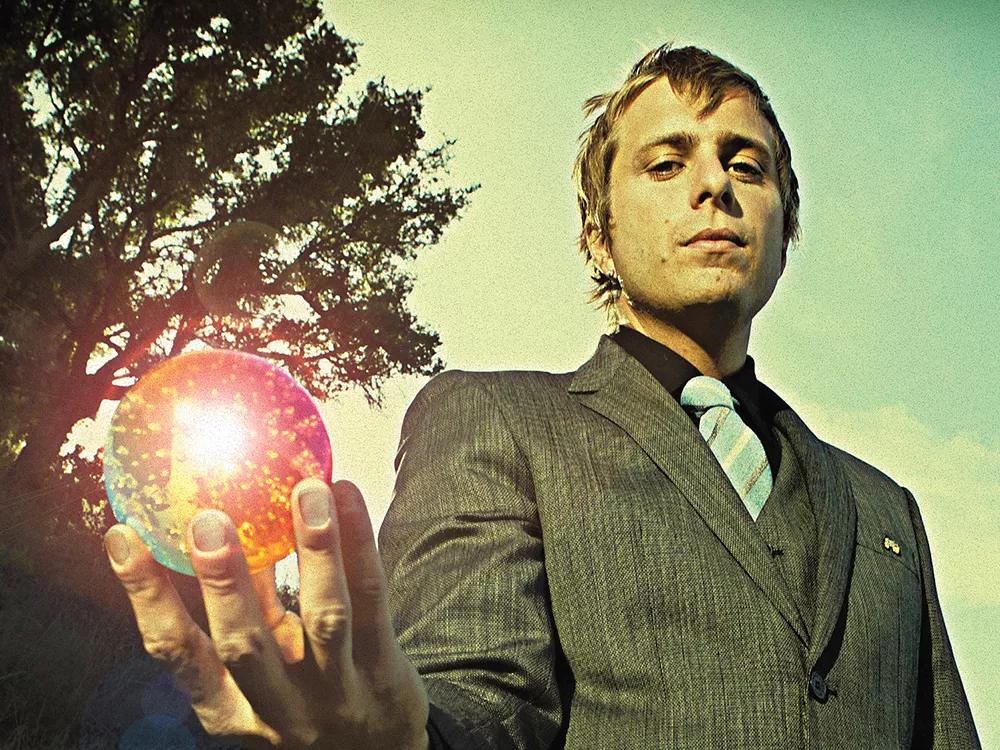 Taking a break was not on singer Aaron Bruno's mind when his band, Under the Influence of Giants, went on indefinite hiatus in 2008. Holing up in the spare bedroom in his mother's house and, at their invitation, the Red Bull Records studio, Bruno set out to create a sound he could call his own.
"If people hated it, that's great, and if people loved it, even better," he says. "I had no expectations either way. I just wanted to see this vision through for once."
That vision produced a five-song EP called Back From Earth, which Bruno released through Red Bull Records under the name AWOLNATION. Though the EP was well received, it wasn't until he had a full body of work that Bruno thought about rounding up a few friends (including ex-Under the Influence of Giants guitarist Drew Stewart) and taking the show on the road.
The band's debut album, 2011's Megalithic Symphony, shows the lyrical and musical versatility of Bruno's original vision.
"Some Sort of Creature" is a 27-second "journal entry" that Bruno recorded on his phone, a train-of-thought clip of him explaining a brief instance that, to this day, he has yet to fully understand.
Album closer "Knights of Shame," on the other hand, is a 15-minute epic that blends a cappella, hip-hop, rock, and even '80s pop. Bruno says he used this song to fulfill his dream of creating a long song that wasn't boring or cluttered with guitar solos, and feels that "Knights of Shame" represents each element of the album, all on one track.
"I have yet to really meet someone that says they're bored with the song," he says. "If people listen to the song once all the way through ever, then I've done my job."
Megalithic Symphony, especially the first single "Sail" (which Bruno calls a crazy accident), has opened a lot of doors for AWOLNATION. Their song "ThisKidsNotAlright" will be featured on the soundtrack for the Injustice: Gods Among Us videogame, and moviegoers will be able to hear the band's "Some Kind of Joke" in Iron Man 3 next month.
Bruno, who calls Radiohead guitarist Jonny Greenwood's scoring of There Will Be Blood one of his favorite pieces of music from the past decade, says scoring a movie is a dream of his.
With all the opportunities they're being presented, it's hard to say exactly what the future holds for Bruno and AWOLNATION. But Bruno is sure that he'll keep working on the band's second album while they take on more projects that let them continue to grow.
"We're just sort of riding the shit, if you will," he says. "We'll see where it takes us."
AWOLNATION with Blondfire and Mother Mother • Mon, April 15, at 7:30 pm • Knitting Factory • 919 W. Sprague Ave. • $20 • All-ages • ticketweb.com • 244-3279