As a chef and food blogger, respectively, Pete Taylor and Heather Scholten know there's no better way to experiment with flavor than with spice. Hence SPICEOLOGIST (2721 N. Van Marter Rd., Spokane Valley; spiceologist.com), the company they founded in 2013.

Spiceologist offers chiles and baking spices, ground and powdered spices, dried herbs and whole spices, all of which are all-natural and free of "funky stuff." Spiceologist products are sold in close to 1,200 stores throughout the U.S. and Canada.

The company's pièce de résistance is the Spiceologist Block, a European Beech block handcrafted in Hayden, Idaho, that holds spice-filled, cork-topped test tubes, each of which are filled and stamped by hand.

"We wanted something that kept all your spices at hand," Taylor says. "But it also looked sexy on your countertop."
You can choose 22 of your own spices for $179, or choose one of Spiceologist's themed blocks — Chef-Inspired, Baking, Mediterranean, and Salt and Pepper — for $159.95 each. Buyers also have the option of adding a logo or text engraving.

A Kickstarter campaign for the project brought in $51,000 worth of orders, and kitchenware heavyweight Williams-Sonoma soon came calling. They placed an order for Spiceologist Blocks and the four- and eight-pack rub gift sets, and soon will be selling them online and in all North American locations.

Locally, Spiceologist is preparing for a move into a bigger facility and hopes to open a retail location in early fall 2015. The company also is excited for its newest venture: selling spices to local restaurants like Santé and Mizuna.
"We're constantly trying to innovate and grow the company," Taylor says.

After his catering company took a hit during the recession, Victor Azar, chef and owner of VICTOR FOODS (victorfoods.com), knew he had to do something to avoid laying off his employees.

He decided to listen to what friends and customers had said for years: Package your own hummus.
Azar, who also operates Café MAC at the Northwest Museum of Arts & Culture, started with two flavors, jalapeño and toasted sesame. Soon enough, Azar's hummus became a local favorite, which both excited and overwhelmed him.
"After a couple of years, it got to be too much," he says. "My kitchen in Airway Heights, even though it's a huge kitchen, it was not enough, so Spokane Produce came to the rescue."

Azar's hummus is now sold in Washington, Oregon, Idaho, Montana and Wyoming, and Victor Foods has grown to include six other flavors of hummus, including a hummus/mousse dessert dip called Chocolate H'Mousse, all of which are vegan and free of gluten, cholesterol, soy and dairy.

The health-conscious aspect of Victor Foods, which will soon include a healthy falafel, is a no-brainer for Azar, as he says an intense nutritional regimen helped cure his cancer almost a decade ago.

The care Azar puts into each product has attracted a loyal following.

As he says, "Once people start buying this product, they never go back."

Daphne Taylor isn't one to back down from a challenge.

After a friend asked her to create food that would fit her and her son's dietary restrictions, Taylor, the daughter of a chef and granddaughter of a chef/butcher, got to work on recipes that were free of gluten, corn, soy, potato, dairy, casein (the protein in milk), peanuts and tree nuts.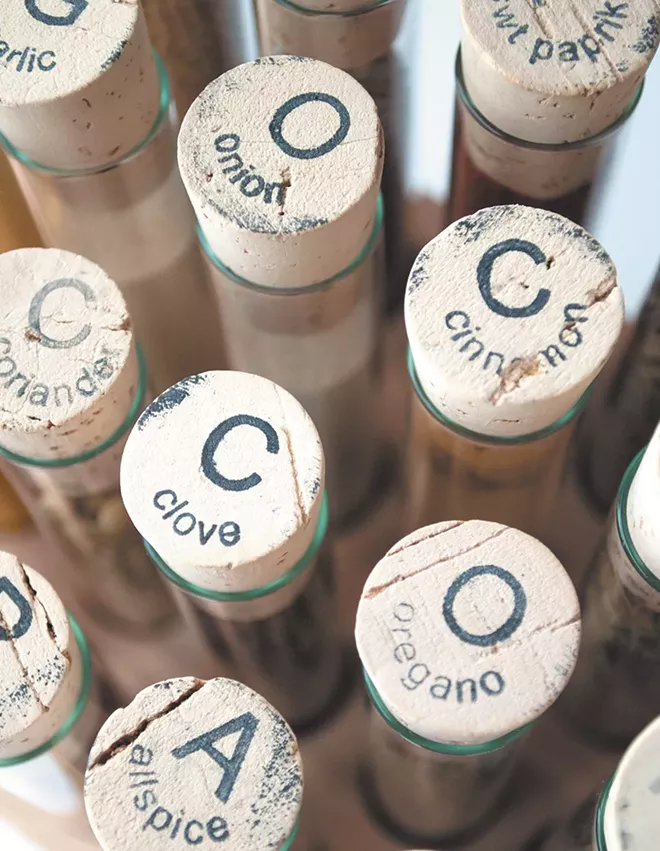 As fate would have it, the first revised recipe Taylor attempted (for brownie mix) worked perfectly, and shortly thereafter,
NAMASTE FOODS
(namastefoods.com) was born.
Nearly two decades later, Namaste offers mixes for bread, pizza crust, waffles and pancakes, cakes and cookies, pasta dishes, soups and seasoning mixes. Namaste products, including the upcoming Raw Goods line of bulk baking ingredients, can be found in stores throughout the U.S. and Canada.
Seventeen women across the country and Taylor's husband work as Namaste representatives, reaching out to local businesses in their area. Taylor calls independent stores the foundation of her company, and cites their continued support for Namaste's growth.
Keeping customers safe is a top priority for Namaste, so all products are manufactured in the company's own allergen-free facility in Coeur d'Alene.
"We have devoted and dedicated our entire company to the allergen-free world since day one," Taylor says. "It's not something that we've jumped on the bandwagon."
Liz Ward wanted an energy bar that was two things: healthy and environmentally friendly. Not finding one in stores, she decided to make her own. That was in 1995; 20 years later,
BUMBLEBAR
(3808 N. Sullivan Rd., Bldg. 12P, Spokane Valley; bumblebar.com) is still going strong.
The vegan, organic and gluten-free, seed- and nut-based BumbleBar comes in more than a dozen flavors, including Chai Almond, Chocolate Mint, Lushus Lemon and Paradise Pineapple. There are also three flavors of the fruit-based JunoBar and three flavors of the 100-calorie Junior Bar to choose from.
"I've been really into feeding people for a long time, and I've had a social mission about it for an equally long time," Ward says.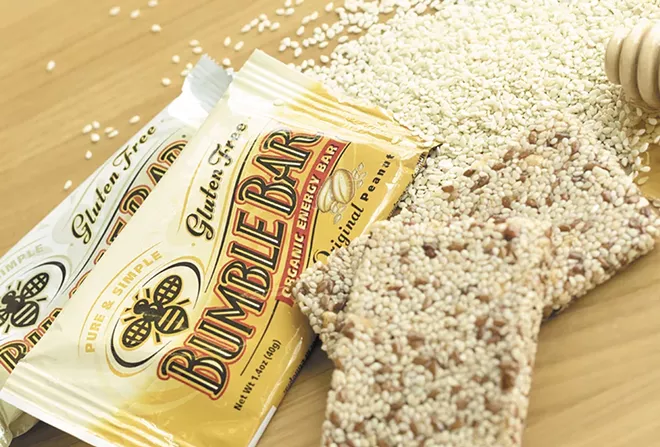 Furthering that idea is the company's three-pronged business philosophy: people, profit and planet. BumbleBar believes that by creating a positive working environment, including paying employees living wages, and forming strong relationships with suppliers and customers, they'll make a profit, which will enable them to support the BumbleBar community and create an eco-friendly bar.
Now based in Spokane Valley after previously calling the Westside home, and preparing for an expansion to a 36,000-square-foot space, Ward looks back on the first 20 years of BumbleBar fondly.
"It's amazing to me that I get to do what I do," she says. "Putting out healthy food that tastes good is an honor."