FRIDAY
Tonight, there are three shows, all featuring local indie rockish acts worth their salt. First, over at the Bartlett you can dance along to the
Marshall McLean Band
. The Big Dipper hosts
Boat Race Weekend, Bad Hex, Griffey and Traveler of Home
, who are all sure to make you feel many feelings. Finally, the Viking stage will be taken over by
the Backups, Friends of Mine
and
Joshua Bellardo
. Basically, you should probably show up at all three concerts, but no matter where you show up, it's going to rock. Get more show
info here.
SATURDAY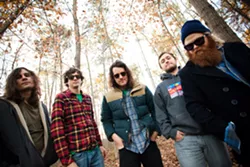 These aren't cool folksters clapping and singing "ooh" over banjo-laced stomp music. Instead,
Futurebirds'
use of a banjo and even a pedal steel guitar and mandolin seems utterly organic and necessary to their psych-country sound. On their 2015 record
Hotel Parties
, the band, originally from Athens, Georgia (most of the members have since moved away from the musically influential Southern college town), chose to highlight a more stripped-down rock sound than on previous efforts. That doesn't mean the weight of their music has gone away — they have six members, after all. Some of the songs are mood-enhancing and dreamlike, accomplished through fuzzy guitar riffs and occasional keyboard solos. At it for more than six years, the Futurebirds have finally settled into their sound.
GA's Too Broke to Rock
series continues at the Knitting Factory on Saturday with touring act
Trivium
headlining and Moscow's own
Vial 8
opening along with
Invasive
. Read our recent article about the series and the state of Spokane
radio here.
SUNDAY
The intro sounds like a whale is dying, or a dial-up modem. But slowly, the piercing guitar feedback of the
Versing
song "1896" takes shape, becoming a harmonious landscape of reverberation. The song, off the Seattle-based band's
Nude Descending
EP, which came out last week, gives you a taste of what the '90s lo-fi-inspired quartet is capable of — they're just as willing to compose catchy pop hooks as off-putting introductions. Touting their new record at Baby Bar Sunday at 9 pm, the band will make you sway and sing along, and then, when the music gets gloriously loud and screechy, wish you'd remembered your earplugs. The 21+ show is free.
MONDAY
Today,
Dr. Dog releases
its newest album
The Psychedelic Swamp
, which has been in the works since before the band even officially started 15 years ago. Read our profile on the six-piece indie
group here.
The band rolls through the Knitting Factory Monday night at 8 pm, with awesome opening act
Hop Along.
Seriously, check out Hop Along right now, you'll be crazy in love. I promise.