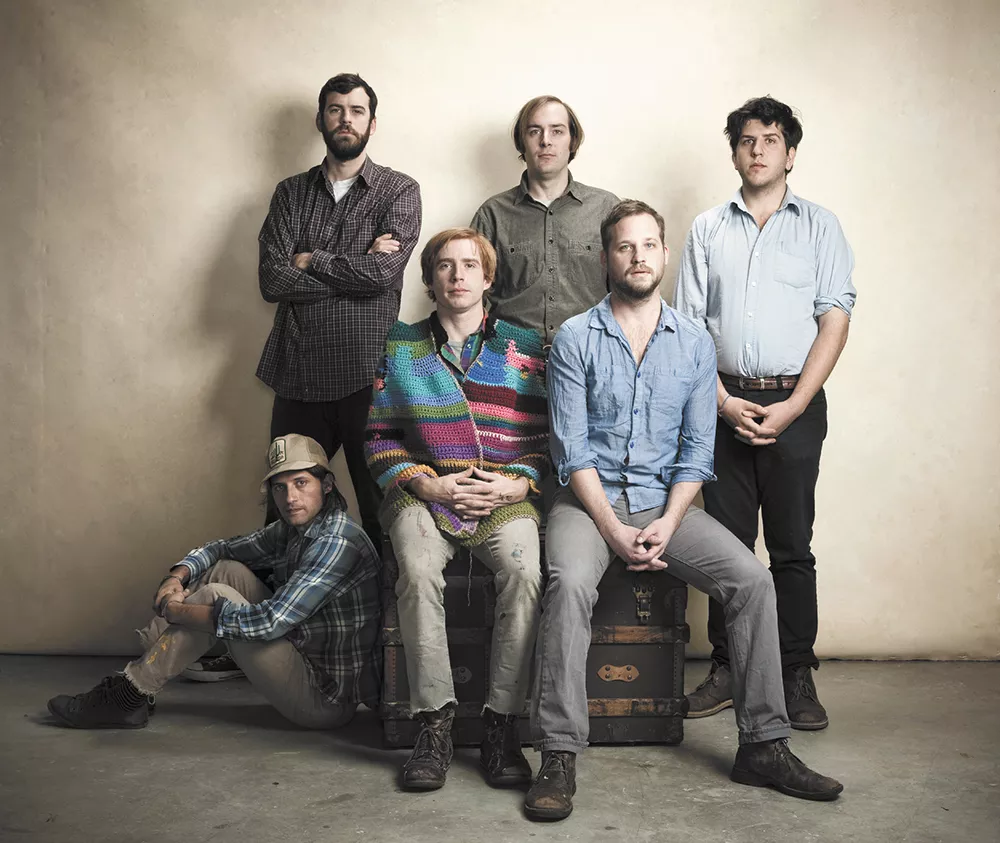 Scott McMicken and Toby Leaman have been making music together since they were teens in Delaware. And starting a half-dozen years before their band Dr. Dog came to life in 2001, they have been recording and writing a collection of lo-fi experiments and oddball song sketches known as The Psychedelic Swamp.
Fifteen years, seven albums and hundreds of shows later, Leaman has a solid perspective on "the Swamp," as he affectionately calls the album.
"We've always called it sort of a personal masterpiece on our end, because it really is only a masterpiece to us," he says with a laugh. "I don't think anyone else would come close to using that word."
Read between the lines, and you can see a bit of internal conflict in his words. The original Swamp material might be a challenging listen for all but Dr. Dog's most fervent fans, but it's obvious that Leaman loves the stuff.
"I would call it slightly better than unlistenable," he says. "[It] holds such a nice spot in our hearts because it was so freeing. It happened so much more organically [than previous recording efforts]. The concepts and songs came along as we were recording. It was just a world we were immersed in for three or four months, and that stuff sticks with you."
At this point, that's probably an understatement. On Feb. 5, Dr. Dog releases an overhauled version of The Psychedelic Swamp, with a couple of new songs alongside old ones that have been rearranged and re-recorded. The band essentially took those early experiments and sketches and fleshed them out, spurred largely by an opportunity to work with Philadelphia's renowned Pig Iron Theatre Company, which reached out to the band about collaborating.
Pig Iron entered the project assuming the production would be built around more recent, commonly known Dr. Dog songs. The band wanted to go back to the Swamp, though, Leaman says.
"The story from this experimental psychedelic concept album ended up being the basis for this theater piece that we did, and we were like, 'Well, since we're going to be revisiting all these tunes, maybe we should actually try to make them sound like tunes,'" he says. "It's not like we were running out of material. There's plenty of material. We recorded another album before this one that we're just sort of sitting on. We just figured we might as well get this one out while it's still in our minds."
Its unconventional roots aside, The Psychedelic Swamp sounds pretty much like a Dr. Dog record, albeit one with more blips and bloops and strange noises than usual. All the hallmarks of the band's easygoing, harmony-heavy roots-pop shine through, just as they do across Dr. Dog's excellent catalog.
Opener "Golden Hind" lopes along a roller-coaster guitar line before opening up into a chorus that sounds like waking up to greet the day. "Dead Record Player" pairs Dr. Dog's archetypal multi-part backing vocals with bouncy Philly funk and soul before giving way to tape-warped weirdness and some guy declaring that "the high and low fidelities are attacking my brain."
Elsewhere, the jaunty and jangling "Fire on My Back" stands credibly alongside the catchiest songs in the band's canon, "Engineer Says" snakes through a shallow canyon of burbling bass and knockabout beats, and "In Love" floats in like a back porch sing-along from Mars.
It's that hybrid quality of The Psychedelic Swamp that makes it so compelling. At once, you get the master pop-rock craftsmanship of Dr. Dog in 2016 and the funky, freewheeling Dr. Dog from the turn of the century, brought together under a sunburst of "oooohs" and "aaaahs." Or as Leaman puts it: "I like to think it's taken us 15 years to get good enough to actually do the thing that we wanted to do the first time around."
While recording it back in the day, Leaman and McMicken planned to someday revive and rework the songs. Part of the concept originally built into The Psychedelic Swamp, Leaman says, is that it would eventually be revisited and "turned into American pop music."
"We always intended to do this, but it never made sense because, y'know, you have new songs and new material and it's like, 'Well, I don't really want to go back to The Psychedelic Swamp again,'" Leaman says. "So it was a perfect storm. That's sort of the serendipity and the beauty of it, the way it came together." ♦
Dr. Dog with Hop Along • Mon, Feb. 8, at 8 pm • $22.50 • All-ages • Knitting Factory • 919 W. Sprague • sp.knittingfactory.com • 244-3279