FRIDAY
Tonight, the Baby Bar is bringing
Curse
— not
a
curse, mind you — to downtown Spokane. The Baltimore dark electronic two-piece cast a mesmerizing spell over listeners with their spaced-out
Phantom of the Opera
-like sound. They scream, they moan, they may even scare you a little. Local openers include
Drunk on False Enlightenment
and
BITWVLF
. Show starts at 9 pm and is free.
SATURDAY
Friday is Earth Day, but the big
Riverfront Park
celebration goes down tomorrow with musical performances from planet-conscious local acts like
Endangered Species Band, Angela Marie Project, B Radicals, Ras my K
and
Lucas Brookband Brown
. Get there around 10 am to bask in the free, family-friendly event.
The Seattle-based
Spinning Whips
cause quite a happy racket with in-your-face rock that also has a glittery, psychedelic sheen. Tambourine licks are rampant, as are rattling maraca lines, and there's a sense that the group never take any of it too seriously. Frontman Jordan West, who grew up in Spokane and possesses a voice that at least attempts to hit every note under the sun, hasn't played in the area since 2008. On Saturday, he's back with his band at the Baby Bar. The free show, featuring local acts
Empty Eyes
and
Holy Cows
, starts at 9:30 pm.

Arlo Guthrie's
Saturday Bing Crosby show is sold out, so hopefully, if you were planning on going, you already have tickets. Celebrating the 50th ann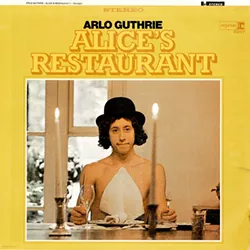 iversary of his most famous record,
Alice's Restaurant
, the whole night is a tribute. The
Inlander
had a poignant and hilarious mail interview with Guthrie in 2014, when he last came to the Bing Crosby Theater. Here's just a sample:
INLANDER: You play with your son; how is that, keeping the music in the family?
AG: Well, having kids just naturally gives you more family. I have a mess of kids and grandkids who all play, write, and sing. I was hoping for a smarter crew, but you take what you get.
Read the whole
article here.
Unifest, a brand new music and arts festival (which you can read all about
right here
), isn't until May, but the event launch party kicks off Saturday at the Bartlett and features local favorites
Water Monster, Von the Baptist, Lavoy
and
DJ Jellyfyst
. Starting at 7 pm, it's free and open to all.
SUNDAY
D.R.I.
, aka Dirty Rotten Imbeciles, has hit the punk scene hard since forming in Houston in the 1980s. This weekend, the act comes to the Pin! for an all-ages show. A pair of D.R.I.'s founding members, vocalist Kurt Brecht and guitarist Spike Cassidy, are still holding strong with the band.
Wolfpack, Reason for Existence, Scatterbox,
and
Cold Blooded
open and the show starts at 6:30 pm and is $15.