The City of Spokane has a
request for proposal
due next Friday for the lead artist to help develop public art for Riverfront Park's massive
redevelopment project
.
While the $650,000 budget for new art in Riverfront may be less than some in the arts community
had hoped for
, that's still a really big deal. Riverfront Park is a veritable Carmen Sandiego's lair of
iconic Spokane landmarks and art pieces
. There will be a lot of pressure to match the greatness of pieces like "The Joy of Running Together," David Govedare's series of sculptures of very skinny Bloomsday racers.
But don't worry. We're here to help, offering tens of thousands of dollars' worth of artistic consultation for absolutely free, or at least that's what we'll claim on our taxes.
Any of these ideas could not only make the Riverfront Park the crown jewel of the Inland Northwest, but the theoretical economic impact could transform Spokane from "Near Nature, Near Perfect" to "Nature, Perfect."
Note: While
Inlander
publisher Ted S. McGregor serves on the Park Board, he has not read any of these ideas, but we assume he'll love and endorse every single one.

The 25 Best Suggestions for New Public Art Pieces in Riverfront Park
1. Damien Hirst's "Vivisected Marmot"
2. "Amorphous Hunk of Bent Metal Meant to Clearly Symbolize Tolerance for Fellow Man."
3."Giant Statue of a Six-Year-Old-Boy and His Stuffed Tiger" to put in the giant red wagon.
4. Statue of Edvard Munch's "
The Scream
" placed along the South Howard Street Bridge, which would continually emit a high-pitched, mournful wailing at all hours.
5. "The Joy of Your Hoopfest Team of Out-of-Shape Coworkers Getting Absolutely Destroyed by Relentless Musclebound Athletic Gods Who Are Obviously Close Relatives of Stephen Curry."
6. Duck food dispenser that, upon inserting 25 cents, dispenses a small slip of paper reading PLEASE DO NOT FEED THE DUCKS IT IS BAD FOR THEM WE KEEP SAYING THIS BUT PEOPLE NEVER LISTEN
7. "Unauthorized Fan Mural of John Stockton Dunking on the Monstars from
Space Jam
."
8. Bloomsday walker statue of a 55-year-old overweight man three miles behind the rest of the Bloomsday racer statues.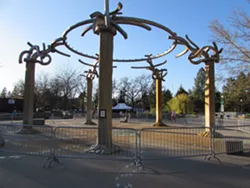 9.
Copper
statue of "City Founder James Glover's
Wife
He Locked up in an Asylum for Being Sad."
10. Elaborate towering sculpture that, upon climbing to the top, reveals an inscription: "GET DOWN FROM THERE RIGHT NOW YOUNG MAN YOU'LL GIVE YOUR MOTHER A HEART ATTACK"
11. Metal sculpture of "A Garbage-Eating Weird Kid From Back in Elementary School Who Would Eat Anything For a Dollar. "
12. An inscription of a Sherman Alexie poem specifically selected to make white people feel cultural, but not so guilty they feel uncomfortable.
13. Stacked letter blocks spelling "THIS IS NOT ART."
14. "Maybe A Rock On Top Of Another Rock or Something?"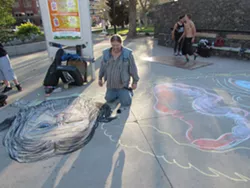 15. Golden idol to the pagan god Baʿal that devours your sacrifices when you press a button
16. Non-functional drinking fountain with a plaque simply labeled "Thirst."
17. "Please Hold," a larger-than-life copper statue of a man with a headset working in a call center, to symbolize Spokane's thriving employment sectors.
18. A sundial where each number has been replaced with the slogan "It's Riverfront Park Time!"
19. Airbrushed mural of a barechested Mayor David Condon brandishing a blood-soaked broadsword while fending off a pack of snarling anthropomorphized utility rates.
20. Sculpture of a teary young boy being forced to put a Carousel horse with a broken leg out of its misery.
21.
Life-sized
pothole that kids can climb down and play in.
22. Fountain of Wayne.
23. Eternal flame to raise awareness about CO2 emissions.
24. Large tin sculpture of a whistle to honor
favorite
son of Spokane Craig T. Nelson's iconic role as Minnesota State University's Coach Hayden Fox on the hit TV drama
Coach
.
25. Memorial to honor all the victims of Pig Out in the Park.