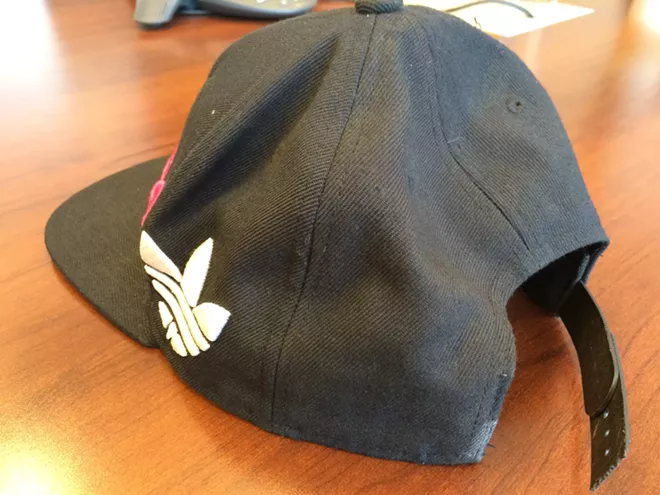 UPDATED (6/16/16, 2 pm)

After taking a second look, independent forensic accident analyst Jarrod Carter determined that his initial conclusions into the
2014 death of Spokane Valley teen Ryan Holyk
were wrong, contradicting two law enforcement investigations and the conclusion of the sheriff's citizen review board.
Originally Carter, who was appointed by the Sheriff's Office, and local law enforcement determined that Deputy Joe Bodman's police SUV missed hitting Holyk, and that he died of head injuries sustained by falling head first into the pavement. Now, Carter has identified an imprint of a snapback hat on the deputy's driver side bumper matching the hat Holyk wore that night. The imprint, coupled with Holyk's DNA found in the same spot, indicates the vehicle clearly struck the teenager, Carter determined.
Holyk's family has filed a civil suit against the Sheriff's Office that is set for trial in August. Asked about the status of the suit during a news conference yesterday, Spokane County Sheriff Ozzie Knezovich said it's more important that the public know the truth. However, he said it is still to be determined whether or not Bodman is at fault.
"Had Holyk stayed on the bike, this wouldn't have happened," Knezovich says.
That night, Bodman was driving at least 70 mph without emergency lights or a siren en route to assist another deputy. Immediately after Bodman drove through the intersection, he radioed to dispatch: "I hit a pedestrian."
He would say the same thing to a fellow officer, adding that he heard his vehicle hit Holyk — statements he would contradict later that same evening and in the two years since the accident.
Holyk was riding his bike with a friend and crossed into the intersection at Sprague Avenue and Vista Road against a red light. He was also not wearing a helmet. Despite the fact that Holyk's DNA was found on the vehicle's bumper, both law enforcement investigations, the citizen's review board and Carter's original conclusions determined the SUV did not hit Holyk.
• "Ultimately, this incident would not have occurred if Ryan Holyk had stopped at the intersection and avoided crossing against the red light and DON'T WALK signal," Carter wrote in his initial report.
• "This collision can be contributed to the driving actions of Ryan Holyk," Spokane Police Sgt. Michael Carr wrote in his investigation.
• "There is no transfer of evidence between units, nor is there any [transfer] from Holyk to the [police vehicle]. The injuries he sustained included hand, arm and head trauma consistent with impacting the pavement in a forward motion," wrote Washington State Patrol Det. Sgt. Jerry Cooper.
Mike Maurer, the attorney who is representing Holyk's family in the civil lawsuit, has continually pointed to the presence of a "significant" amount of DNA found on the bumper as proof of a collision between the vehicle and Holyk.
"This accident happened because Deputy Bodman chose to drive down a city street at 70 mph without lights and siren," Maurer says, adding that the sheriff's suggestion that Holyk is still at fault is "repulsive."
As for the sheriff's citizen review board, they came out with their conclusions last month. Leading up to the release of their report, the board faced scrutiny from local police oversight advocates, who said the board lacked autonomy and acted as a rubber stamp for the Sheriff's Office's investigations.
In May, the board ultimately concluded that the deputy missed hitting Holyk, pointing to a conclusions by forensic video analyst
Grant Fredericks
and other investigations.
Following Carter's most recent conclusion, board member Bob West still defended Bodman.
"It hasn't been mentioned there was a second car," West says, referring to the pickup truck driving on the far left side of the road at the same time Bodman hit Holyk. "So if [Holyk] was turning around the other way, he wasn't trying to avoid the police car. He was trying to avoid the second car, and that needs to be brought out."
Spokane County Prosecutor Larry Haskell says his office will be reviewing the case in light of the new findings. Bodman could be charged with vehicular homicide, Haskell said yesterday. Currently, Bodman is on active duty. He was issued a letter of reprimand following an internal investigation last year.
"For the sheriff to say now that that they've just learned of this evidence is completely ludicrous," Maurer says. "This was not uncovered by their expert. We've been saying this for months and months and months."
Maurer said he has not yet been presented with a settlement offer.