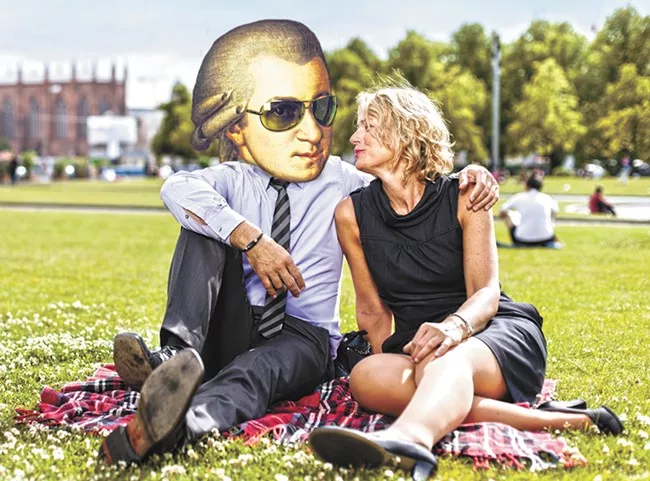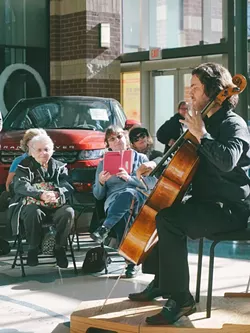 Zuill Bailey
is at it again, playing free pop-up shows around town. The famed cellist is bringing free, world-class classical music to the masses once more to help celebrate the Mozart on a Summer's Eve concert series, which begins today.
Perhaps it seems like he's playing around town for, free and otherwise a lot. The Flash-Bach series was also part of the
Northwest Bach Festival
in February and March. But today at noon, Bailey plays the Nest at Kendall Yards near Central Food. By his side this time around are three cellists from his Sitka Cello Seminar in Alaska. Expect quite a bit of Bach here. On Wednesday, the cellists move to River Front Square for a free noon performance in the Atrium.
Here's everything you need to know about
Mozart on a Summer's Eve
:
Starting tonight, for the 26th time, Connoisseur Concerts celebrates the famous classical artist with its Mozart on a Summer's Eve event at Manito Park. The show begins with the Connoisseur Concerts' Wind Ensemble, along with local soprano/songwriter Madeline McNeill, working through everything from Mozart to Edith Piaf.
For those reserving tables ($30), Luna restaurant will cater dinner at a separate request. For those on the lawn ($15), bring blankets and/or chairs to sit on. Picnic food and beverages (of all kinds) are encouraged. Seating begins at 5:30 pm but the show starts at 7 pm.