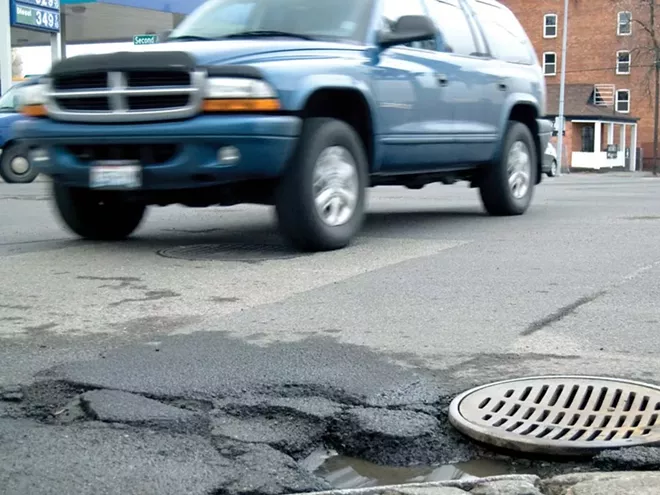 ON INLANDER.COM

5 Seconds of Summer in Spokane Will Make A Hard Man Humble
The
Inlander
's resident Boy Band Scholar Dan Nailen explores how
Boy Bands have grown up
.

The Greater Hole
How Mayor David Condon's creative, ingenious solutions helped to clean up the river, fix the roads,
and
set Spokane on the course to
beating its pothole problem
.

DNA Denial
Ricky Anthony Young, convicted of murdering a Franklin County judge 42 years ago, won't be able to use DNA testing to
seek an exoneration
.
HERE

Hair Today, Gone Tomorrow
Sporadic National News Story Rachel Dolezal stumbles upon a new controversy by headlining the "Naturally Isis Braid-On, Economic Liberty March and Rally" in Dallas, Texas. Wait?
Isis
?! I think the Daily Beast is
burying the lede a bit here
. [The Daily Beast]

Bill Bryant, Friend of the Working Man?
Gov. Jay Inslee opponent Bill Bryant swings by a rally for state workers demanding
better pay and benefits
. [
Spokesman-Review
]
The Ol' Snidely Whiplash Ploy

Used to be, old women would be tied to railroad tracks by mustache-twirling villains. But now, in today's more progressive world, women can tie
themselves
to the tracks. Three "Raging Grannies," and 17 other people temporarily blockaded BNSF tracks
to protest
coal and oil trains.
THERE
No More Mr. Nice Trump
The Bruce Banner Trump of yesterday's Mexico visit gave way to the Incredible Immigrant-Hatin' Hulk at yesterday's immigration speech, a speech so inspirational that several of Trump's prominent Hispanic supporters have
pulled their support
. [Politico]

IT Support
Do you love having your taxpayer money spent on things? Do you love Hillary Clinton's private email server? Well, good news! Taxpayer money was spent to subsidize Clinton's email server
and
the
Clinton Foundation
. [Politico]

Red State, Blue State

Why it's a
lot crazier
for Trump to pretend he's going to win Washington state than for Clinton to pretend she's going to win Arizona. [Washington Post]