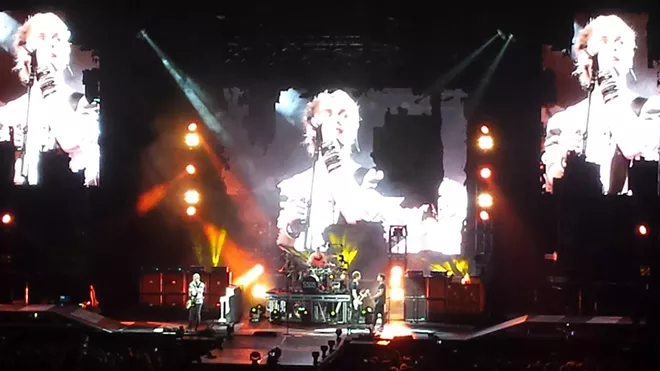 Tuesday night, I chauffered a 12-year-old to the 5 Seconds of Summer show at Spokane Arena, where she joined a few thousand of her peers, many of whom had just had their first day of school.
I knew virtually nothing of the band beforehand, save their Australian background and claims of loving pop-punk bands like Green Day. That proved true enough — they played Green Day and Blink-182 before they hit the stage, and their 20 or so songs leaned heavily on the tropes of the genre: short tunes, singalong choruses, many exhortations for fans to sing along.
While it's been awhile, I saw many so-called "boy bands" years ago, acts like Backstreet Boys, O-Town and 'N Sync, thanks to being in this line of work. And it was striking how some things have changed in teeny-bopper world, even as other aspects remain the same. To wit:
CHANGE:
Prices are outrageous
. This isn't news to any music fan, I know, and the ticket prices weren't particularly bad for 5 Seconds of Summer. Still, they were high enough to keep the arena less than half full. A hundred bucks for a hoodie? Fifty bucks for a T-shirt?
THE SAME:
The audience for a boy band, predictably, was about
90 percent adolescent girls
. The other 10 percent on hand? Probably an even split between moms and dads.
CHANGE:
As a general rule, I always think bands are dumb when they play more-established/better bands as their warmup music before hitting the stage. Think Nickelback playing Zeppelin. 5 Seconds of Summer gambled on that by playing the aforementioned pop-punk bands as well as fellow Aussies AC/DC. But they also
played their own song over the loudspeaker before taking the stage!
Their "Girls Talk Boys" to be specific, only to actually play the song live, like, an hour later.
CHANGE:
In the olden days of 'N Sync, 98 Degrees and the like, the audience was content to scream their collective heads off at the boys on stage. Now, every move was well documented via phone camera — moves of the 5 Seconds boys, and moves of the audience members and their friends taking selfies from every conceivable angle.
#SelfieCulture
is definitely a different aspect of the boy-band phenomena.
THE SAME: The fans have favorites.
Each band member took over the mic at various points and was greeted with vociferous cheers from the kids who have him as their favorite. Whether it was drummer Ashton Irwin cajoling the seated folks to storm the floor, or singer Calum Hood crooning a ballad, guitarist Luke Hemmings taking a solo or bassist Michael Clifford simply emoting — they were met with some deafening squeals, even with a sparsely populated arena.
CHANGE:
Unlike those dancing, prancing boy bands of yesteryear who relied on choreographers, songwriters and various svengalis for their fame and fortune,
it's easy to imagine 5 Seconds of Summer actually lasting a while
as a band. Sure, they're poppy, but they actually play instruments, and their between-song banter (complete with the occasional swearing) was pretty endearing and seemingly off-the-cuff. Those old boy bands were so meticulously crafted that nothing seemed spontaneous. 5 Seconds of Summer might be just as much a product as a band, but they could conceivably evolve into something more someday.
Their fans obviously will.