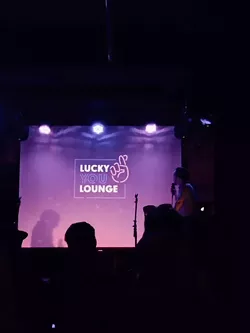 The name of the next music venue opening in Spokane: the Lucky You Lounge.
It's the latest business venture from Karli and Caleb Ingersoll, the owners of all-ages concert venue the Bartlett, and it will fill the space formerly occupied by the Sunset Junction tavern at 1801 W. Sunset Blvd. in Browne's Addition.
At an unveiling event at the Bartlett last night, the Ingersolls said they hope to have the new place open by October or November.
"The people that fill up this space have made it possible for us to dream about the next space," Karli Ingersoll said after playing a video showing the progress of the new location. "When you guys come to shows and support live music, it makes us dream bigger."
"We wanted to make this space the best small venue you've ever been to," Caleb Ingersoll said to applause. "It's been amazing to see the life this place has taken over the years."
During the event, the Ingersolls announced that the Bartlett sold 14,000 tickets in 2017. They name checked the owners of the Observatory, the Big Dipper and the Red Room Lounge for supporting their ventures and helping create a more vibrant music scene in Spokane. They also praised local business owner and developer Dan Spalding, who leases both the Bartlett and the Sunset Junction building to the Ingersolls.
Some other details about the new space: Lucky You will be a 21+ venue, and it will be equipped with two full bars and a restaurant. Unlike the Bartlett, Lucky You will be open every day for business, regardless of whether a show is going on. The capacity will likely be between 350 and 400; the Bartlett's current capacity is 150. The Ingersolls hope the larger space will attract touring bands that typically skip over Spokane.
According to the Bartlett's
Instagram
, they've raised $35,000 to finish the project and are aiming for a fundraising goal of $40,000. You can purchase shirts, tickets and passes
here
to contribute to the cause.
You can follow Lucky You on
Facebook
for updates.