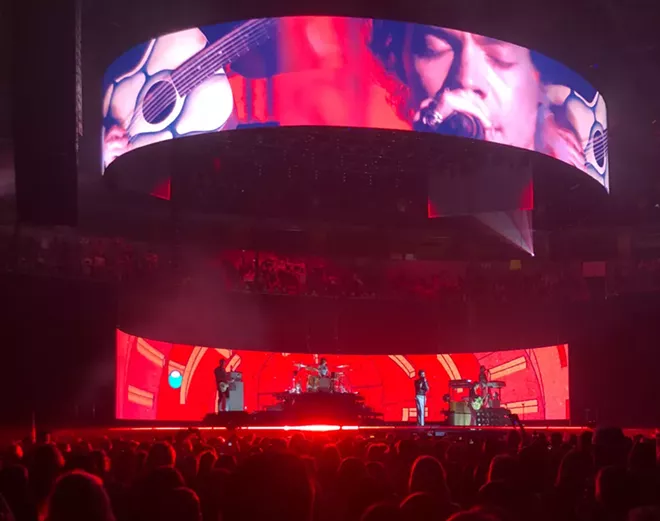 SEATTLE — With a crowd of thousands ranging from young girls with flower crowns to full-grown men in cowboy hats, Harry Styles enchanted all during his performance at Key Arena in Seattle on Saturday.
Though he's touring his first solo album, Styles projected an air of confidence that made it seem like he'd been doing it for decades. Granted, he had plenty of previous experience from his time with boy band One Direction. And honestly, I'd be pretty self-assured too if I could make a crowd of people lose their minds by just flashing a smile.
Ear-bursting shrieks erupted at the sight of Styles, who sported a sheer, sparkly top, high-waisted white trousers and a cheeky grin.
He played the entirety of his self-titled album, but not before expressing his gratitude to the crowd for showing up to support an artist with only 10 songs to his name. In addition to his solo material, he played some new songs as well as a couple of One Direction covers, which pleased the inner 15-year-old in me immensely.
Styles kicked off the show with "Only Angel," a biting, Rolling Stones-esque hit that shows off his vocal range. The 24-year-old not only channeled his inner Jagger through his music, but through his stage presence as well. His dance moves were all hips and flailing limbs, and we couldn't get enough of it.
But the show was more than rock 'n' roll. It was a space where people of all ages seemed to come together to celebrate inclusivity. At the beginning of the show, Styles addressed the screaming fans, saying, "Please feel free to be whoever you would like to be tonight."
Rainbow flags dotted the crowd, and Styles paraded his own around stage during a grown-up cover of "What Makes You Beautiful."