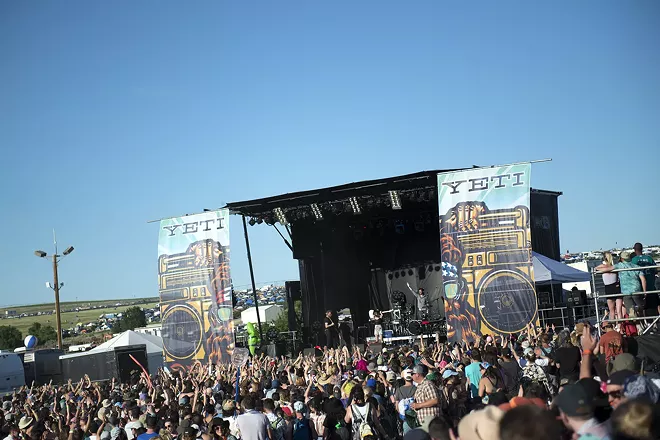 Cut the mics:
Sasquatch!
, the annual music festival that has taken over the Gorge Amphitheatre every Memorial Day weekend since 2002, is reportedly coming to an end.
"I will no longer be producing the Festival, nor will it take place in 2019," Sasquatch! founder Adam Zacks wrote in an email announcement that was
reprinted by Willamette Week
earlier today.
"17 years is a long time to do anything. The Beatles lasted a mere 8 years, a fact so astonishing it is difficult to believe," Zacks' statement continues, referring to the breakneck pace with which the Fab Four released its string of groundbreaking albums. "While we didn't accomplish anything as indelible as 'Hey Jude,' the Festival left a lasting mark and proudly represented an independent spirit."
Several
Inlander
reporters attended the
most recent Sasquatch!
just last month, which attracted thousands with a lineup that included the likes of Bon Iver, Modest Mouse and David Byrne. Over the years, Sasquatch! has brought everyone from Kanye West to the Cure to Coldplay to the small town of George, Wash., and the fest was regularly
selling out
(often in a matter of hours) at
its height
.
But attendance had been dwindling since a
failed attempt
to expand Sasquatch! to two weekends in 2014. It was reported in the
Oregonian
that despite the Gorge's 25,000-person capacity, only about
11,000 ticket holders showed up
in 2016. Passes for the festival had also ballooned to $325 this year, a price tag that doesn't include the additional cost of camping for the weekend.
Regardless of the reason, the cancellation of Sasquatch! is clearly a major loss for the festival culture, and for live music in Washington.
"May the spirit that made Sasquatch! so special live on. Onward to the next adventure," Zacks' statement ends.